NFL Training-Camp Battles: 5 Early-Round Draft Picks That Could Sit
June 10, 2012

Al Bello/Getty Images
The fallout from certain NFL training-camp battles is sure to see some rookies begin their first pro season on the bench.
Green Bay Packers first-round choice Nick Perry has had his share of struggles, while Cincinnati Bengals cornerback Dre Kirkpatrick may find it hard to overcome the veteran presence of Terence Newman.
Here are the top five rookies who could be set to lose out in training camp and find themselves consigned to the bench:
A.J. Jenkins, WR, San Francisco 49ers
Ex-Illinois star A.J. Jenkins did little to impress the San Francisco 49ers when he earned the ire of head coach Jim Harbaugh. Jenkins was criticised for turning up for minicamp out of shape, according to nbcsports.com.
That's hardly the best start to life in the NFL for a player already faced with the task of overcoming Michael Crabtree, Mario Manningham and veteran flanker Randy Moss.
With that kind of talent already in place at wideout, Jenkins must ensure the rest of his offseason preparation is flawless, or he will be sitting on day one.
Ryan Tannehill, QB, Miami Dolphins
Anyone who considered Ryan Tannehill a reach as a top 10 draft pick, won't be surprised that the former Texas A&M standout has not looked sharp in early practices. NFL.com recently reported that Tannehill's decision-making has been a little ponderous.
This comes on the heels of another NFL.com report citing comments from owner Stephen Ross, indicating that incumbent Matt Moore is likely to retain the starting job.
Despite his familiarity with the scheme of new Miami offensive coordinator Mike Sherman, it seems Tannehill has a lot of work to do to start on day one.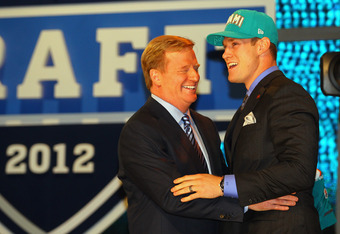 Al Bello/Getty Images
Nick Perry, OLB, Green Bay Packers
Former USC defensive end Nick Perry faces a tough time transitioning to outside linebacker in Dom Capers' 3-4 defense. Perry is already under a lot of pressure to provide a credible pass-rush threat opposite Clay Matthews.
His contributions will likely be key to reviving a Green Bay Packers defense which ranked dead last in the league during 2011. Perry doesn't face the strongest competition in Erik Walden and Frank Zombo. However, the Packers need him to get a good grasp on the system and fast.
Dre Kirkpatrick, CB, Cincinnati Bengals
Just because the Cincinnati Bengals used a first-round pick on Dre Kirkpatrick, that doesn't guarantee the ex-Alabama ace a starting spot at cornerback. They also drafted Iowa's Shaun Prater and added veterans Jason Allen and Terence Newman.
So Kirkpatrick's early struggles are particularly damaging to his cause. He was beaten in coverage during early practices, according to the Cincinnati Enquirer. 
Defensive coordinator Mike Zimmer is having to refine Kirkpatrick's zone technique, according to Geoff Hobson of Bengals.com. Given Newman's familiarity with Zimmer, Kirkpatrick can't afford many more mistakes, or he'll be warming the bench as a rookie.
Quinton Coples, DL, New York Jets
Quinton Coples' final year of production at the collegiate level was hardly awe-inspiring. Despite his versatility and natural athleticism, Coples could find it difficult to become an immediate factor in Rex Ryan's complex, multiple defense.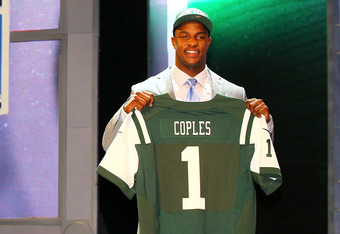 Al Bello/Getty Images
2011 rookie Muhammad Wilkerson impressed in his first season and veteran Mike DeVito is a Ryan favourite with excellent system knowledge.
Defensive line coach Karl Dunbar recently told The Star-Ledger that the Jets will use Ryan's 46-front a lot this season, so Coples had better prove a quick study.
Conclusion
Each of the players on this list face an uphill battle to secure a starting berth to open the 2012 NFL season. There is certainly time to correct early mistakes, and Tannehill in particular may not be expected to make an immediate impact.
However, players like Perry and Kirkpatrick are being counted on to instantly upgrade their new team. They must soon start to show improvement, or risk a disastrous start to their NFL careers.