WWE: Randy Orton and Why We Need a New Legend Killer
June 10, 2012

Hey, 
Nothing you can say,
Nothing's gonna change what you've done to me
Now it's time to shine, I'm gonna take what's mine!
With these words blaring in the background, Legend Killer Randy Orton, World Heavyweight Championship in hand, took his baby steps (slathered in baby oil) to become a legend in his own right.
That was 2004. Eight years down the road, he is a nine-time world champion and the No. 2 man in the company.
But, he is not the only multi-time world champion on WWE TV. Triple H, John Cena, Brock Lesnar, CM Punk, Chris Jericho, Sheamus, Christian, Kane, Big Show...These are just a few potential Hall of Famers that come to mind.
Looking back almost 10 years, I see something similar. There were too many former champions after WWE's acquisition of WCW. A midcard talent, to rise into the main-event scene, needed something spectacular. Cue the "Legend Killer" gimmick.
In an industry full of legends, Randy Orton shone like a diamond in glass. And, like the diamond, he cut his way through the glass (his finisher the RKO is a cutter) right into the main event scene. The rest is history.
At a time when many fans are complaining about young stars not rising into the top tier, about the lack of prestige in championship belts and about a general lack of interesting storylines, bringing the "Legend Killer" gimmick back with a new face could be helpful.
In 2011, WWE had a good chance to do that with Cody Rhodes' Intercontinental Title run, but they blew it. While he did bring some prestige back to the strap, he was not pushed into enough quality feuds to actually be the new legend killer.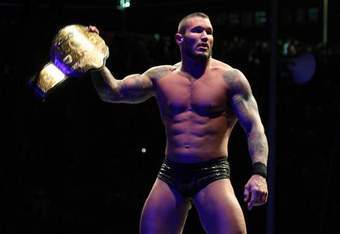 While that opportunity is gone, there are certainly more on the way. There are plenty of talented midcard superstars that just need a good storyline to make it big. Here is my (non-exclusive) list of five stars that could be the new "Legend Killer."
5. Drew McIntyre
One of the most misused superstars in the WWE, Vince McMahon's "Chosen One" has been overlooked and under-booked. His losing streak and "firing" before WrestleMania have definitely not helped.
While he has the looks, talent, mic skills and even a layer of charisma, his current spot as a jobber shows no signs of letting go. One just has to wonder whose wrong side Drew McIntyre is currently on and why.
4. Damien Sandow
"The Intellectual Savior of the Masses" is a supreme beacon of sophistication in an era of atrocity, as he veritably opines of himself. Whereas he portrays an assiduous antagonist, the didactic oratory he radiates ceases not to impress on the hoi-polloi that, withal, loathe him so.
Alas, his rhetoric cannot solely asseverate his magnificence, in an era where he has to joust with incogitably inferior gamins. Perchance a worthier adversary will presently chance upon his path.
3. Ryback
Skip Sheffield, as Ryback, has been on a roll, with an undefeated streak. He has been destroying two opponents at a time for a few weeks. But, the intrigue in that will soon wear out and he will have to start feuding with actual superstars.
With his physique and Goldberg-like gimmick, he could be allowed to extend his winning streak to former champions, making him a potential legend-killer. However, without seeing him in an actual feud, it is too early to call.
2. Cody Rhodes
Cody's gimmick shares a lot with Orton's original cocky gimmick. Like Orton, he did sport the Intercontinental Championship for an extended time, thus bringing value to the strap and to himself.
His ability to work the mic as well as the fans is among the best in the WWE. He also has pedigree similar to Orton's being the son of Hall of Famer "The American Dream" Dusty Rhodes and the half-brother of seasoned veteran Goldust.
He defeated former multi-time champion Booker T in a feud reminiscent of Randy Orton's old feuds. While he does not have the Intercontinental belt on him at the moment, he is feuding with the champion, Christian, who also happens to be a legend in his own right.
1. Wade Barrett
Every time Wade Barrett is shown on TV, I can't help but wonder why this man isn't already world champion. The winner of the first season of NXT and the leader of both Nexus and The Corre has been spectacular in all regards.
While he has been recently sidelined by injuries, he will undoubtedly return to continue where he left off with the "Barrett Barrage," which should give him a title run this summer.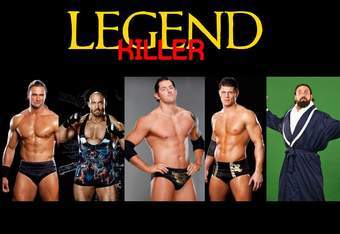 However, merely making him champion is not enough. Barrett should be given a chance to do more, as he is the most capable young superstar to carry the WWE into the future. He should face the best of them and win convincingly.
While fans of the barrage have even asked for Barrett to be the man to end "The Streak," I will not go so far. But, I would definitely like to see this man defeat the likes of John Cena, CM Punk, Sheamus and Randy Orton in PPVs in the next two years.
And, instead of taking on The Phenom at WrestleMania 30, I would like to see Wade Barrett defeat John Cena and Randy Orton in a triple-threat at WrestleMania 30, ending the era of the SuperWrestler (SuperCena, SuperOrton) and carrying the WWE into the Barrage Era.
The WWE needs to invest in the future, and to create a superstar of the future, one has to kill the legends of the present.
Thank you for taking the time to read this article on the need of a new "Legend Killer."
Please leave feedback regarding the article and/or your ideas on the concept of a new legend killer in the comments below.
Note: The author, like Wade Barrett, was sidelined with an injury (sprained wrist), which kept him out of action for a few weeks (typing hurts!). He has still not fully recovered, but  is gradually working his way to full health.