WWE Retro Perspective #3: Triple H vs. Vince McMahon at Armageddon 1999
June 12, 2012

With the impending returns of Triple H and Vince McMahon on the horizon, it is appropriate that the third edition of the Pro Wrestling Powerhouse WWE Retro Perspective would focus on a match that took place between the two—a match with massive ramifications.
Both men were crucial members of the "Attitude Era" and provided many memorable moments.
The encounter between Triple H and Vince McMahon was brewing for months. Their paths first crossed on television when Degeneration X feuded with The Corporation toward the end of 1998 and into early 1999.
Their feud lasted for months. It included Chyna turning on Triple H to join The Corporation on RAW the night after Royal Rumble 1999, only to then turn on Kane and apparently rejoin Degeneration X at WrestleMania. 
However, at WrestleMania XV, Triple H attacked DX member X-Pac during his match with Shane McMahon and joined The Corporation. This was the beginning of Triple H's ascension up the WWE ladder.
During the middle portion of 1999, Triple H completely changed his look and started to chase the WWE Championship.
Meanwhile, Vince McMahon had spent most of 1998 and 1999 locked in a feud with Stone Cold Steve Austin. At Fully Loaded 1999, Austin defeated The Undertaker with the stipulation that McMahon would be banned from appearing on WWE television if Austin won.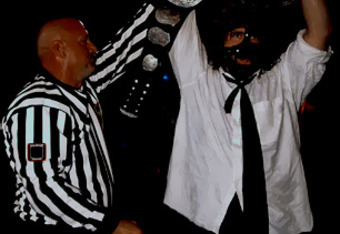 Triple H achieved the greatest victory of his career to date the night after SummerSlam 1999 on RAW. Mankind pinned Stone Cold at SummerSlam and became the new WWE Champion in a Triple Threat match that included Triple H. 
The backstage story at the time was that Stone Cold refused to put Triple H over at SummerSlam. Therefore, Mankind was victorious. 
On RAW the next night, Triple H roughed up Mankind's good friend, Jim Ross, in order force Mankind to accept a challenge for the WWE Championship.
Triple H was victorious over Mankind on RAW, and his reign of terror began. A few weeks later, on September 16, 1999, Triple H was ready to defend his championship on SmackDown, with Shane McMahon as the special guest referee.
Triple H issued a challenge to WWE owner, Vince McMahon. 
On the previous edition of RAW, Vince and Triple H almost had an encounter due to the way Triple H was treating WWE CEO Linda McMahon in the ring.  The two almost came to blows, but then Stone Cold ran to the ring and started his scheduled match with Triple H.
Back to SmackDown.
Vince made his way to the ring and denied Triple H's challenge repeatedly, before being verbally forced into it.  During the match, Triple H took both Vince and Shane out with a chair. Suddenly, Austin's music hit and he made the save.
Stone Cold gave stunners to both Chyna and Triple H.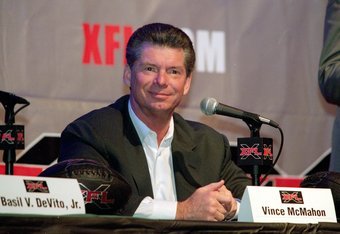 Tom Hauck/Getty Images
Austin pulled Vince on top of Triple H and woke Shane up to make the count. Surprisingly, Vince McMahon became the WWE Champion. 
On the next edition of RAW, Vince vacated the WWE championship and put it up for grabs in a Six-Pack Challenge at Unforgiven 1999. Triple H defeated Big Show, Mankind, Kane, The Rock and British Bulldog to become the WWE champion once again.
During this entire period of time, Stephanie McMahon was in a relationship with Test. Test feuded with Shane, and the two had a few hard hitting encounters. Test and Stephanie were set to be married on November 29, 1999 on RAW. 
The wedding was going well until Triple H's music hit. At this point, Triple H had just dropped his WWE Championship to The Big Show due to interference from Vince McMahon at Survivor Series. Triple H walked to the stage and delivered some shocking news to the entire wedding party.
Triple H showed a video of him marrying a drugged-up Stephanie McMahon a few short days earlier at a drive-through wedding chapel. Everyone was devastated. Vince, Stephanie and Test were all shocked.
Stephanie cried in the ring and made everyone believe that she was upset.
Vince and Triple H decided to settle the score at Armageddon on December 12, 1999. If Vince was victorious, the marriage between Triple H and Stephanie would be annulled. If Triple H won, he would receive a WWE title shot on RAW.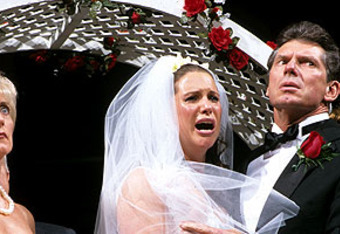 The build-up to this match had been months in the making. At the time, not many people knew what to expect. With WWE fully enthralled in the "Attitude Era," anything could have happened.
The match was brutal, vicious and bloody. Mankind made a short appearance and delivered a shopping cart full of weapons for Vince to use during this No Holds Barred contest. Vince used them on Triple H and beat him to a pulp.
Eventually Vince got his hands on the sledgehammer, and was ready to use it to finish off the game. Stephanie, who was sitting ringside, went into the ring and decided that she wanted to hit Triple H herself. 
At the last moment Stephanie became frightened, giving Triple H a chance to recover and steal the weapon.
Triple H blasted Vince and covered him for the three count. The crowd was shocked and had no idea what to expect next.
Triple H then turned to Stephanie and was going to blast her with the sledgehammer...but he stopped and dropped it to the mat.  Stephanie gave a devious smirk to Triple H, and the two embraced in the ring with a hug.
It was all a setup. Triple H used Stephanie to gain power and Stephanie used Triple H to get revenge on her father for having her kidnapped by The Undertaker earlier in 1999...but that is another story.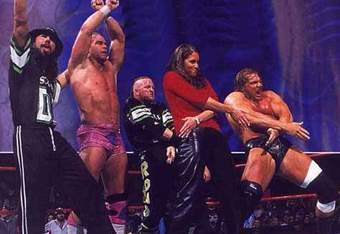 The McMahon-Helmsley Era began, and would dominate much of the year 2000. Triple H, with his newly reformed Degeneration X faction, captured his second WWE Championship from The Big Show. 
During the early stages of this era, Triple H and Stephanie McMahon began having real feelings for each other off-camera.
At the time,Triple H had been romantically linked to Chyna for several years. While Chyna continued to compete with WWE for awhile, eventually there was an insurmountable rift between the two. She was removed from everything having to do with Triple H on WWE television for the rest of her tenure.
Vince McMahon would once again disappear from television after Armageddon. 
McMahon later returned, and joined The Rock at WrestleMania 2000 in a Fatal Four-Way WWE Championship match. Vince then turned on The Rock and rejoined The McMahon-Helmsley Faction.
In certain situations, WWE storylines can somehow overflow into real life situations. This was obviously one of them. On screen, Triple H became a power hungry, main event superstar who married the bosses' daughter. Off screen, the same seemed to occur. He married Stephanie, became power hungry, and has not left the main event since.
The ramifications of the Vince McMahon and Triple H match at Armageddon 1999 can still be felt in WWE to this day. What if they went in the other direction? What if Vince never stepped into the ring and Vince Russo never suggested that Stephanie become a part of the storyline?
Those are just some of the many questions that we will never know the answers to. However, I guarantee you that if we did, the WWE as we know it would be nothing like it is today.
What did you think of the third edition of the WWE Retro Perspective? Would you like to read more? Or should I discontinue the series? What did you think of this match between Triple H and Vince McMahon? Please discuss below.
Also, please visit ProWrestlingPowerhouse.com and get involved in our community, and join us at our Facebook Group, where a lot of great wrestling interaction takes place on a daily basis. We are growing a community that prides itself on allowing everyone to express his or her voice and opinion.
 
Contact me at ProWrestlingPowerhouse@gmail.com
PLEASE FOLLOW ME ON TWITTER @PWPowerhouse
LIKE US ON FACEBOOK.