Andrei Arshavin Shines, but Tomas Rosicky Is Not the Playmaker Arsenal Need
June 8, 2012

Jamie McDonald/Getty Images
The performances of Andrei Arshavin and Tomas Rosicky in Russia's 4-1 Euro 2012 demolition of the Czech Republic revealed two crucial things about their respective futures at Arsenal.
First, position has never been the issue for Arshavin.
The temperamental forward tore into the Czechs with the brand of invention, pace and trickery Arsenal fans have seen in only brief glimpses since his arrival in January 2009. There was none of the lethargy that has so often characterized Arshavin's demeanor when he has taken the field for the Gunners.
A common defense of Arshavin's wayward form in the English Premier League is that he is playing out of position. It is an argument this author has used on occasion that simply states Arshavin's mercurial talents are wasted out wide on the left flank and belong in a central role behind a striker.
Yet Arshavin played in the exact same position for his country, as indeed he has many times before. He did not look a forlorn figure out on the left and instead demanded the ball and looked to provide a creative threat whenever he received it.
This performance was proof that Arshavin's problems in North London are nothing to do with where Arsene Wenger has chosen to position him. The issue is entirely one of Arshavin's own happiness in England.
Sadly, as talented as he is, it is now clear Arshavin will never settle in the EPL and Arsenal would be wise to move him on.
Even sadder still is how this game revealed that Rosicky is simply not up to the task of being the chief playmaker for the Gunners this season.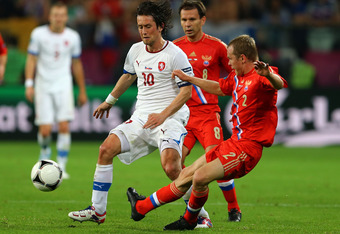 Christof Koepsel/Getty Images
Rosicky operates in the key position in the Czech Republic's 4-2-3-1 formation. He is the central attacking schemer, charged with linking the midfield and forward lines together.
Rosicky has to provide a creative outlet and also offer a scoring threat. He managed little of either against the rampant Russians.
He is still a quick and neat passer, but the 31-year-old is not prolific enough with his creative output. The accurate through-passes and goals just aren't there.
This lack of decisive contribution in the attacking third was evident for the Gunners last season. Although he performed well in a number of tough games, Rosicky only netted two goals and offered little in the way of assists.
He drifted out of a number of other contests and isn't dynamic enough for such a pivotal role in the team. Wenger needs a direct replacement for Cesc Fabregas, and while that type of player is not easy to come by, the Arsenal boss must find a credible alternative to Rosicky before the season begins.