San Francisco 49ers Players on the Fringe Who Could Draw Interest
June 13, 2012
Ezra Shaw/Getty Images
One of the many good things about having a loaded roster is the fact that other teams are going to be calling you up during training camp and shortly before. This obviously has a downfall due to the fact that the San Francisco 49ers cannot hide any of these players on the practice squad. That being said, it may enable them to pickup additional 2013 NFL draft selections.
This article is going to focus on a few different 49ers players who are currently on the roster fringe and could draw some trade interest during the summer and leading up to camp in late July.
Kyle Williams, Wide Receiver
As with most players in this article, it is all about roster logistics. While Kyle Williams seems to be impressing the 49ers a great deal during the offseason, there might not be much room for him on the roster.
I think it is safe to assume that Michael Crabtree, Mario Manningham, Randy Moss, A.J. Jenkins and Ted Ginn are locks to make the roster. The only player on this list who could be considered on the roster "bubble" is Ginn. However, he adds another dimension in the return game and probably wont be counted on a great deal in the passing game on offense.
San Francisco ran the least amount of four-wide receiver sets in the National Football League last season. The main reason for this is the fact that Jim Harbaugh loves to utilize two-tight end sets. Don't expect this to change a great deal.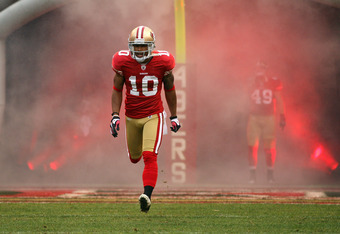 Ezra Shaw/Getty Images
There is no questioning the talent that Williams possesses. Despite a couple fumbles of epic proportions during the NFC Championship Game, Williams does seem to have what it takes to be a really good slot receiver in the NFL. On that note, don't expect the 49ers to throw him to the curb just because of that one game against the New York Giants.
Again, it is all about roster logistics. If the 49ers decide Chris Owusu or Nathan "Napalm" Palmer fit better as the last player on the depth chart at receiver, they will most likely look to trade Williams.
There would be a myriad of different teams interested in his services. The Miami Dolphins, Oakland Raiders, Houston Texans and Cleveland Browns come to mind first. In terms of compensation, San Francisco is probably looking at a fifth- or sixth-rounder for Williams, should he be traded.
Anthony Dixon, Running Back
If we were to look at Dixon's performance as a rookie in 2010, then the 49ers probably wouldn't have added two running backs during the offseason. Instead, it is pretty obvious that they are not happy with his production last season, nor should they be.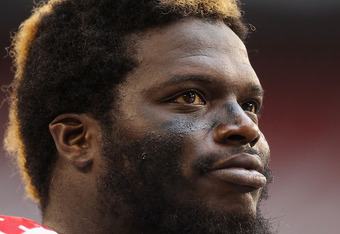 Christian Petersen/Getty Images
At this point, it is hard to imagine the 49ers being able to get much, if anything, for Dixon. Other teams fully understand that Dixon is currently fifth on San Francisco's depth chart behind Frank Gore, Kendall Hunter, LaMichael James an Brandon Jacobs. Unless the 49ers are hellbent on keeping a total of seven backs, including fullbacks, there is no room for Dixon on the roster.
That being said, the 49ers could play it close to the vest during the summer and finagle a late-round pick for Dixon. After all, they were able to acquire something of relative value for Taylor Mays last offseason, even after it was apparent he would be released.
Probably looking for a seventh-round pick at best right about now.
Scott Tolzien, Quarterback
This is where it gets extremely interesting. There is absolutely no way that the 49ers can hide the former Wisconsin standout on their practice squad in 2012.
This means that either Tolzien is going to be traded/released or he will somehow make the roster over Colin Kaepernick or Josh Johnson. Don't expect the latter to happen. Contending teams WILL NOT carry four quarterbacks on their active roster either.
The value for Tolzien is there. If he were put through the waiver wire—which happens after a player is released—certain teams wouldn't get a crack at him. The waiver process goes from worst record to best record. A team like the Baltimore Ravens, who could use a solid backup quarterback, wouldn't be able to claim him.
This gives the 49ers a great deal of leverage if they are going to have to part ways with Tolzien. Additionally, there seem to be indicators around the league that the second-year player has what it takes to be a "project" starting quarterback. That puts quarterback-needy teams such as the Arizona Cardinals, Cleveland Browns, Jacksonville Jaguars and Kansas City Chiefs in play as well.
It might be surprising to the untrained eye, but San Francisco could conceivably receive a mid-round pick for Tolzien. You have to believe the Trent Baalke and Co. had this in mind when they claimed Tolzien from the San Diego Chargers last summer.
Ian Williams, Defensive Tackle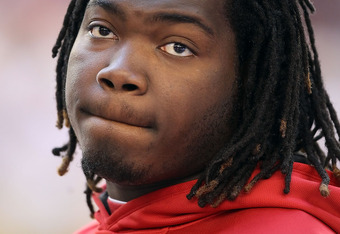 Christian Petersen/Getty Images
The former Notre Dame standout would have been a mid-round selection if it weren't for injury issues during his final season in college. As it is, Williams ended up going undrafted last season. He has a ton of upside and could end up being a really good starting defensive tackle in the National Football League.
San Francisco runs a 3-4 defensive scheme, which seems to limit the number of roster spots allocated to the defensive line. Justin Smith, Isaac Sopoaga and Ray McDonald makeup one of the best defensive lines in the league. The 49ers also have Ricky Jean-Francois as well as an up-and-coming Demarcus Dobbs slated to be backups heading into the 2012 season.
Additionally, Will Tukuafu fits the 3-4 scheme perfectly and was actually taking fullback reps last week in order for the 49ers to find someone to play two-ways. This could save a roster spot on the talented team.
All this equals up to Williams not making the club out of camp. As with every player on this list, he will not make it onto the practice squad.
Conclusion
Don't expect all of these players to be traded prior to the start of the regular season in September. In fact, one or two could actually end up making the 49ers final roster out of camp.
This article was to give you an understanding of where the 49ers are as it relates to their current roster and which players may be headed out of town.
While it is always a good thing for other teams to come calling for your "leftovers," rather than you having to dial that number, it does have some drawback. Each player in this article does provide something to the 49ers.
Dixon is an extremely valuable special-teams player and was good in short-yardage situations as a rookie in 2010. Scott Tolzien seems to have the ability to be a starting quarterback in the National Football League and Kyle Williams actually made some big plays in the passing game last year.
As I mentioned before, it is all about roster logistics. Contending teams have much harder decisions to make when camp breaks in August than do teams without much of a chance at contention. The 49ers are going to be in this position. Let's hope they get some value in return.