WWE SmackDown: Could Christian/Ziggler Match Lead to Fatal 4-Way at No Way Out?
June 8, 2012

This preview is Spoiler-Free, so until SmackDown airs tonight, please leave the comments Spoiler-Free as well. Thank you in advance!
As Dolph Ziggler continues to try to prove he is ready to make it on his own, he has had two very good non-title matches with Sheamus. Although he lost both matches, he had several near-falls in both encounters, and the matches were of the quality that proved Ziggler can perform at a main event level.
Tonight, the Show Off gets a non-title match against another SmackDown champion, Christian. Cody Rhodes is still due for an Intercontinental Championship rematch with Christian, and Ziggler has been trading quips with Jack Swagger ever since the dissolution of their tag team.
In much the same way that director Guy Richie (Snatch and Lock, Stock, and Two Smoking Barrels) can intertwine multiple stories to lead up to a brilliant, single conclusion, perhaps WWE Creative will do the same with these four upper-midcard superstars.
It's not hard to imagine: early in the show, Ziggler and Swagger exchanged words backstage, requiring Vickie to keep the two separated, saying that Ziggler has to focus on the big match he has later.
After Ziggler and Christian made their way to the ring, Cody Rhodes makes his way to the announce booth (I love Rhodes doing commentary anyway). During the match, Rhodes gets up from the booth and manages to get a cheap shot in on Christian.
Moments after, while the referee is still questioning Rhodes, Swagger makes his way ringside. Although it is not mic'd, you can clearly hear him yelling at Rhodes: "Don't do anything to help Ziggler!" and "Let him do it on his own!" In response, you can also overhear Rhodes' response, saying that he doesn't care about Ziggler, he just has a problem with Christian.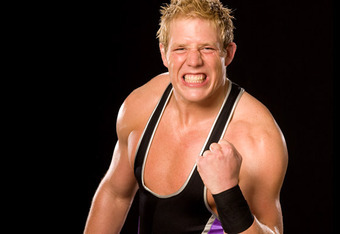 As they continue to yell at each other, Christian and Swagger eventually come to blows, and Christian and Ziggler soon join the brawl on the floor. It takes several referees (maybe a few guys from the back as well) to separate the four men.
Eve then appears at the top of the ramp (mostly because I'd rather look at her than David Otunga or John Laurinaitis) to announce that Christian will defend his Intercontinental Title at No Way Out in a Fatal Four-Way.
This allows for Ziggler and Swagger to be in a match that matters on the PPV, and gives reason to extend the Christian/Rhodes feud to another PPV if wanted/needed, or simply end it at NWO since Cody already received his rematch.
With those four in the ring at the same time, the WWE Championship match would have some competition for match-of-the-night at No Way Out.
What do you think?