NASCAR Sprint Cup: Why Sunday's Race at Pocono Could Be Horrifying
June 8, 2012
Drew Hallowell/Getty Images
Two-twelve.
Put that in numerical form, add the acronym for miles per hour after it and you get the following: 212 mph.
If you'd like a visual representation of what that is, imagine a 3,600-lb race car barrelling down into Pocono Raceway's first turn after shooting down the track's 3,740-foot frontstretch.
Or you could just tune in to Sunday's Pocono 500.
But beware, because it may be horrifying.
No, not because the NASCAR Sprint Cup circuit strolls into the Tricky Triangle to continue a, to be politically correct, less-than-exciting season at a track many consider to be, well, less-than-exciting.
Rather, it is because the speeds these machines are hitting match that which Bill Elliott famously averaged during the fastest lap ever recorded in a stock car back at Talladega in 1987. And moreover, because it's happening at a track known for some of the most vicious stock car accidents in recent memory.
In case you are just tuning in to the weekend's festivities at the 2.5-mile triangle, allow me to get you up to speed on what's been happening in Long Pond.
Pocono Raceway has undergone a repave since the last time the Sprint Cup circuit hit the state of Pennsylvania and Brad Keselowski stood in Victory Lane with what he called a broken ankle (per ESPN).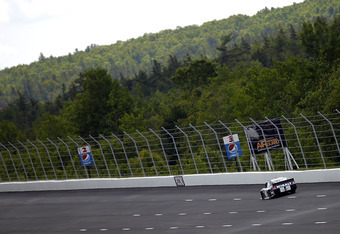 Jeff Zelevansky/Getty Images
In recent days, testing has taken place. Three sessions, to be exact.
At each session, speeds have increased. Mark Martin took the Wednesday afternoon session with an average speed of 175.380 mph. A.J. Allmendinger won the Thursday morning session with an average speed of 177.190. On Thursday night, Kasey Kahne turned the fastest lap of testing with an average speed of 179.490.
The average speed doesn't look so fast on paper—relatively speaking, of course. But it's the fact that cars were topping that 212 mark that has people wondering how Sunday's 400-mile race is going to play out. So much so, some even wondered about the possibility of restrictor plates—an idea that was quickly tossed out by VP of Competition Robin Pemberton.
Per Fox Sports:
"No, absolutely not," Pemberton said of the prospect of implementing restrictor plates. "We're well within reason here. Average speed is going pretty good, so we're happy. There's a lot of grip here, so there's no reason for that."
But should Pemberton reconsider? Or are the high speeds something we should at least keep an eye on come Sunday?
As I stated earlier, one concerning characteristic of Pocono Raceway is its ability to produce violent crashes.
The most recent example of this is Elliott Sadler's impact with the Armco barrier on Pocono's Long Pond Straightaway back in 2010. To this day, it is the hardest hit ever recorded in a NASCAR stock car, according to Yahoo! Sports. The impact knocked the engine out of Sadler's car, but fortunately, he was OK.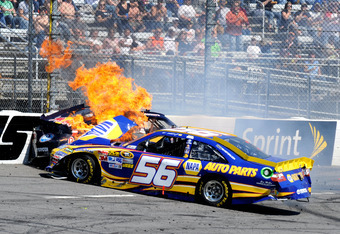 John Harrelson/Getty Images
Other notable hard hits have come from the Pocono Raceway, particularly in Turn 1, which is the portion of the track where speeds have hit the 212 mark. Many of these particular incidents have come as a result of brake failure—a common problem at Pocono with its long straightaways and demanding corners.
Among such incidents, you may recall are Ken Schrader's crash in the early going of the spring race in 2003, when Schrader's car hit the wall so hard that it flipped over and caught fire.
More recently, Jeff Gordon pounded the Turn 1 barrier after his brakes failed late in the going of the spring race in 2006. At the time, Gordon's impact was the third-hardest recorded NASCAR crash, and that was after he bled off speed by going in the grass before spinning out (according to NASCAR.com)
In recent years, brake failure has not been as common, but it has still been known to happen, as evidenced by A.J. Allmendinger's hard crash at Darlington in 2010 and Martin Truex Jr's violent wreck at Martinsville last year.
Now, imagine that happening...only at speeds topping 212 mph.
Sunday's race at Pocono is not expected to be one that will ooze excitement a la Daytona or Talladega. In fact, if Sunday's race at Pocono is as uneventful as the races in recent weeks, that may be alright. Especially if brake failure and violent crashes at 212 mph are the alternative.
Because even though the cars of today may be state-of-the-art when it comes to safety, a hit at those speeds could still potentially be horrifying.
The Pocono 400 will air Sunday at 1:00 p.m. ET on TNT. Tune in...if you dare.