Big Ten Football Tweets of the Week: Camp Randall's Looking Good
June 8, 2012

Gregory Shamus/Getty Images
Every Friday on the Big Ten Blog, we'll bring you the best Big Ten-related tweets of the week.
Oh, and no crane-kicking references this week. We're just as disappointed as you are.
Wisconsin's field overhaul is complete, and Montee Ball has the picture of the finished product for all to enjoy: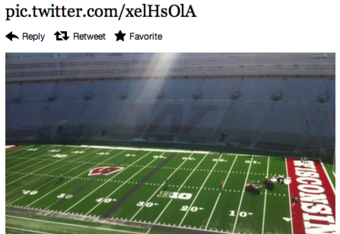 Um, Montee: new field, not new stadium. If they ever tore down Camp Randall, the students would riot, and that riot would be set to House of Pain's "Jump Around." It would actually be pretty cool to see. But yeah, new field. 
Michigan QB commit Shane Morris' embrace of Twitter as a medium is a boon to us all. Case in point, his study methods for an upcoming final: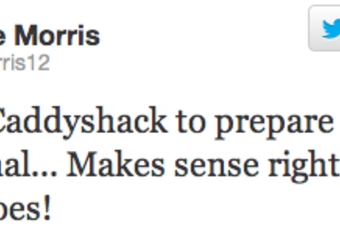 Caddyshack and religion. Huh. There's certainly nothing wrong with worshiping at the feet of mid-'80s Bill Murray and Rodney Dangerfield, particularly if you ever want to be good at jokes. But let's just hope this doesn't mean the phrase "gunga galunga" appears anywhere on that final. Michigan needs you to pass this class, young Mr. Morris!
Ben Jones has a picture of the gathering media frenzy of the Jerry Sandusky trial from earlier this week.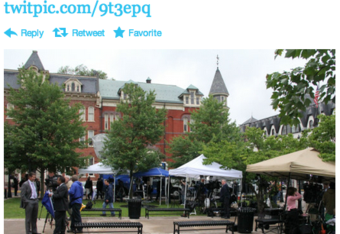 God, this trial is going to suck.
Funny thing: Iowa players aren't allowed to have Twitter. Well, okay, "funny" might not be the right word, because incoming defensive tackle Jaleel Johnson isn't laughing right now: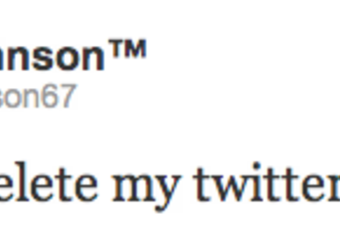 Now, this is hardly standard procedure for the Big Ten. Michigan coach Brady Hoke takes a different tack and says it doesn't teach responsibility to ban players from Twitter. But maybe if Johnson thinks that's such a better idea, he should transfer to Michigan instead! #MASSTRANSFERS