San Francisco 49ers: What to Make of New-Look St. Louis Rams of 2012
June 8, 2012
Dilip Vishwanat/Getty Images
Attn: San Francisco 49ers.
The St. Louis Rams will not finish an NFL-worst 2-14 in 2012. They will put up a fight.
How much of a fight? Well, no fisticuffs worthy of vying for an NFC West crown, but a legitimate battle royal nonetheless.
After one of the better draft classes this past April, the Rams with new head coach Jeff Fisher are set for a rebound season that just might hark back to the days of the Greatest Show On Turf.
Well, almost.
Kurt Warner, Marshall Faulk and Dick Vermeil references aside, the St. Louis faithful should expect production on both sides of the ball reminiscent of the nearly division-capturing campaign of 2010.
The NFC West will just be that much more of a competitive division because of the Rams' rise into NFL legitimacy.
Shall we now explore a few reasons why?
2-14 Rams of 2011 (Don't Judge)
Let's keep this brief.
The Rams were downright awful last year. Their record speaks for itself.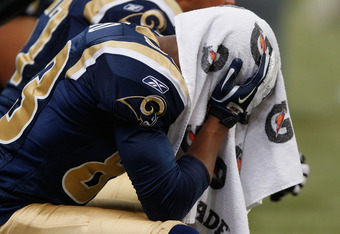 Whitney Curtis/Getty Images
But that doesn't tell the whole story.
St. Louis was one of the more hampered teams in the entire league in terms of injuries. The offensive line was in shambles, leading to a multitude of ailments to their on-field general, Sam Bradford.
The ever-insidious high ankle sprain crippled him for six games in 2011. An offense that failed to score more than 20 points all but three times suffered because of it.
The defense, for its part, had only three players that started all 16 games. The 22nd-ranked unit overall was actually top 10 in passing defense, but the 31st-rated rushing counterattack couldn't say the same.
Overall, though, there were a few bright spots.
The encouraging developments: ruining the Saints' home-field advantage (and perhaps Super Bowl aspirations) with a monumental 31-21 upset, furthering the city of Cleveland's misery and knocking the 49ers' No. 1-ranked scoring defense off its perch on the last day of the regular season.
Those achievements can and will carry over for motivation in 2012. (Just don't ask Jeff Fisher and his coaching staff about it.)
Draft Grade: A
Aside from neglecting the offensive line deficiencies until the fifth round, the Rams earned a resounding A for their 2012 draft selections.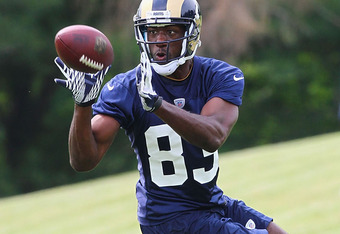 Dilip Vishwanat/Getty Images
They helped fortify the middle of their defensive front with DT Michael Brockers out of LSU. He'll play next to Darell Scott to form a nice wall against opposing rushing attacks.
The Rams cornerbacks became a potential shutdown corps with the controversial but immensely talented Janoris Jenkins and Montana's 6'1'', 204-pound Trumaine Johnson. The Florida turned North Alabama product is as NFL ready as any corner in the draft (off-field issues notwithstanding). Johnson, with his length, can match up against prolific receivers with size (think: Larry Fitzgerald).
Together with free-agent acquisition Cortland Finnegan, these CBs will be an intimidating trio.
On the offense side of the ball, new GM Les Sneed invigorated the wide receiver corps and provided Bradford with some great weapons.
Appalachian State's Brian Quick brings size (6'3'', 220 lbs) and go-to target abilities, while the former Demon Deacon Chris Givens offers speed and burst out of the slot. Isaiah Pead at running back will complement Stephen Jackson as a dynamic runner and pass-catcher in space.
Hell, even sixth-rounder Greg Zuerlein should fulfill the kicking responsibilities in a reliable way.
Point being, the Rams drafted extremely well in 2012.
Respectable Team With Hope
Make no mistake: The St. Louis Rams feature a rejuvenated roster and proven NFL leader in Jeff Fisher.
Lacking a defensive coordinator or not (nice job, Gregg Williams), the Rams defense—and offense, for that matter—will create some matchup difficulties for the 49ers in 2012.
Michael Crabtree, Randy Moss, Mario Manningham and all other Niners receivers have their jobs cut out for them lining up against Finnegan, Jenkins and Johnson. They must show that established NFL production supersedes rookie talent and sexy offseason acquisitions.
The same goes for 49ers rushers.
Frank Gore, Kendall Hunter, LaMichael James and Co. must delegitimize the first-round talent of Michael Brockers. Linebackers James Laurinaitis and Chris Chamberlain will be free to make plays if not.
Regarding the pass rush, St. Louis is a bit of a one-trick pony with Chris Long. Still, he must be accounted for by the Niners' highly scrutinized and newly formed offensive line.
As for the Niners linebackers and secondary, Stephen Jackson is always a threat, now compounded by Pead and all of the new additions at the wide receiver position.
Even with all of these positives in mind, the offensive line still remains a glaring weakness. Scott Wells is a major upgrade at center, but the 55-sack-surrendering unit of 2011 can expect to be fully harassed by the Smith brothers and other 49ers pass-rushers.
Bradford will clearly need time to throw to his new toys.
Taken as a whole, however, San Francisco must not take the retooled Rams lightly. Last game of the regular season or not, they put up a decent fight against Jim Harbaugh's squad in the second matchup of 2011 and will parlay that confidence into more wins in 2012.
Coming off of a veritable bloodbath on November 25th against the Saints, the 49ers are due for a trap game against the Rams the very next week. Fans should expect better of Harbaugh and this team, but it is the NFL, and it does happen.
Bold prediction?
Still won't go that far.
49ers 2-0, Rams 0-2
49ers: 1st in NFC West; Rams: A Much-Improved 4th