Green Bay Packers: Looking at the Upside for the 2012 Offseason
June 8, 2012

Jamie Squire/Getty Images
Despite falling a bit short of the Super Bowl Championship they were after by losing to the eventual champs, the Packers had a pretty good season and an even better off-season.
It's not hard to see the upside of it either. The team systematically attacked perceived weakness, dodged any of the controversy that has affected some of their rivals and have set themselves up for what should be another great season of Packer football.
There are question marks, but they are few and far between. For the most part, it's good to be a Packer.
Here's a brief rundown of the high points so far this off-season.
Bolstering the Defense
The Packers' Achilles heel was the pass rush, or truly the lack thereof. So what did the Packers and Ted Thompson do?
They run a draft where six of eight picks are defensive in nature, shoring up the secondary with two defensive backs and the front seven with three defensive linemen.
Jerel Worthy and Nick Perry are coming along well and more than a few people (myself included) believe Jerron McMillian could end up starting at safety his first year.
They also signed former Saint Anthony Hargrove and while he starts the 2012 suspended, he will be a big addition to the defensive line rotation when he returns.
Of course, all of this hinges on rookies. If Worthy or Perry falter, we could be looking at another lack of pass rush.
However, as of now, all systems are go and the 2012 Packers defense may make us forget the 2011 Packers defense.
Offensive Line
When the team drafted Derek Sherrod in 2011, they didn't expect Marshall Newhouse to take a giant leap forward in his development. To have two potential left tackles is a tremendous luxury but one the Packers are happy for. This is a team that gets what depth means.
Bryan Bulaga is shaping into a tremendous right tackle, and Josh Sitton and TJ Lang are a solid pair of guards.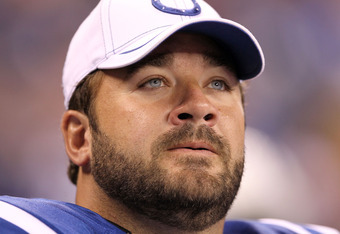 Andy Lyons/Getty Images
The biggest question mark coming into OTAs was how aging veteran Jeff Saturday would do filling in for Scott Wells.
He's already fit right in and will provide stability—if only for a year or two—along the line at arguably the most critical spot.
Physically he seems fine, though there is no way to know if he'll last until we see them actually play.
So far though, it seems as though the offensive line is shaping up for it's best year yet.
Running Backs
All three running backs—James Starks, Alex Green and Brandon Saine—are looking to start the season healthy. Green Bay needs that, even though running backs tend to be an afterthought in this offense.
Head coach Mike McCarthy wants to be more efficient running the ball, and to do that he needs backs who can be counted upon and actually be on the field.
Starks will lead the way and conditioning to stay healthy is vital and that as well as pass protection is a huge focus for him. While the lead back here won't carry the ball as often as an Adrian Peterson or Maurice Jones-Drew, he'll still have plenty to do.
Starks has looked good so far, as has Saine while Green is still rehabbing.
Overall though, this is a unit which appears to be on the upswing.
While they will never be the center of the offense, they will become an integral part of it if they can stay healthy.
Embarrassment of Riches
How many potentially fantastic offensive weapons does a team need?
Greg Jennings, Jordy Nelson, Randall Cobb, James Jones—not to mention Jermichael Finley healthy and hoping to have proper chemistry with his quarterback this year.
This could be the most complete group of pass catchers in the league. The depth is astounding.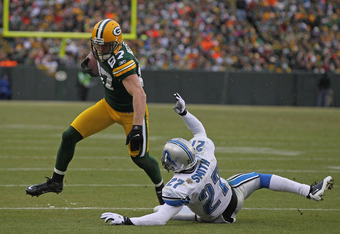 Jonathan Daniel/Getty Images
Everyone appears healthy and a full off-season will help get them tuned up for the 2012 season.
Aaron Rodgers has his pick of targets—and defenses will have to choose their poison each Sunday.
If the offensive line keeps Rodgers clean—oh my.
Schedule
This one goes way back but who did the Packers pay off for this schedule? I'm kidding.
Seriously, who?
While there are tough games, some of the roughest are at home. San Francisco and the Saints are games that would be a lot harder on the road. The Giants is the toughest road game right now and that really comes down to which Eli Manning shows up.
Seeing the Browns, Chiefs, Colts and Rams on the docket also seems a stroke of good fortune.
Of course, you can't look past anyone—the loss to Kansas City last year proves that.
Still, this is a schedule which appears to be poised to send the Packers to another playoff birth and possibly home field.
Potentially, the best news was some of the first news of the off-season.