Detroit Lions Should Look to Change the Role of Running Back Jahvid Best
June 8, 2012

Gregory Shamus/Getty Images
Earlier this week, Detroit Lions running back Jahvid Best said he was "not at all concerned" with his concussion history and how it might affect him in the 2012 season (via Twitter, David Birkett).
I have news for him: He's probably the only one.
Best's history with concussions precedes him. He suffered two concussions last year: one in preseason and one in Week 6 that ended his 2011 season prematurely. Best also suffered a concussion in college that knocked him out of his junior year at the University of California, Berkeley.
While he insists that those are the only three he's had in his career, Lions fans and I can only assume members of the Lions organization probably feel like that's about three too many.
If head injuries weren't so complicated, and if they weren't at the forefront of major lawsuits against the National Football League right now, we'd probably brush Best's injury off, slap him on the butt and tell him to get back in the game.
Problem is, we're talking about an injury that can not only shorten the number of years you play professional football, but can severely diminish an athlete's quality of life once he's done with game.
So what's the protocol? Do you tell a talented running back, who's entering only his third season in the NFL, that he needs to hang it up, throw in the towel? You simply can't.
Fans fear Best is one hard tackle away from retirement. Deep down, Best probably harbors some of those same trepidations. The difference is, it's easier for us to be armchair coaches, who determine what he should or shouldn't do, than to actually be the one having to make that decision.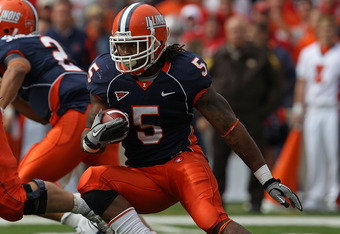 Jonathan Daniel/Getty Images
You can't tell a grown man how to live his life. And you certainly can't tell a grown man to give up something he's probably dreamed about his entire life—playing in the NFL.
But here's what you can do. You can change the role Best plays on the Detroit Lions. You can give him new reads, new opportunities. Not a new position, just a new way to play that position. He's no longer an every-down back. He's a change-of-pace back who can be used to grind out some yards on third down or at the goal line.
If Mikel Leshoure can stay healthy, he'll be a powerful setup man, who can wear down opponents with his size. While Best can use his quickness and speed to find holes and break away on defenses.
You may not like it, but if Leshoure ends up playing as advertised, this might actually work in the Lions favor. Because, let's face it, without Best at his healthiest (which I'm not sure he's ever been), he hasn't been as productive as he maybe could have been.
Leshoure and Best have the potential to be a powerful combo in the backfield. The Lions could even choose to mix in Kevin Smith throughout the game for a three-back rotation.
But while this certainly takes some pressure and strain off Best, it doesn't solve one problem: all three of these backs have a history with injuries. Granted, Leshoure's a special case. After all, he hasn't actually seen the yard lines of a professional football field on game day yet, but it doesn't make his situation (and possible suspension, via Michigan Live) any less worrisome.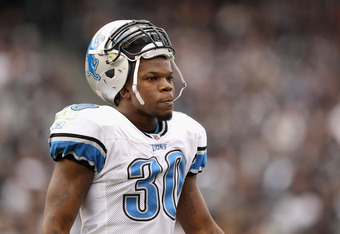 Ezra Shaw/Getty Images
And as much as the Lions likely don't want to carry four backs on the 53-man roster, given the injury history, they might have to.
With any luck, however, the Lions will utilize Leshoure and Best as a dual threat that complements their already terrifying air attack. And more importantly, put a little less pressure on Matthew Stafford and that shoulder of his.
As for Best, he says (via Twitter, Dave Birkett) he's symptom free. So while it's easy for us to sit back and speculate as to what he should do, we'll have to let Best and his highly skilled team of doctors and trainers determine what he will do.
And for now, that's enter the 2012 NFL season (or at least training camp in July) as the Lions go-to running back.