Why the Indianapolis Colts Should Acquire Chad Ochocinco
June 7, 2012

Marc Piscotty/Getty Images
Let's face it, there was no doubt that someone amongst the Patriots receivers was going to be finding a new home.
New England's receiving corps last year was stacked with Ochocinco, Wes Welker, Deion Branch, the recently acquired Brandon Lloyd, Donte' Stallworth, Jabar Gaffney and Julian Edelman. There was also Matthew Slater, who primarily excels in special teams. And, of course, there was the two-headed monster of TEs Rob Gronkowski and Aaron Hernandez.
The team had also acquired the Colts former first-round pick Anthony Gonzalez. However, in late May, the team ultimately decided to release Gonzalez, whom it had signed earlier in the offseason.
To be fair, one of the receivers had to go. There just wouldn't be enough catches to go around even with Tom Brady as the team's quarterback. Gronkowski and Hernandez will get a lot of opportunities this season, as will the highly productive Welker, who has caught over 100 passes in four of the past five seasons.
That leaves Lloyd, who had a coming-out party in 2010, when he caught 77 passes for a league-leading 1,448 yards and 11 touchdowns, along with Stallworth, Gaffney and Edelman—all of whom could command a few passes each game.
With Ochocinco released, he immediately becomes the available best receiver on the market.
Despite a season in which he only caught 15 passes, Ochocinco can still register a 1,000-yard season if he's in the right offense.
Ochocinco will likely have a few suitors, especially teams like Miami, Carolina, Buffalo, Oakland, Minnesota and Indianapolis.
Now entering the Chuck Pagano era, the Colts should make a valiant effort for Ochocinco's services. He's still a quality receiver, even though he had a poor season in 2011.
The Colts have had a crazy offseason thus far, as the front office decided to sever ties with quarterback Peyton Manning, who has been the team's starting quarterback since 1998. Indianapolis held the No. 1 overall pick in April and made the no-brainer decision in drafting Stanford's Andrew Luck, who has drawn many comparisons to Manning.
With their second-round pick, they selected Luck's college teammate and favorite target, Stanford tight end Coby Fleener. Fleener is supposed to be the replacement for Dallas Clark, a player with whom the Colts also decided to part ways this offseason. Indianapolis also tabbed Clemson tight end Dwayne Allen in the third round.
The Colts traded up later in the round to take Florida International wide receiver T.Y. Hilton. Hilton will likely settle in as a kick returner, but he can also be a legitimate slot receiver.
Later in the draft, the front office elected to take Ohio receiver LaVon Brazill, a longshot to survive the final cuts.
Additionally, the team went out and signed Donnie Avery in free agency. Avery, the first receiver chosen in the 2008 draft, and had a couple of solid seasons in St. Louis before being released. He latched on with the Titans last season but failed to make an impact, catching only three passes.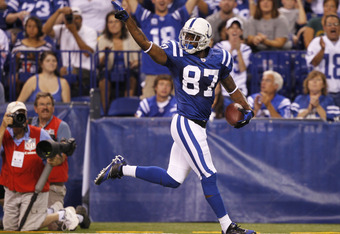 Joe Robbins/Getty Images
Luckily, the team decided to retain receiver Reggie Wayne, who has been with the Colts since 2001. The former Miami star has been one of the most consistent players on the Colts roster over the last few seasons, getting at least 75 receptions and 950 yards every season since 2004.
Wayne will undoubtedly be the team's No. 1 wideout, but the other receiver positions are up in the air. Concussion-prone Austin Collie will likely inherit the No. 2 spot on the team's depth chart, with Avery and Hilton battling it out for the role of slot receiver.
However, Collie really isn't a true No. 2 receiver. He flourishes mostly in the slot, as he registered 60 and 58 receptions in his first two seasons. The wise thing to do would be to place him back in the slot for the upcoming season and acquire a legitimate No. 2 through free agency.
That could be Ochocinco, who has made a living of harassing secondaries.
Since 2002, the receiver has registered seven 1,000-yard seasons, including an NFL-leading 1,369 yards in 2006.
Even though he had the worst season of his career in 2011, Ochocinco could come back with a vengeance in 2012 if he lands with the right team and the right offense.
Indianapolis seems like a logical destination, as Ochocinco would immediately become the team's No. 2 receiver. He's still got a good amount left in the tank and he would give Andrew Luck another solid option alongside Wayne, Fleener and Allen.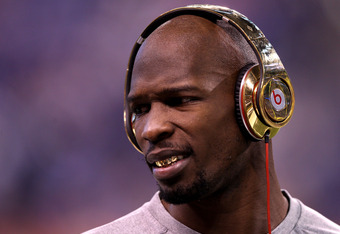 Elsa/Getty Images
The Colts are likely to be passing the ball quite a bit in 2012; they really have no ground game, whatsoever.
The team neglected to re-sign Joseph Addai, who landed with the Patriots. With Addai gone, that leaves a the Colts rushing attack in the hands of Donald Brown, Delone Carter, Darren Evans and late-round selection Vick Ballard. Addai wasn't a great player, but he would be a better option than any of the four running backs currently on the roster.
With such a mediocre ground game, Luck will undoubtedly be airing it out during his rookie campaign, much like what Peyton Manning did in 1998. During Manning's rookie season, he recorded a then-rookie record 3,739 passing yards, along with 26 touchdowns. However, Manning was very mistake-prone (as most rookies are), throwing 28 interceptions.
Luck is supposed to put up similar numbers this upcoming season, but one can argue that Manning had a better receiving corps in 1998 than Luck does in 2012.
Whereas Luck has an aging Reggie Wayne, Manning had a very young Marvin Harrison. Manning also had the fortune of playing with running back Marshall Faulk, perhaps the best receiving running back of all time. As stated earlier, the running game supporting Luck is nothing noteworthy.
Manning also had a decent group of tight ends with Marcus Pollard and Ken Dilger; Luck will be dealing with two rookies, Fleener and Allen. Manning's second and third receivers, Jerome Pathon and Torrance Small, were able to record 511 and 681 receiving yards in 1998, respectively.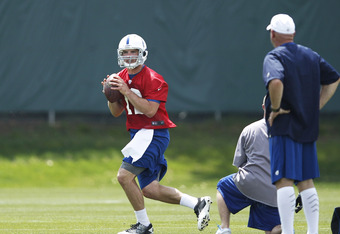 Joe Robbins/Getty Images
In 2012, Luck's second and third receivers are still a question mark, even though it appears it will be Collie and either Avery or the rookie Hilton.
But, the addition of Ochocinco would significantly address that problem. Despite being 34 years old, Ochocinco still has a couple solid years left and will be a healthy addition to the Colts offense.
Not to mention, Ochocinco will likely come cheap.
A few seasons ago, he would have likely commanded a contract in the neighborhood of $8-10 million per season. Now that he's coming off the worst season of his career, Ochocinco's possible contract may not even exceed $3 million per season.
If I were Colts owner Jim Irsay, I would rather have a 34-year-old Ochocinco than a concussion-prone Austin Collie, an injury-prone Donnie Avery or the rookie Hilton.
If Ochocinco were to land in Indianapolis, both sides would win.
Ochocinco would be on a team in 2012 and he would also have a young quarterback who is likely to throw a lot of passes. On the other side, Luck would be getting a true No. 2 target who, while probably past his prime, can still get the job done.
The Colts could use Ochocinco, and Ochocinco could use the Colts.