Cam Newton's Placement on Top 100 List Preposterously High
June 7, 2012

Streeter Lecka/Getty Images
Two members of the Carolina Panthers were revealed among the NFL Network's The Top 100: Players of 2012 Wednesday. Quarterback Cam Newton came in at No. 40, while wide receiver Steve Smith landed at No. 35.
The Panthers finished with a 6-10 record last season despite Newton breaking multiple NFL records for rookie passers and throwing for 4,051 yards and Smith rejuvenating his career with 79 catches and 1,394 yards receiving.
The duo helped Carolina improve from a 2-14 2010 season by four games and have given Panthers' fans much hope for a potential playoff run in 2012.
But these hopes are too much, too quick. The quick success by Newton and the 840-yard improvement from 2010 to 2011 by Smith are a pipe dream that fans have grasped on to and won't release.
The NFL Network also seems to have latched onto this fool's paradise, ranking Newton, and possibly Smith as well, too high in its player rankings.
Newton did incredible things in 2011 as a rookie, and he did it all with no offseason workout programs with the team. To throw for over 4,000 yards, to run for 706 more and score 14 touchdowns on the ground was amazing. But placing Newton on this list at No. 40 means that there a mere five quarterbacks ahead of him.
Let that sink in. The NFL Network thinks there are only five quarterbacks in the league better than Newton.
One of the passers ahead of Newton was revealed at No. 31 in Eli Manning. And the NFL Network has already listed seven quarterbacks behind Newton: Tim Tebow, Tony Romo, Joe Flacco, Mike Vick, Philip Rivers, Peyton Manning and Matthew Stafford.
There's a Super Bowl MVP in Manning listed lower that Newton. There are also multiple other quarterbacks with playoff wins beneath him
According to quarterback rating, Newton was the 15th-ranked passer in 2011. And only five passers threw more interceptions that Newton in 2011.
Newton's accolades were incredible in 2011 and his upside potential is even greater. But isn't this NFL Network ranking taking upside a bit too far?
Smith's ranking at No. 35 isn't as outlandish as Newton's. Smith was the fifth-ranked receiver with 1,394 yards in 2011, but at least one of the nine receivers behind him—Victor Cruz—had more yards.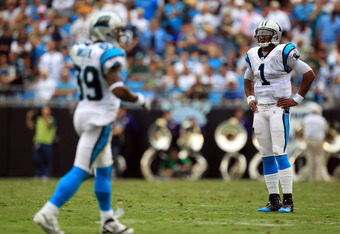 Streeter Lecka/Getty Images
Smith coming in slightly ahead of Cruz isn't a travesty. Chalk it up to experience and history. Smith does have six 1,000-yard seasons in the NFL. But is his most recent predicated on Newton's success? With Jimmy Clausen under center, Smith floundered with only 554 yards receiving in 2010.
Newton and Smith are incredible talents who deserve praise. This particular instance—The Top 100: Players of 2012 list—is praise that's just a bit exorbitant.