Drew Brees Drives a Cab While Waiting on New Saints Contract
June 6, 2012
The New Orleans Saints are having what we like to call a very bad year.
Don't worry about their superstar quarterback—he is doing just fine. 
The Saints continue to be without their on-field leader in the form of Drew Brees, a quarterback who ranks among the best in history. 
The fact that he is yet to agree on terms with the team exacerbates other issues that continue to boil over from the bounty scandal. 
For Brees, he isn't too worried about it. 
The man continues to wear a smile and show off his gunslinger confidence. The latest was a commercial spot he filmed for Dick's Sporting Goods. 
The QB was nice enough to snap off a picture of himself driving a cab.
Never thought I would be driving a cab in NYC. Doing an ad campaign for Dicks Sporting Goods Foundation and PACE twitter.com/drewbrees/stat…

— Drew Brees (@drewbrees) June 4, 2012
I certainly hope the offseason woes don't come down to Brees having to drive a yellow cab.
There aren't many yellow cab drivers who can throw for over 5,000 yards in a season.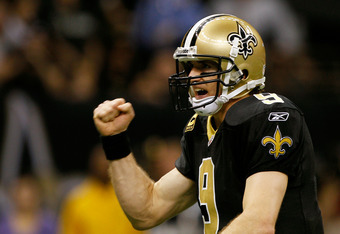 Chris Graythen/Getty Images
As for the serious business of getting Brees back onto the field for the long term, NBC Sports' Mike Florio reports on the gap keeping the star and team apart at the moment. 
Widespread reports over the past several months have pegged the Saints' offer at $18 million per year, with Brees' demands north of $21 million. Some accounts have put Brees' expectations at $23 million annually.

Per a source with knowledge of the situation, that's not the case.  Brees, we're told, has never asked for $21 million. And the Saints are believed to be offering more than $18 million, possibly closer to $19 million than $18 million.
There is just a dash of good news for Saints fans who have been suffering through the worst offseason in franchise history. 
Brees, it sounds like, is far closer to coming back and reaching an agreement than he is wallowing on much further in limbo. 
Judging by the smile he has driving that cab, I would say he isn't the least bit worried. 
Follow me on Twitter and we can bring back the funk.