NY Giants' Eli Manning: The Most Clutch Quarterback Since Joe Montana
June 10, 2012
Andrew Burton/Getty Images
As confetti fluttered down upon Eli Manning and the New York Giants following their victory over the Patriots in Super Bowl XLVI, Eli had not only bested his brother Peyton with a second Super Bowl ring.
He had not merely defeated Tom Brady in the title game for the second time in two chances.
He had vaulted his name onto the list of the most clutch quarterbacks in NFL history.
With the Giants' hard-nosed victory over San Francisco in the 2012 NFC championship game, Eli Manning set the NFL record with five road playoff victories.
Two of those came over the Green Bay Packers on the famously frozen tundra of Lambeau Field.
In the 2012 contest, Eli outplayed league MVP Aaron Rodgers, handing the quarterback just his second defeat of the season. In the 2008 contest, Eli outplayed Packers legend Brett Favre in sub-zero temperatures with a wind-chill of minus-24 (as per the Associated Press via ESPN).
Despite being the second most talked about Manning and the third most talked about quarterback in New York this offseason, Eli Manning proved last season that he is elite—after setting off a firestorm when making that claim last year on The Michael Kay Show on ESPN Radio—and one of the most clutch quarterbacks of all time.
While it does take a lot of help from one's teammates to play defense and catch passes, not to mention the luck of continued success and sustained health (Eli has 130 consecutive starts, including the playoffs), there is no denying that the ability to perform in the clutch in uniquely focused upon the quarterback position.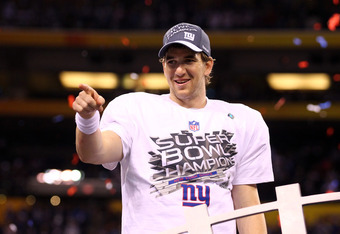 Al Bello/Getty Images
So let's look at the statistics.
Pro-Football-Reference.com has tracked the numbers down to the nitty-gritty on game-winning drives (defined as games where a team does not trail in the fourth quarter and breaks a tie for a win) and fourth-quarter comeback wins (defined as taking the field with a one possession deficit and scoring on offense to win the game).
Thus, the number of fourth-quarter comeback wins is included in the number of game-winning drives as ties are game-winning but not comeback situations.
In 2011, Eli Manning led the team on seven fourth-quarter comebacks and eight game-winning drives, making him the NFL all-time leader for both in a single season (tied with Peyton Manning in 2009 for the former, and with Jake Delhomme in 2003 for the latter).
He also set the record for most passing touchdowns in the fourth quarter in a single season with 15, passing his brother Peyton and Johnny Unitas (the NY Daily News reviews each TD here).
In the regular season, Eli has led 25 game-winning drives in his career (all listed here), putting him at 24th place all-time.
Dan Marino, who never won a Super Bowl, tops the list with 51, trailed by John Elway and Peyton, who each have 46, and Brett Favre with 45.
Warren Moon, who never played in a Super Bowl, has 37. Tom Brady is sixth with 35, Fran Tarkenton is seventh with 34 and Joe Montana is in eighth with 33 (dubiously tied with Vinny Testaverde).
Eli Manning also has 21 career fourth-quarter comebacks, good for 15th place.
That list is also topped by Marino (36), followed by Peyton Manning (35), Elway (35), Montana (31), Favre (30) and Tarkenton (30). Brady is in 10th place with 25.
However, the playoffs is where the wheat is separated from the chaff.
Beginning in the 1967 season, the Super Bowl era created a new playoff format, so this will be our primary area of concern, with apologies to Johnny Unitas, Otto Graham and Sid Luckman.
Eli Manning has led five game-winning drives in the playoffs, which ties him with Montana for third place all-time. Brady tops the list with seven and Elway has six.
Eli also has four fourth-quarter comebacks in the playoffs, good for second all-time.
Joe Montana is the best ever with five (including two with Kansas City in 1993), while Elway, Brady and Terry Bradshaw are even with Eli at four apiece.
In terms of career playoff win-loss records (via Wikipedia for ease of reference, but verifiable by each QB), Tom Brady pushed his tally to 16-6 (3-2 in the Super Bowl) this year, tying him with Montana (16-7, 4-0 in the SB) for most victories.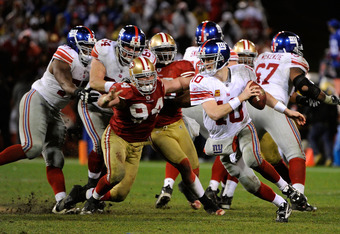 Thearon W. Henderson/Getty Images
Bradshaw was 14-5 (4-0 in the SB), Elway 14-7 (2-3 in the SB) and Favre 13-11 (1-1 in the SB). Next on the list in victories are Troy Aikman (11-4, 3-0 in the SB) and Roger Staubach (11-6, 2-2 in the SB).
Some of these quarterbacks benefited from wholly dominant teams that rarely required comeback heroics (Bradshaw and Aikman), while others were gunslingers who were adept at leading comebacks but fell short in key moments (Favre and Staubach).
And Elway was simply drubbed in his first three Super Bowls (XXI: 39-20, XXII: 42-10, XXIV: 55-10).
Purely in terms of win percentage, the two best QBs with at least seven playoff starts were Bart Starr (9-1, 2-0 in the SB) and the statistically maligned Jim Plunkett (8-2, 2-0 in the SB).
Ben Roethlisberger, selected in the same draft as Eli, is 10-4 (2-1 in the SB). Peyton Manning is just 9-10 in the playoffs and 1-1 in the Super Bowl, but at least that's better than Marino (8-10, 0-1 in the SB).
Eli Manning owns an 8-3 playoff record, for the same winning percentage as Brady. He is also 2-0 in the Super Bowl, besting Brady both times and doing so with late-game touchdown drives.
Whether it's karma or a lack of illegally gathered intelligence, the fact is that Brady is just 2-4 in the playoffs since losing Super Bowl XLII after the 2007 Spygate scandal broke.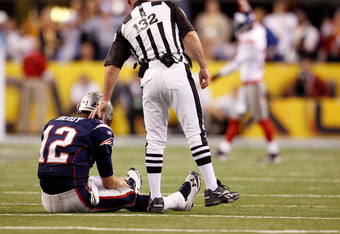 Rob Carr/Getty Images
Craig Meyer of Boston's WEEI radio writes in this blog post that Brady's clutch touch has been consistently fading recently. Similarly, ESPN New York's Rich Cimini charts Brady's decline since winning his third Super Bowl in 2005.
Scott Kacsmar, a contributor to Pro-Football-Reference.com, devised another stat to measure clutch-ness—percentage of comeback opportunities won.
Kacsmar considers the issue of clutch quarterbacks and how best to quantify them in a detailed three-part blog post.
In 2009, Forbes.com used Kacsmar's statistic to name Eli Manning as the third most clutch quarterback with 48 percent of comeback opportunities won, second only to Roethlisberger and Brady.
Of course, Manning has had a few more comebacks since then.
Considering that Brady has been beaten by Eli in the Super Bowl twice in the last five years, and Roethlisberger couldn't get past quarterback Tim Tebow in this year's playoffs (not to mention his SB XL win: 9-of-21, 123 yards, 0 TD, 2 INT), it seems entirely reasonable to name Eli as the most clutch quarterback currently playing in the NFL.
If your team was down by four points late in the fourth quarter, who else would you rather have under center?
I'll take Eli Manning.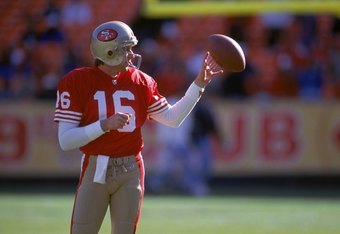 George Rose/Getty Images
It's hard to say he's the most clutch quarterback of all time, but maybe we can revisit that discussion after another Super Bowl victory or two.
As related by ESPN.com's Larry Schwartz, when Montana's 49ers trailed the Bengals by three points in the waning minutes of Super Bowl XXIII, the quarterback huddled his team for a chance at a game-winning drive.
Montana looked into the crowd and remarked to tackle Harris Barton, "There, in the stands, standing near the exit ramp. Isn't that John Candy?"
Several plays later, Montana hit John Taylor for a touchdown with 34 seconds remaining to capture his third Super Bowl title.
I don't know if Eli spotted any celebrities on the Giants' final drive of Super Bowl XLVI, but he's certainly as cool as the other side of the pillow when the game is on the line.
So cool, in fact, that he is without a doubt on the short list of the most clutch quarterbacks in NFL history.