Boston Bruins' Answer to Thomas Situation: Rask. Will CBA/His Agent Mess It Up?
June 6, 2012

Rick Stewart/Getty Images
In the aftermath of Tim Thomas' announcement of his desire to sit out the final year of his contact, the Boston Bruins are in somewhat of a pickle.
If the 38-year-old netminder decides to sit out, the Bruins are stuck with a $5 Million cap hit, and retiring will not change matters due to the CBA clause that players at age 35-plus who retire will have their cap hit still on the books until the player's current contact expires.
Losing a player like Tim Thomas is hard enough, and to have the cap hit remain is just as bad, because the desire not to play will make Thomas rather difficult, if not impossible to trade.
The answer to the "Thomas Situation"?  His 25-year-old backup Tuuka Rask.
The Finnish backstop has proven in recent years that he is more than capable to take the reins as the Black and Gold starter.  Prior to his injury last season, he played an impressive 2.05 GAA and .929 save percentage in 22 games started (played in 23).
His 11-8-1 record was largely hurt when he started in three of the October games when the Bruins were in a horrendous 3-7-0 start, and the Bruins were ranked 25th in goals for, we can safely say that the record in terms of Rask's performance was not entirely his fault.
B's Face Wrinkles
Now we face two possible situations: the pending renewal of the Collective Bargaining Agreement and Rask's agent.
If a new CBA is not worked out, the point for next season is pointless.  No CBA, most likely a work stoppage and a wedge that nearly destroyed the NHL will return to try and finish the job.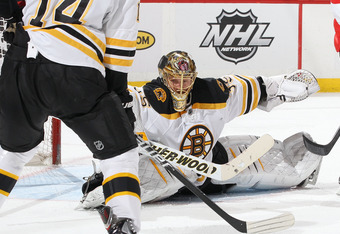 Jana Chytilova/Freestyle Photo/Getty Images
Zito Sees $$$
Rask's agent, Bill Zito, will be working hard this offseason as his client will become a Restricted Free Agent come July 1.
Rask earned a $1.25 million cap hit in his previous contract.
Want to hear another kicker?  Zito is also Tim Thomas' agent.
Zito knows full well that with the news of Thomas quite possibly sitting out, Rask is much needed to play as the starter.  This nearly places the Bruins behind the eight ball as given the situation, the price to get Rask re-signed just got higher.
Good Backup?
Anton Khudobin of the AHL's Providence Bruins has proven to be a very capable backup goalie and has impressed this writer when I watched his performance in the lone game he played for the B's late in the season.  
Khdobin posted only seven games in his young NHL career but was up to the task as he posted a 1.32 GAA and a .961 Save Percentage in those games.  Six of those were with the Minnesota Wild.
Say What You Will...
Thomas has the Bruins in a pickle.  That is not in question.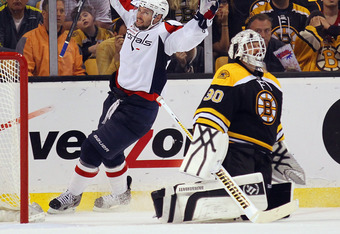 Bruce Bennett/Getty Images
Some see this as a right that Thomas won the Cup for the Bruins.
Some say that he has guts to stick with his convictions and that they applaud this decision.
Then there is the other side of it.
Other say that true, he backstopped an amazing run, but at the same note, the Bruins offense was on fire.  While Thomas was a big cog in the machine of the 2010-2011 Stanley Cup Champions, it was ultimately the team that brought home the Cup to Boston.
The big thing that some of the fans are saying is that this is a poor time to up and leave in his final year of his contract, leave the team with a large cap space that they cannot remove and that selfishness is the motivation given the timing and the situation it left the Bruins in.
On his Facebook page, he further added ire to the Bruins fans with ending his statement with an ad of one of his sponsors:
On top of this, I will continue to train using the ARP/POV systemwww.ultrafitevosport.com and work with G-Form www.g-form.com in the development of protective equipment.

What does this portend for the future?

We'll see….God's will be done.

TT
To many, this was a mixed message.  The heartfelt plea of his decision and the reasoning behind it, followed by an advertising plug.
My Question:
Why now?  Why, in the final year of his contract, did he up and leave the team that took him in?  A team that stuck with him even through his bad year to start him again for a chance at the Holy Grail of Hockey?  A team that rewarded him in kind with a generous contract?
The "Three F's" are important.  No question.  I'll be the first to stand up and agree with this.
But at 38, and not playing his entire career at break-neck NHL speeds, he could have just as easily played out his final year of his contract and retire with his head held high and the Bruins faithful respectfully bidding Thomas adieu.
No.  I think there is much more to this story.  More behind-the-scenes that we are not privy to.
Is it our business?  Not necessarily, but to effectively end your career with a team that is much loved by the sum of its parts is not only risky, but seemingly off color.
If there is more, it will most likely come out sooner or later, but for now this is what we are seeing.
This is Cory Ducey saying "Hit Hard, Keep It Clean and Keep It Classy"