NFL Draft: How Do NFL Teams Judge Upside vs. Safe Players?
June 6, 2012

Every year, those of us who write about the NFL draft use phrases such as "potential," "upside" and "safe pick" to the point of overkill. Almost every top prospect gets labeled with one or the other, and only the best of the best receive both labels.
In most draft scenarios, NFL teams are forced to make a decision: draft a player with the most long-term potential to develop into a top player at his position, or draft a player who was productive in college and should be a steady contributor, but is less likely to emerge as a star.
Either strategy can prevail, and in many cases, it is dictated by the team's situation for the upcoming season.
A team that is coming off of a poor season and is rebuilding could decide to draft talent who they believe have the most potential to develop into great players, or be inclined to draft safer players who are unlikely to be busts and should help the team improve in some way.
To the contrary, a top contender could have a strong-enough roster that they can afford to take a chance on a risky player with big upside, or draft a safe player who can contribute early and fill a hole on their roster that could prevent them from making a championship run.
In recent drafts, there have been many examples of teams selecting the players with the most upside over players at the same position with a stronger background of productivity and more ready to play in the National Football League. One position where this has been prevalent in recent drafts has been with pass-rushers.
In the 2012 NFL draft, the Seattle Seahawks selected West Virginia's Bruce Irvin as the No. 15 overall pick and the first defensive end off the board, even though he has an unpolished game, has notoriously struggled as a run defender and there were many defensive ends with better all-around games available.
That said, Irvin has more potential than any pass-rusher in the draft class, because he is a tremendously explosive athlete with a great combination of size and speed, and the ability to be a real difference-maker, even if only in a situational pass-rusher.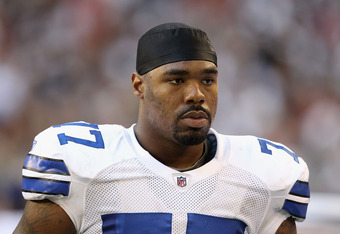 Christian Petersen/Getty Images
Similar examples occurred in the 2011 and 2010 NFL drafts. The San Francisco 49ers selected a raw hybrid pass-rusher from Missouri, Aldon Smith, with the No. 7 overall pick in the 2011 draft, over more polished pass-rushers including Purdue's Ryan Kerrigan and California's Cameron Jordan, because of his athletic potential and ability to explode off the line of scrimmage and bring heat against the quarterback.
In 2010, the New York Giants selected South Florida's Jason Pierre-Paul, a raw talent at defensive end with tremendous athletic ability, as the first defensive end and the No. 15 overall selection.
In both of those cases, drafting for upside over safe players was the right decision. Smith and Pierre-Paul have already emerged as being among the NFL's elite pass-rushers, and although both players were more risky, upside selections, both players became immediate difference-makers for their teams, bringing abilities to their teams that a safer selection may not have.
This phenomenon has also occurred at the offensive tackle position. The most polished, NFL-ready offensive tackle in the 2011 draft class was Wisconsin's Gabe Carimi, but he dropped all the way to the Chicago Bears at the No. 29 overall pick, and was the fourth offensive tackle selected.
On the contrary, the Dallas Cowboys selected USC's Tyron Smith, a collegiate right tackle with less polish and experience but more athletic potential, with the No. 9 overall selection.
Similarly, the 49ers selected Rutgers' Anthony Davis with the No. 11 overall pick in the 2010 draft over a more polished offensive tackle in Iowa's Bryan Bulaga, who had less athletic potential and went with the No. 24 overall selection to the Green Bay Packers.
The opposite scenario has also played out in recent drafts. USC safety Taylor Mays and Maryland offensive tackle Bruce Campbell both displayed jaw-dropping athletic potential at the NFL Scouting Combine, and were expected to end up as first-round picks in the 2010 draft as a result.
Instead, Mays fell to Round 2, the No. 49 overall pick, while Campbell dropped all the way to Round 4 as the No. 106 overall selection.
Likewise, Georgia Tech's Stephen Hill was considered to be a first-round lock in the 2012 draft by most draft prognosticators after his own jaw-dropping combine performance. Hill, who is 6'4'' and 215 pounds, displayed an incredible combination of size and athleticism with a 4.36-second 40-yard dash and 39 ½'' vertical jump at the combine, while catching every pass that came his way in the passing drills.
Hill has the most upside of any wide receiver in the 2012 draft class, but he also only caught 29 passes in his senior season at Georgia Tech. He ended up being only the sixth wide receiver selected, at the No. 43 overall selection by the New York Jets.
Over the past few drafts, almost every NFL team has drafted from both ends of the spectrum at different times, often within the same draft. A team that has illustrated both strategies well, however, is the 49ers.
As aforementioned, the 49ers have taken many chances on players with big upside but less polish, including Smith in 2011 and their first two picks of Davis and Mays in 2010.
On the other hand, the 49ers passed upon the chance to draft Stephen Hill in this year's draft, instead opting for a safer wide receiver with considerably less upside in Illinois' A.J. Jenkins.
There is not quite a consistent pattern of teams drafting players with big upside over safe players at any position, but it is often the players with huge potential but less collegiate productivity whose draft stocks are hardest to predict.
Sometimes, an upside player will be selected much higher than expected, which occurred with Bruce Irvin, while other times an upside player expected to be selected early will drop sharply in favor of safer, more polished selections, which was the case for Bruce Campbell.
In recent drafts, pass-rushing defensive ends and offensive tackles have been positions where upside players have frequently been selected over safer projections, but teams' strategies in this regard are often defined by the scenarios of teams with needs at certain positions, along with the talent available in each draft class.
Of course, evaluating a player as being "safe" or having "high upside" is all in the eye of the beholder. A player deemed to be a safe selection may not have the attributes for their collegiate productivity to translate to the NFL game, or have their career derailed by injuries.
On the other hand, a player who had subpar productivity but has high athletic potential could end up being a great fit for the team that drafts him, and emerge as a solid starter immediately even if they never develop into a star.
It is unclear which teams emphasize upside over drafting safely, and vice versa, and one would be unlikely to get a clear answer (and most likely get a dismissive answer) on this question from a member of an NFL front office. Both factors play a role in the draft process, but which one prevails is determined situationally.
Thanks for reading!
Follow me on Twitter @Dan_Hope.