NBA Trade Deadline 2012: How the Spurs Won the West at the Deadline
June 6, 2012

Ronald Martinez/Getty Images
Despite the San Antonio Spurs' uneventful history around the trade deadline, they elected to switch things up this year. 
In the final hours of deadline day, the Spurs welcomed back Stephen Jackson, a veteran small forward who helped the Spurs win their title in 2003. Jackson, who earlier that day had been sent from Milwaukee to Golden State, had his destination rerouted by a phone call that would prove to be a big factor in the Spurs' 2012 title run.
Despite Jackson's notorious history of being a disrespectful and unruly player, he quickly erased any fears as his return to San Antonio helped him to regain control of his lost identity.
Soon, his once-selfish ways seemed like history, as Jackson would elect to make an extra pass, instead of taking a contested shot—something he had a knack for doing in Milwaukee and Charlotte.
To correlate with his new found generosity, Jackson's defiant personality evolved into a positive for his team—energy. His new, invigorated attitude gave the Spurs confidence, and helped to liven a team that was so frequently labeled as boring.
With his attitude issues now a thing of the past, Jackson was able to excel to the point where he was one of the biggest contributors in San Antonio.
While he is far from being an All-Star, or even a standout player, Jackson helped the Spurs in ways unimaginable. 
The Spurs breezed by the first two rounds of the playoffs, only to be surprised by the Thunder in the Western Conference Finals, as the series proved to be as intense as it had been predicted.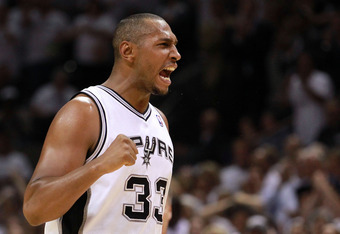 Ronald Martinez/Getty Images
With Kevin Durant leading Oklahoma City's attack, a lock-down defender was necessary if they wished to contain him. Their first move to ensure that they would obtain a player with this description came on draft night, as the Spurs sent George Hill to the Pacers for their first round selection, Kawhi Leonard.
However, despite the expectations that Leonard so easily exceeded, he alone could not contain Durant, and a second player became their primary focus this season. With Jackson on the trade block, the Spurs saw an opportunity and stole him from Golden State in exchange for a first round pick and Richard Jefferson.
While Kevin Durant still managed to be an offensive force, without Jackson, things would have been a lot worse.
Also around the deadline, the Spurs signed Boris Diaw, the ex-Bobcat who was bought out after feuding with the team.
After signing the French power forward to a small deal, Diaw's state of mind improved, and he began to hustle on both defense and offense—something that he failed to do in Charlotte.
He was an excellent defender, both on the post and along the perimeter, and was a major reason that the very big, and very talented squads of Utah and Los Angeles were stopped in the first two rounds of the playoffs.
His ability to do everything further improved his value, as he seemed to do absolutely everything with perfection. He could shoot the long ball, drive to the basket like a guard and distribute as well as any player on the team.
The Spurs' late success can largely be credited to these two players' contributions. While neither is an All-Star or even a huge threat to opposing teams, both Jackson and Diaw provided the Spurs with exactly what they needed, making them the winners of the 2012 trade deadline.