Tennessee Volunteers Football: Are We Expecting Too Much from Justin Hunter?
June 6, 2012

When the Tennessee Volunteers' star wide receiver Justin Hunter went down with an apparent knee sprain last year against Florida, I was one of many fans that thought it was just an awkward landing after a failed attempt to snag a high pass.
He even walked off under his own power, and while I knew that the worst of all knee injuries, the ACL tear, sometimes allows players to walk off without assistance, Hunter was barely even limping.
No way he was out for the season! He was walking to the locker room for an early halftime break! Of course, I was dead wrong, and the Vols' season was never the same.
Going into the 2012 season, there are high hopes on Rocky Top in a decisive third year under Derek Dooley. The talent level is finally strong enough to compete in the SEC, and the depth is respectable.
It also helps that most of the players have now reached their 20th birthday.
Included in those expectations is a perceived guarantee that Hunter tallies 1,000 yards and 10 touchdowns, but is that fair to a player less than a year off an ACL tear?
Unfortunately, I think not.
Justin's Electric Start
Hunter played in all 13 games his freshman year at Tennessee. Denarius Moore and Gerald Jones were the primary targets that year, but it was Hunter who had the highest yards per catch (25.9) and longest reception of the year (80 yards for a touchdown) for the Volunteers.
His seven touchdowns were just two off the team-leading nine set by Moore. Note that all of these stats were reached on just 16 receptions.
Hunter's sophomore year was off to a torrid start until the trip to Gainesville. He racked up 146 and 156 yards against Montana and Cincinnati (eventual co-champions of the Big East) with a touchdown in each game.
Hunter was on pace for 1,812 yards and 12 touchdowns. Of course, that pace would've slowed a bit, but a 1,000-yard season was his.
What could've been a historic 2011 season was cut short. 
Patterson Gives Hunter More Time
The addition of two-time JUCO All-American Cordarrelle Patterson has both advantages and disadvantages for a huge 2012 for Hunter.
On one hand, Patterson could draw attention away from Hunter, similar to what Da'Rick Rogers has done. Rogers has been highly successful doing this, and there's no reason Patterson couldn't benefit, too.
But on the other hand, Dooley might be persuaded to slowly work Hunter back into the lineup because of the tremendous talent already on the field. That might be the best for Hunter in the future, just not this fall.
I expect to see the coaching staff lean toward the latter strategy rather than the former. Unless the Rogers-Patterson duo is simply not working out (I don't see how that could happen), Hunter won't set foot on the field until he is completely ready.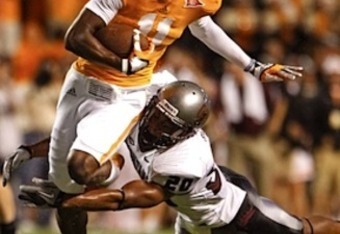 Hunter's 2012 Outlook
Fellow Big Orange fans, I hate to bring us all back to the realm of reality, but this fall won't be the breakout year for Hunter. He'll have a strong season and will make several key catches in big games, but I doubt there's 1,000 yards or 10 touchdowns in the works.
Players that fall victim to the ACL injury usually are back to themselves in the second year off the surgery. Fellow Vol Marlin Lane is still trying to regain his pre-knee-injury self from high school.
My ballpark guess for Hunter's 2012 production is 700 yards and six touchdowns.
The breakout will happen in 2013, Hunter's senior year. Give it some time, and temper your expectations in the early going.