4 San Francisco 49ers in Need of Long-Term Deals Sooner Rather Than Later
June 6, 2012
Otto Greule Jr/Getty Images
No matter how much of a luxury it may actually be, there are no simple solutions in terms of managing a roster loaded with elite talent. 
Not from a financial standpoint, that is.
The San Francisco 49ers now have a locker room flowing with that elite talent. And thanks to second-year head coach Jim Harbaugh, there is an unmatched level of chemistry that resides inside it.
Needless to say, the future is looking bright in 49er land these days.
Because behind the curtain, Trent Baalke and Co. are working around the clock to ensure the Red and Gold have a championship-caliber product to take the gridiron on game day.
One requirement to building a consistent winner in the NFL, is sound financial planning.
When a rookie outplays his initial contract, at what point do you give him a necessary raise in pay? And how do you pull it off in a cap-friendly manner that doesn't put the future of your franchise in harm's way?
As is the case in any NFL city, there are players in San Francisco who have clearly outplayed their current contracts and should be rewarded with a secure financial future. 
But with only so much loot to go around, how do you decide which of those players should be considered a top priority?
Of course, the faithful need not really worry about such issues. 
Baalke and Co. have been busy showing the football world they know how to squeeze the most out of every second they devote to their craft.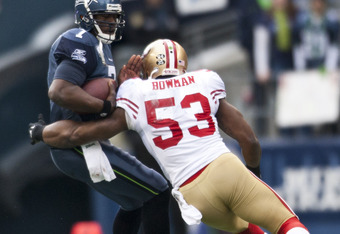 Jay Drowns/Getty Images
And we're talking about a whole lot of seconds.
Point is, they've proven time and time again they'll reward the ones that deserve it. Vernon Davis cashed in shortly after Patrick Willis got his well-deserved five-year, $50 million contract. 
Frank Gore eventually got locked in until 2014 with a new three-year deal at a respectable rate last fall. Now the franchises' all-time leading rusher can finish his career right where he started.
This offseason in particular, management did an excellent job of locking up its core for the future, especially on defense. 
The 49ers liked what they saw from CB Carlos Rogers after one season, and secured his services for four more this past March.
Just recently, the front office recognized Andy Lee as the elite punter we all know him to be when the two agreed on a lengthy, six-year extension. The new deal will now keep the 29-year-old All-Pro in Red and Gold through 2018.
Anyway, as the level of competition grows, the money grows tighter. The proper evaluations will be made, and decisions shall be executed accordingly.
Better Baalke and Co. making them than any of us, of course. 
I'm still going release my opinion onto whomever is interested in listening, however.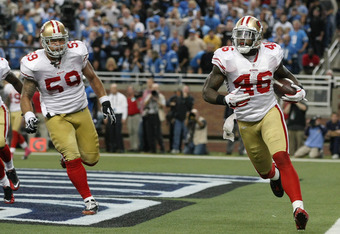 Dave Reginek/Getty Images
So here are four Niners that management should be focused on locking up long term sooner than later.
NaVorro Bowman, ILB
Age: 24
Contract details: Two years remaining on 4-year rookie contract. Set to make $721,142 in 2012 and $805,962 in 2013. 
All of us—the 49er front office included—know Bowman has a hefty increase in pay headed his way. 
But locking him up long term will be no easy task when you consider that he's playing next to one of the highest paid linebackers in the league.
Willis is the heart and soul of the 49er defense, and he was paid in a way which reflects that. 
But Bowman mimicked the five-time All-Pro (four-time first-team honors) so closely that I could barely tell the two apart as they were chasing opponents down from one sideline to the other.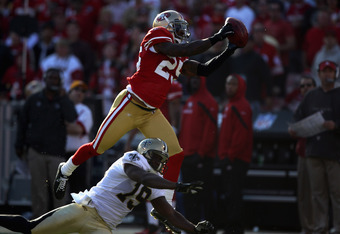 Jed Jacobsohn/Getty Images
I don't suggest that the Niners squeeze in an extension for Bowman this offseason. But with most everyone else locked up for the mid-to-long-term picture, it's time to start thinking long, long term.
Willis didn't get his big deal until his fourth offseason in Red and Gold, and he basically erased any doubts of his superstar potential in his first showing at Candlestick Park (11 tackles, forced fumble in NFL debut).
The 49ers should be watching Bowman closely this fall to precisely determine his chances for long-term success.
Although he's no Willis, I think we've already gotten a pretty good idea.
San Fran should be safe by aiming for next spring to lock up No. 53. But don't wait too long.
Bowman could hit the market heading into 2014, and though I don't imagine anyone would prefer to give up their spot next to Willis on defense, he would likely garner a boatload of cash in free agency—provided he were to make it that far.
There are "core" players on the Niners roster whose contracts expire before Bowman's does, but I'm not sure any (at this point) are as irreplaceable as Willis' newest sidekick is proving to be.
Delanie Walker, TE
Ezra Shaw/Getty Images
Age: 27
Contract details: Entering final year of a three-year, $6 million extension signed in 2008.
As is Bowman, Walker is also playing across from a teammate who is one of, if not the best at their respective positions. 
Though many were clamoring for rookie Coby Fleener from Stanford, Walker and the great Vernon Davis I speak of give the 49ers one of the more dynamic and versatile tight end duos the league has to offer.
The tight-end-loving Harbaugh and offensive coordinator Greg Roman can use Walker in so many ways, it's incredible. 
Walker is a free agent after this season, but despite the impressive amount of versatility, his skill set doesn't exactly fit the demands of most NFL offenses.
Might as well keep him where he fits best.
Tarell Brown, CB
Age: 27
Contract details: Two years remaining on three-year extension. Due $1.7 mil in 2012 and $1.8 mil in 2013.
The former fifth-round pick from 2008 made significant strides in 2011, especially late in the season.
I'm a big fan of the up-and-coming Chris Culliver and believe he could overtake Brown for the starting CB slot opposite Rogers as early as this season, but Brown still deserves a spot in the long-term picture.
Today's pass-happy NFL requires a team to carry a strong secondary into battle, and though Brown isn't a free agent after this season, he should be a highly considered for another extension heading into 2013. 
However, if he continues to improve, Brown may render himself too irreplaceable to wait on. Or, on the contrary, he may be too expensive for such a talented team to retain.
Time will tell, but Brown has already proven himself worthy of the three-year extension he earned in October 2009, and provided the two sides can reach an agreement—it shouldn't be long before he's rewarded with another.
Dashon Goldson, FS
Age: 27
Contract details: Playing under one-year, $6.2 million franchise tag (has yet to sign). 
I would like to see Goldson locked up long term, but the onus should be placed on himself more so than the 49er front office.
After slapping the franchise tag on the five-year veteran, the Niners shouldn't lose any sleep waiting for Goldson to come down on his high asking price.
Goldson reportedly is asking for a contract similar to Chargers' star safety Eric Weddle (five years, $40 million). But despite being named to the Pro Bowl in 2011, Goldson isn't quite worth what he's apparently asking for, and I'm sure the 49ers know that. 
Nonetheless, Goldson is developing into quite a ball hawk in the 49er secondary despite lingering issues in coverage, and the franchise would be in a better position if they lock him up on a multi-year deal.
It just needs to be at a semi-reasonable rate.
Is the lure of competing on a championship-caliber defense enough to help the Niners lock up Goldson sooner, rather than later?
It should be.
Note: All salary cap figures were acquired via NinerCapHell.com. 
Follow @B_Burnett49 on Twitter.