Miami Heat and Boston Celtics Players to Decide Game 5 Tonight, Not NBA Refs
June 5, 2012

Jim Rogash/Getty Images
The surging Boston Celtics are heading back to Florida tonight to face the Miami Heat in Game 5 of the Eastern Conference Finals. However, NBA fans' confidence in the officiating of this tied series remains terribly broken. 
The hard fought games, fraught with foul troubles from both teams, follows an exciting finish to Game 4 in Boston in which disqualified players, Paul Pierce of the Celtics and LeBron James of the Heat, were forced to watch from the bench.  
Unwittingly, NBA referees continue to capture headlines in the Eastern Conference Finals by either over-zealously blowing their whistles or swallowing them altogether. 
In addition to fouling out James and Pierce in overtime of Sunday's crucial Game 4, NBA officials impacted Game 2 in Miami with a glaringly non-call on a Rajon Rondo shot attempt.
The Celtics star point guard was unintentionally hit in the face by a defending Dwyane Wade with Boston trailing by only two points in overtime. Not only did the Celtics miss out on two critical free throws, but they also failed to recover in time when the Heat scored on a fast break while Rondo struggled to get off the floor.
The controversy surrounding this series' officiating will be scrutinized on every conceivable sport media outlet before the beleaguered refs toss up the basketball to tip off tonight's contest.
However, my contention is that the star players on the Heat and Celtics will decide tonight's game, as they did the first four games of the series, and certainly not the refs.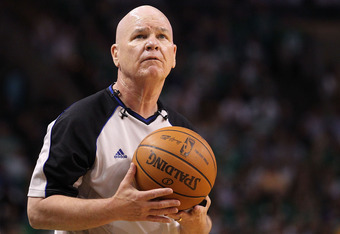 Ronald Martinez/Getty Images
Now a best-of-three series, the Boston Celtics are forced to steal a road victory in Miami to stave off elimination and avoid a possible breakup in the off-season of their aging team due to pending free agency.
Plus, this physical series won't get any easier for the banner hungry Celtics with the Heat's Chris Bosh now active and likely back in Tuesday nights lineup. Boston will rely upon Rajon Rondo who continues to dazzle with his sensational overall play and the seemingly ageless Kevin Garnett who's played brilliantly on both ends of the court.
While James, Wade and the Miami Heat look to continue their championship run in this lockout-shortened season, expectations abound in Miami where the Heat have excelled on its home court all season.
Expect Game 5 of the Eastern Conference Finals to be both thrilling and hard fought. Confidence in tonight's officiating will not need to be restored, because in my opinion, but for a couple of infrequent, unintentional missed calls, the refereeing was never broken in the first place…and both the Celtics and Heat know that.
Straight talk. No static.
MIKE – aka Mike Raffone – thee ultimate talking head on sports!