Euro 2012 Live Stream: How You Can Watch the Action Online
June 5, 2012

Shaun Botterill/Getty Images
As the Euro 2012 championship approaches, questions loom in the heads of soccer, football, futbol, fussball, or, as I like to call it, Jogo Bonito fans across the World.
Is this finally the year England asserts its dominance on the international stage?
Will players like Bastian Schweinsteiger, Phillipp Lahm and Thomas Mueller arrive with a burning desire for vengeance after a tough Bayern Munich loss to Chelsea in the Champions League final?
Will the DFB arrive flat after an exhausting post-season club-side run for several of their key players?
Can Spain repeat for their third UEFA European Football Championship?
Fox Soccer Channel will carry online coverage and analysis. 
ESPN3 will provide live stats, video highlights, blogging and other services, though live-game video streams could occasionally or frequently be limited to those willing to actually, you know, pay for cable.
Under ESPN3's "Watch Now," feature, fans can enjoy a user-friendly format for live game-viewing, highlights, archived games and more.
For those looking to follow Germany, the German television station ZDF runs an outstanding German-language coverage page of the Euro 2012.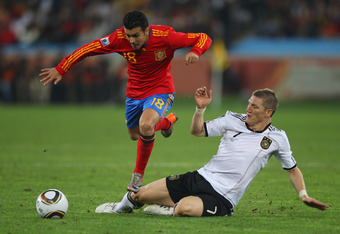 Michael Steele/Getty Images
Additionally, British broadcasting giant Sky Sports hosts an very sharp Euro 2012 homepage, complete with video, analysis and fixtures. 
Group B should provide excellent viewing, as this year's "Group of Death," features Portugal, Germany, the Netherlands and Denmark. Three out of four teams are capable of winning the Euro's any given year, while Denmark is almost always capable of beating anyone in Europe.
Meanwhile, England fans quietly harbor the highest expectations the Lions have played under since the heyday of David Beckham. Wayne Rooney, the face of English football who emerged in the 2004 Euro contests, leads a deep, talented squad to Eastern Europe to challenge for England's first European Championship.
Mainstays France and Italy field squads considerably evolved from their 2006 World Cup runs, but tough match-ups in the group stages with upstarts like Croatia for Italy and the co-host nation Ukraine for France augurs ominously for les Bleus and the Azzuri.
If they can elude the "Group of Death," die Nationalelf from Germany far and away possesses the most talent at the peaks of their career: Philipp Lahm, Per Mertesacker, Jerome Boateng, Thomas Muller, Bastian Schweinsteiger, Mesut Ozil, Lukas Podolski, Miroslav Klose and Mario Gomez comprise the single most talented team nucleus in European football.
As Greece proved against host Portugal in the 2004 final, in football, momentum often trumps talent.
Eastern European sides could feel somewhat more at home in the surroundings of co-hosts Poland and Ukraine; squads like Croatia, the Czech Republic, Russia and the two co-hosts should not be underestimated. With three of those sides in one group, (Group A) at least one but more likely two or three former Warsaw Pact nations will reach the knock-out round.
The action commences June 8th, with co-host Poland against 2004 Euro champion Greece in Warsaw.
You can follow me on Twitter: @StepanekButton