NBA Draft 2012: The Tragedy of Undrafted Underclassmen
June 5, 2012

Kevin C. Cox/Getty Images
Scotty Hopson was equally transcendent and maddening in his three years at Tennessee.
Along with Tobias Harris, Hopson was the crown jewel of former Vols coach Bruce Pearl's stellar recruiting ability that turned Tennessee from SEC doormat to conference power. The McDonald's All-American came to Knoxville in 2008 ranked ninth in the ESPNU 100 (ahead of current NBA players Kemba Walker and Iman Shumpert) and was rumored to be a possible one-and-done player destined for the pros.
His college career, however, was underwhelming at best.
Despite moments of brilliance—like his 27-point performance against then-No. 3 Pitt—Hopson was plagued with inconsistent play and routinely disappeared as a scoring threat. In his last game with Tennessee, he scored just four points in an embarrassing rout at the hands of Michigan in the first round of the NCAA tournament.
Still, Hopson chose to forego his senior season and enter the 2011 draft along with Harris, betting that a team would take a chance on his potential over his production.
His gamble failed. Sitting in a car with his mother on draft night, Hopson listened as 60 other players, some with less hype and less exposure, were chosen ahead of him.
With a year left of college eligibility, the former All-SEC shooting guard was left without a team, a scholarship or a secure future. As ESPN's Andy Katz wrote last June, "Hopson could have been an anchor for new coach Cuonzo Martin. Instead, Hopson will have a hard time finding a home in professional basketball."
Stories like Hopson's happen every season. Unrealistic family members and agents looking to establish themselves in the pro market sit with would-be college students on draft day expecting to celebrate, but instead spend the evening consoling their heartbroken player.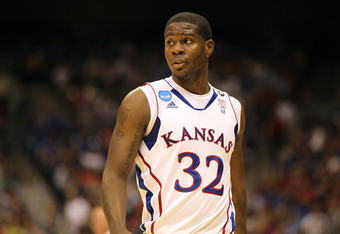 Jamie Squire/Getty Images
Players like Josh Selby go from top-five high school recruit on a national title-contending team to marginal pro player, while others like Matt Walsh suffer similar fates as Hopson and are bypassed by the NBA altogether.
This year's draft will likely be filled with similarly tragic stories (namely from players like Khris Middleton, J'Covan Brown and Dominic Cheek), and next year's draft will likely have more as well. This trend has only increased with the success of John Calipari and his youth movement at Kentucky. According to Yahoo! Sports, David Stern says it's better for business if players stay in college longer, while simultaneously asserting that this is not the NBA's problem.
The culture of AAU teams, year-round recruiting coverage and unethical agents have shouldered much of the blame for stories like these, but identifying guilt doesn't change the sad, unnecessary outcome. These players had an opportunity to earn a college degree on scholarship. That opportunity is now gone because of lousy advice.
Hopson spent last season playing in Greece in front of crowds just five percent of the capacity of the crowds he could have spent the year playing for at Thompson-Boling Arena.
For most college basketball players, an offer from a European team would be a welcomed opportunity to continue playing at the professional level, but for players like Hopson, it's little more than a sorry consolation for a poor decision. It may provide a steady paycheck to play basketball, but it's not the NBA.
No one knows this more than Hopson.