Pittsburgh Penguins: What Does Tomas Vokoun Trade Mean for Brad Thiessen?
June 5, 2012

Claus Andersen/Getty Images
Although the Pittsburgh Penguins were seeking a backup goaltender to replace Brent Johnson, it was still a surprise when, on Monday, they went out and acquired Tomas Vokoun from the Washington Capitals. The Pens only surrendered a seventh-round pick for Vokoun and promptly signed him to a two-year deal.
The move is one the organization needed, and general manager Ray Shero has confidence in his new goaltending tandem as he told the Pittsburgh Penguins' official website:
If you can get a quality guy like this that has a track record like Tomas has, mentally it will give Marc a break, but it also challenges him. It challenges Tomas as well. This is the best goaltending tandem we've had in a long time.
This move brings up another point of conversation, one which Shero did not address: What will happen to Brad Thiessen, the Penguins' top goaltending prospect?
Thiessen has been in the Penguins organization for three seasons after being signed as an undrafted free agent, spending much of his time with the Wilkes-Barre/Scranton Penguins. After winning the Baz Bastien Award as the AHL's outstanding goaltender in 2011, he struggled this past season. He had a record of 23-15-2 in 41 games with a .887 save percentage and 2.82 GAA.
In fact, he was largely outplayed by AHL veteran Scott Munroe, who was on a minor-league deal this season. Munroe had a 19-10-3 record, but posted a .907 save percentage and 2.52 GAA.
Thiessen ended up rebounding in the Calder Cup playoffs with a 6-6 record to go with a .908 save percentage and 2.14 GAA. However, it still wasn't enough, as the Baby Penguins lost to the St. John's IceCaps in the Eastern Conference semifinals.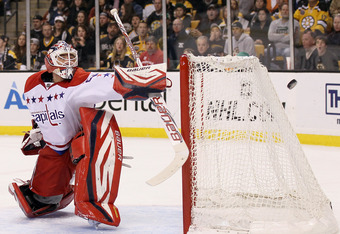 Elsa/Getty Images
In February, Thiessen was called up to Pittsburgh on account of an injury to Johnson. He won his first two NHL starts against the Columbus Blue Jackets and Toronto Maple Leafs, and he also picked up a victory over the Winnipeg Jets. However, he faltered when it came time to play stronger competition in the Ottawa Senators. He finished his first NHL stint with a 3-1 record, as well as a .858 save percentage and 3.72 GAA.
Shero likely believed Thiessen wasn't ready for backup duties, or he would not have gone out and acquired Vokoun.
So, what does this mean for Thiessen's future?
The 26-year-old prospect is a restricted free agent on July 1. He could re-sign with the Penguins and serve as AHL depth, especially if Munroe is not retained. However, Munroe played well this year and has earned himself a new deal if he wants one.
The Penguins' other goaltending prospect, Patrick Killeen, has not shown he is ready for a full-time AHL job. Killeen played 36 games with the Wheeling Nailers of the ECHL this season, where he went 19-12-4 and posted a .893 save percentage and 2.69 GAA.  He played five games in the AHL when Munroe was hurt and went 2-2, but he had a save percentage of just .871 and a 2.93 GAA.
If Munroe does not return, Thiessen could come back to Wilkes-Barre/Scranton and mentor Killeen. However, if Killeen cannot find his footing, Thiessen will be stuck with most of the workload, and this could cause him to burn out and mess up his development even further. At the same time, though, this will give the Baby Pens a confident goalie should they get back to the playoffs.
The Pens could also trade Thiessen before he becomes an unrestricted free agent, or he could choose to walk away. There are several teams that might be looking for goaltending depth and would be happy to have a young, capable netminder either as an NHL backup or to groom for an eventual starting role.
Even though the Pens could retain Thiessen, he might not be willing to stay. After all, even though he could go up if Vokoun or Fleury goes down with an injury, it is unlikely he'd want to wait around for something that is only a possibility. At 26, he will be thinking like any other player and want to go where he has the best shot to get the most playing time and continue to grow his career.
After Monday, that place may no longer be Pittsburgh.