Los Angeles Clippers: Why the Clips Are Still a Few Years Away from a Title
June 5, 2012

Harry How/Getty Images
The Los Angeles Clippers, who for years were known as the "other" basketball team in southern California, recently finished its most successful season in the franchise's history. Although the Clippers franchise is no longer a league wide laughing stock, the team is still a few years away from becoming a serious NBA championship contender. 
Chris Paul and Blake Griffin are currently one of the best player duos in the NBA. Paul is widely considered one of the top-three point guards in the league and Griffin is the most physically gifted power forward since the "Reign Man" Shawn Kemp. The Clippers roster is talented, but also possess several glaring weaknesses. 
The ultimate goal of every NBA franchise is to win a championship and hoist the championship banner in their respective arena's rafters. For most NBA franchises, a championship is a pipe dream. Too many franchises have tied their hands with bad contracts or play in undesirable small market cities.
Just ask the fans of the Sacramento Kings or the Milwaukee Bucks. When was the last time an impact free agent signed in any of those cities?  
Unlike franchises with a pigeonholed cap space or that are located in Timbuktu, the Clippers have a lot to work with on their roster. The Clippers also play in Los Angeles, the second largest market in the United States. Los Angeles has fabulous weather year round, a factor that should not go understated when free agents are deciding where they should sign. People don't realize how frustrating it is to live in a city with terrible weather until they actually do.
Do you think a veteran free agent like Ray Allen would rather play in Portland, Oregon, where it rains nine months out of the year or Los Angeles, where you can have your sunroof down almost every day of the year? The Clippers will get free agents because of where they play.
The Clippers, as currently constructed, have two franchise players, two overpaid role players, a young backup point guard who could become a star someday, a coach who is way over his head, and one of the worst owners in professional sports.
Let's start with the good—the Clippers have one of the league's top players and one of the league's top young players on its roster for at least next season. This is a luxury no team other than the Oklahoma City Thunder and the Miami Heat have. Paul has not yet signed a contract extension with the Clippers, something he will likely do if the Clippers once again enjoy a season like the 2011-12 campaign. As long as Paul is on the Clippers for the next five year's, the team will be competitive. 
Griffin, who essentially just finished his second year in the NBA, is already an NBA superstar. Griffin has holes in his game, like his inability to consistently make free throws or elbow jumpers, but his potential is through the roof. When was the last time a forward who had just finished his second year, averaging over 20 points and 10 rebounds per game, attracted so much criticism for what he "can't" do?
As we do with LeBron James, we judge Griffin's performances at an incredibly high bar. Next season Griffin will absolutely improve and his chemistry with Paul will also improve.
Other than the two stars, the Clippers have some quality role players on their roster. The most interesting one is Eric Bledsoe, who improved so much in his second year playing and learning behind Paul that you have to assume he'll make even bigger strides next season. Bledsoe could be a huge trade chip for the Clippers or a luxury at backup point guard.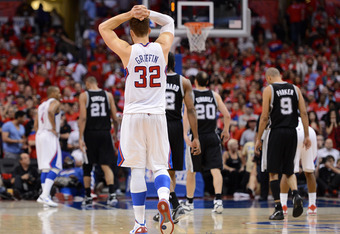 Harry How/Getty Images
Now it's time for the bad, and why the Clippers are still a few years away from becoming a team capable of winning an NBA championship. The Clippers roster isn't exactly "deep." It was the Clippers biggest downfall in its second round playoff matchup against the San Antonio Spurs. The Clippers allowed the Spurs to go on huge, costly runs in every game of the series.
Paul and Griffin's injuries exposed how weak the rest of the Clipper's roster is. It was only year one of the Paul/Griffin era, so it was expected that the rest of the Clippers roster would be weak, especially with how much the Clippers traded to acquire Paul in the first place. The Clippers should attract more free agents in the upcoming season, especially when/if Paul signs his contract extension.
The Clippers also need a significant improvement from DeAndre Jordan. If the team is going to pay Jordan over $10 million per year, he needs to average more than 7.4 points and 8.3 rebounds per game as he did in 2011-12. Jordan is only 23 years old. He has significant room for improvement. If Jordan continues to work hard to improve his game, he could be the key piece that separates the Clippers from a good team to a championship team. 
Then there's Vinny Del Negro, who looks just as over his head coaching the Clippers as Theon Greyjoy does trying to seize Winterfell in Game of Thrones. In late May, the Clippers exercised its option on Del Negro to return for a third season. Clippers general manager Neil Olshey said:
We think we have the most talented roster in franchise history and Vinny turned that into the best record in franchise history. Clearly, there was never a question that Vinny was going to come back.
Del Negro out coached Memphis Grizzlies coach Lionel Hollins in the first round of the playoffs, but that says more about Hollins performance than it does Del Negro's. In March, there were reports that Del Negro had "lost the locker room." Two months later, the Clippers offered Del Negro a one year contract extension. The move seems premature and lazy by the Clippers. The Clippers should have at least explored their options, especially with successful coaches like Jerry Sloan and Jeff Van Gundy standing in the wayside. 
Del Negro may not be as bad of a coach as critics play him out to be, but he's definitely not an elite coach. An elite coach is a must for a team looking to win an NBA championship. As soon the Chicago Bulls dumped Del Negro, they become NBA title contenders. Once the Clippers realize Del Negro is not the answer and hire a coach who actually knows how to use his rotation and set up a late game offense, it will be ready to become serious NBA title contenders.
In the meantime, the Clippers will continue to be a good team in the Western Conference. Just not a team capable of hoisting the Larry O'Brien championship trophy above their heads.