Missing Pieces the Denver Broncos Could Still Get
June 4, 2012

Doug Pensinger/Getty Images
The Denver Broncos have "made their bed" in many ways with the majority of their roster already this offseason. The addition of a player like Peyton Manning could be enough for many teams to sit back and call it "good."
However, John Elway knows that for every MVP quarterback to win a Super Bowl, there is another Darrien Gordon that needs to be on the roster to put them over the edge as it did for Elway himself.
Denver has sought out valuable pieces in Tracy Porter, Brandon Stokely, Mike Adams, etc., but are there still players out there who could help the Broncos in their quest to return to the playoffs and make some noise?
The offense seems very close to being set at all of the skill positions, as well as the offensive line with the addition of rookie center Philip Blake out of Baylor. If Denver were to make a move on offense it would likely be because of injury or a player being cut that many didn't expect which still remains to be seen.
On defense though, there are still some potential names that might be worth taking a look at for Denver to see if they still have anything left in the tank to contribute.
Aubrayo Franklin, is still out there at defensive tackle, and it could be like adding Brodrick Bunkley back to the roster. It was somewhat of a surprise that "Bunk" left for the New Orleans Saints, but the money was too much to ignore on the Bayou.
Franklin could come in at a much better price and potentially contribute just as much as Bunkley did on the season as a whole. He has the size to play over the center and the experience to move out over a guard as well, depending on what Jack Del Rio wants.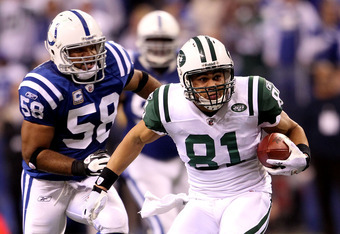 Andy Lyons/Getty Images
In the middle of the defense, I still believe that Joe Mays is more prone to failure than he is success, and that is why a veteran like Gary Brackett could make sense for Denver.
Brackett was the victim of a house cleaning in Indianapolis, but surely the Broncos' new quarterback would vouch for the savvy veteran who helped his Colts' defenses play above their ability. 
Brackett has dealt with injury more often as of late, but perhaps playing in an insurance capacity and only coming in for spot duty could help keep his effectiveness up and allow the younger players to continue to develop.
Finally, at the back of the defense there is a huge void left by the hard hitting Brian Dawkins after his retirement. A lot of pressure is now being thrust on second-year players Rahim Moore and Quinton Carter, with really only Mike Adams as an insurance policy for ineffectiveness by either.
Enter Jim Leonhard, whose style is more reminiscent of John Lynch than Brian Dawkins, but when healthy he offers more in the way of athleticism than Lynch could.
Leonhard may be hard to pry away from the Jets if he proves that he is healthy, since he has played his entire career for Rex Ryan, but it could be a worth a chance by the Broncos to see if he can add some football IQ to the back end of their secondary.