Donald Driver Fanatic Rips Cleat from Innocent Little Packers Fan
June 4, 2012
You can't get much lower than Robyn Ereth, who ripped a treasured memento from an innocent little Green Bay Packers fan named Stephen Wagner. 
The Milwaukee Journal Sentinel ran a report on Sunday that caused quite the stir with adults who have priorities that aren't driven by greed. The video clearly shows Packers star Donald Driver, winner of the latest season of Dancing with the Stars, at his charity softball game. 
The goodwill quickly took a turn for the worst when Driver began flinging some of the items he was wearing into the crowd. After he was rid of wristbands and shirts, he threw his cleats into the stands, and one landed near a boy wearing a Packers jersey.
The boy giddily went for the shoe at the same time that a full-grown woman did. The two wrestled for the shoe until the boy realized that such a battle is beyond stupid, and he relented. The woman, holding a mirror ball replica signifying the DWTS victory, grabbed the shoe with exuberance.
Sigh. 
Fox 6 Sports anchor Jen Landa witnessed the act firsthand and tweeted this:
Just witnessed most disgusting thing. @Donald_Driver80 throws shoe into stands. Grown ass woman rips it out of young boy's hands. Despicable

— Jen Lada (@JenLada) June 3, 2012
We do have some closure on the issue, thanks to an ESPN report on the matter. For one, they have her name as Robyn Ereth, and they cite her Facebook page, wherein she bragged about the cleat she received. 
Here are some screenshots taken from her Facebook page which have since been deleted: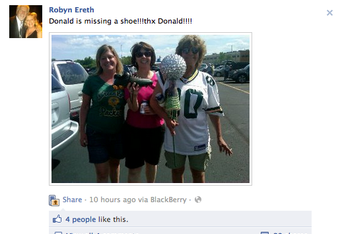 Driver, for his part, caught whiff of this deplorable act and took to Facebook for answers. 
Had a great time at my charity softball game, but I just saw a truly disturbing video of a grown woman snatching one of my cleats from the boy I threw it to in the stands. I want to get this boy the cleats he deserves! Can you guys help me find out who he is so I can get them to him??? Thank you Packer Nation!
It seems we do have a name for the kid that had his faith in women shattered this weekend. Milwaukee Journal Sentinel reporter Tyler Dunne had the necessary details for the Packers' wideout, via Twitter:
Just heard from the family again, @Donald_Driver80. Boy is Stephen Wagner. Have connect here.

— Tyler Dunne (@TyDunne) June 4, 2012
If you go through Dunne's feed, you will see that Driver's people are working to get something off to the family, so all is finally well. 
Before we get out of here, let's temper all of our vitriol for this woman, because it was only one moment of mania from a woman none of us have met. 
With that being said, shame on all of us and our maniacal pursuit of memorabilia. Grow up. It's just a shoe, or a ball or a sweaty jersey. These things have great value, but only for the little kids who don't know any better.
The next time a star athlete starts throwing balls into the stands, take a step to the side, because there is a probably a little kid hoping to get a souvenir right behind you.