2012 NFL Training Camp: Myron Rolle Battles to Make Steelers Final Roster
June 4, 2012

Scott Boehm/Getty Images
As the summer wears on, plenty of stories continue to emerge about the Steelers' restructuring and reconfiguring parts of the team heading into the 2012 season.  The offense has received most of the headlines with the change at offensive coordinator, uprooting five years of Bruce Arians' playbook, and how Ben Roethlisberger has to adapt to a new scheme.
On the other side, the defense continues to be headlined with questions about their age, speed, and long term health of stars such as Troy Polamalu among others.
But there is at least one interesting, maybe uplifting, story emerging in Steelers training camp this year that might not be the "missing piece" to bring Dick Lebeau's defense together for another championship run, but certainly has more of an upside than a contract dispute or a twitter rant.
It is the story of Myron Rolle, former sixth round draft pick of the Tennessee Titans in 2010, who also happens to be a Rhodes Scholar and attendee of Oxford University.  Rolle's story was widely chronicled throughout 2009 and 2010 as he graduated one year early from Florida State and studied overseas during what would have been his senior year at FSU.
Despite achieving a M.Sc. in medical anthropology in his continued effort to become a neurosurgeon, Rolle's stock in the draft in 2010 plummeted to the sixth round amidst questions about his commitment to football after leaving for Oxford for a year.
There is nothing more asinine than accusing a young man who is putting as much emphasis on his academic career as he is with his athletic, considering Rolle has not graced headlines for the redundant off-the-field NFL player issues such as night club shootings, domestic violence, or controversial social media comments.
In fact, Rolle has already taken on an active role in communities such as in Florida, where he started the "Our Way to Health" program to create better nutritional education for various Native American tribes within the state who suffer form obesity and diabetes.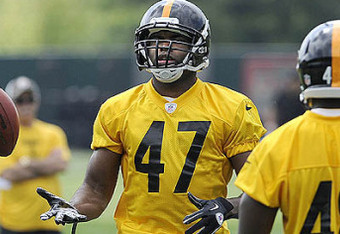 To be fair though, Rolle's year away, although an immense academic achievement, did leave the Florida State safety with a considerable amount of football rust.  Even his continued and regimental training during his tenure in the United Kingdom could not avoid that.
After being drafted by the Titans in 2010, Rolle was signed to a four-year contract but saw no action during the 2010 season and was mostly relegated to the practice squad.  The Titans finally released him in September of 2011.
After signing a reserve/future contract with Pittsburgh in January of 2012, Rolle looks to finally get his professional football career of the ground. 
The football rust has all but worn away since he has had at least one full training camp and season of practice under belt.  And with William Gay now with the Arizona Cardinals, Rolle has an opportunity to compete for a roster spot at cornerback as well as a reserve safety.
As a starter at FSU, Rolle only had one interception in his three years on his team, but he did accumulate over 200 tackles, earning third team All-American honors in 2008. (To put it in perspective, 1st round draft pick Morris Claiborne of the Dallas Cowboys only had 95 total tackles in three seasons. Granted, he did not play as much as Rolle did during his freshman year and he did have 11 interceptions to Rolle's one in that time, but it does give an idea of Rolle's potential.)
Rolle's reputation as a strong tackler only helps his stock in a defense built upon big hits throughout the years and eras of Steelers football.  His reputation off the field as an academic scholar and community role model only helps a league plagued with scandals involving players.
With all of the questions about his commitment to football behind him since the draft of 2010, Rolle is just another hungry, young athlete looking for a spot on the sidelines come Sunday in the fall.