2012 Belmont Stakes: Post Time, TV Schedule, Post Positions Info
June 4, 2012
Rob Carr/Getty Images
The 2012 Belmont Stakes is fast approaching and it could not be a more exciting time. Thanks to I'll Have Another, we finally have a horse looking to win the first Triple Crown since Affirmed accomplished the amazing feat back in 1978.
You will definitely want to tune in to see if this incredible colt has what it takes to pull off what seemed to be an impossible task just a few weeks ago before the Kentucky Derby and extremely unlikely going into the Preakness.
Read on to find out exactly when and where to watch the 2012 Belmont Stakes, post positions for the race and a full television schedule of the event. 
When: Saturday, June 9
Where: Belmont Park, Elmont, New York
Watch: NBC
Estimated Post Time: 6:40 p.m. ET
Post Positions
The post position draw will be held Wednesday, June 6 from 11:00-11:30 a.m. ET and will be streamed live from the official Belmont Stakes website. MSG will carry it on television with an MSG Plus replaying the show at 1 p.m., 7:30 p.m. and 1:30 a.m. ET.  We will update this following the drawing.
Full Television Coverage of Event
*All Times ET/PT
| | | | |
| --- | --- | --- | --- |
| Day | Time | Network | Program |
| 6-Jun | 10:00pm/7:00pm | HRTV | "The Guys" |
| 6-Jun | 11:00am/8:00am | TVG | TVG Classic: The Best of the Belmont Stakes |
| 6-Jun | 12:00pm/9:00am | HRTV | Belmont Stakes Post Position Draw |
| 6-Jun | 8:00pm/5:00pm | HRTV | How to Win the Belmont (Mike Smith, Laffit Pincay, Jr., Gary Stevens) |
| 6-Jun | 8:30pm/5:30pm | HRTV | Triple Crown Memories |
| 6-Jun | 9:00pm/6:00pm | HRTV | 2012 Triple Crown Moments |
| 6-Jun | 9:30pm/6:30pm | HRTV | Triple Crown Misses |
| 7-Jun | 12:00am/9:00pm | TVG | Racing Roundtable: The Triple Crown |
| 7-Jun | 8:00pm/5:00pm | HRTV | Remember a Champion |
| 8-Jun | 12:50pm/9:50am | HRTV/TVG | Belmont Park Simulcast |
| 8-Jun | 4:00pm/1:00pm | NBCSN | Belmont Classics: 2003, 2004 & 2011 |
| 8-Jun | 5:00pm/2:00pm | NBCSN | Live From Belmont (Jaipur & Brooklyn) |
| 8-Jun | 7:00pm/4:00pm | NBCSN | I'll Have Another |
| 9-Jun | 11:35am/7:35am | HRTV/TVG | Belmont Stakes Undercard |
| 9-Jun | 3:00pm/12:00pm | NBCSN | Belmont Stakes Undercard |
| 9-Jun | 4:30pm/1:30pm | NBC | Belmont Stakes |
| 9-Jun | 7:00pm/4:00pm | NBCSN | Belmont Stakes Post-Race Show |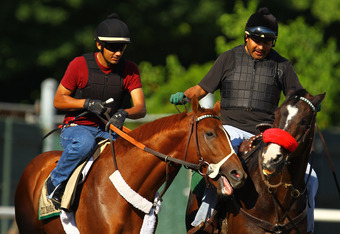 Al Bello/Getty Images
2012 Possible Belmont Stakes Starters
| | | | |
| --- | --- | --- | --- |
| Horse | Trainer | Jockey | Odds |
| Atigun | K. McPeek  | J. Leparoux  | 30-1  |
| Dullahan | D. Romans  | J. Castellano  | 5-1  |
| Five Sixteen | D. Schettino  | R. Napravnik  | 50-1  |
| Guyana Star Dweej | D. Shivmangal  | undecided  | 50-1 |
| I'll Have Another | D. O'Neill | M. Gutierrez | 3-5 |
| Optimizer | D. Lukas | C. Nakatani | 30-1 |
| Paynter | B. Baffert | M. Smith | 8-1 |
| Ravelo's Boy | M. Azpurua | A. Solis | 50-1 |
| Street Life | C. Brown | J. Lezcano | 15-1 |
| Union Rags | M. Matz | J. Velazquez | 6-1 |
| Unstoppable U | K. McPeek | J. Alvarado | 30-1 |