Was LeBron James Right or Wrong to Pass Up on Last Regulation Shot vs. Celtics?
June 4, 2012

When an NBA team loses a close game, the posthumous second-guessing spreads quickly and extinguishes promptly. The ruckus is defined as much by the immediate clamor as it is by the subsequent hush, as the news cycle affords little opportunity for next-day dwelling. 
But when the Miami Heat lose a close game, we're bludgeoned over the head with supposed analysis and narrative reflection. The critical theories spread like wildfire, and the loss itself acts as a cesspool for the unreasonable. Scapegoats are scolded, false idols are invoked and LeBron James is summarily criticized, regardless of context.
We're going to approach things a bit differently here, particularly in regard to James' decision-making on the final play in regulation in Game 4. By now, we all know the result: With the game tied at 89-all, James paused outside the three-point line, drove to his right into the teeth of the Boston defense and attempted to pass the ball to Udonis Haslem on the left wing for a jumper.
By the time the pass had skidded to Haslem, the window had closed; Kevin Garnett recovered, Haslem was forced to adjust and a potential game-winning opportunity ended in an air ball.
But since such things can't occur without a finger pointed in one particular direction, I suppose we have to ask: Where did things go wrong? More specifically, did LeBron make the right call by dishing to Haslem?
The first question is a bit more difficult to assess, but the second is relatively easy to dismiss. James made a concerted effort to attack Boston's defense and force the Celtics to make a difficult decision, and though his drive may have come a bit late in the shot clock, he nonetheless accomplished his goal.
In refusing to settle for a jumper, James gave his team the best chance to create a worthwhile possession. Beyond that, he attracted a ton of defensive attention and rightfully looked to put the ball in the hands of an open shooter.
Consider the sheer number of defenders that James was able to attract on his drive: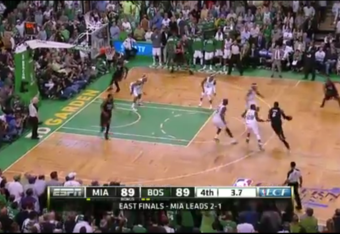 Had James pulled up to shoot over the glut of Celtics that had converged on his position, he may have been subscribing to a conventional (and foolish) tenet of clutch performance, but he would've been making the objectively wrong basketball play.
Plus, c'mon: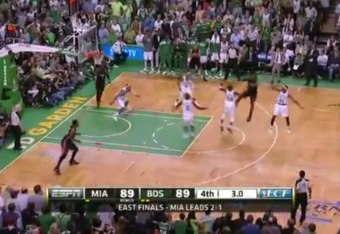 Haslem is a good mid-range shooter, particularly comfortable on the baselines and almost drowning in open space. Shane Battier provided a decent alternative on the opposite wing, but with two different teammates deserted by their defenders, James had his choice based on angle and circumstance. He opted to throw the ball Haslem's way, and that selection wasn't at all incorrect.
The only problem was that Keyon Dooling—who had swerved along the arc behind James while trailing Mario Chalmers—was able to partially deflect James' pass. The intent was correct, but the execution off by a fraction of a second or a fraction of an inch; with any slight change in the actions or specific angles of either James or Dooling, this play could have led to a wide-open look for a solid shooter. 
On an end-game possession, one can't ask for much more than that. James made an imperfect play, but the proper read, and what could have been a showcase in the virtue of late-game selflessness, became a cautionary tale for working in isolation against Boston's strangling defense.
The credit given to the Celtics should be heavier than any blame assigned to James or anyone else; the pressure and focus may be fixed firmly on LeBron and the Heat with the game on the line, but it was Boston's defense that earned an opportunity to compete in overtime and ultimately won Game 4 outright.