Missing Pieces the St. Louis Rams Could Still Get
June 4, 2012

Dilip Vishwanat/Getty Images
With OTAs (Organized Team Activities) and minicamp nearing a conclusion in a few weeks, the St. Louis Rams are pretty much set on who will be joining the team for training camp in July. 
The Rams had six draft picks in the top 100, so they'll enter camp with a considerable amount of young talent. Also, with several key free-agent signings (Cortland Finnegan, Scott Wells, Kendall Langford, Jo-Lonn Dunbar), they've added an impressive group of veteran players as well. 
The new additions to the team will allow Jeff Fisher and the coaching staff to solve some of the problems that haunted the team last season, but there are still several gaping holes in the roster that can be filled between now and the start of training camp. 
Here are some units that could still use reinforcements:
Left Guard
Every spot on the offensive line has a starter penciled in expect for left guard. And although the opening-day starter is unknown at this point, Fisher has already indicated that their starter is already on the roster. 
One option is Rokevious Watkins, who was the team's fifth-round pick last April. He's a promising talent, but his inexperience may require the coaching staff to develop him for several years before he's truly ready to start. 
Bryan Mattison, who started four games last season after the line suffered a swarm of injuries, is one of the top candidates, but he'll be competing with veterans Robert Turner and Quinn Ojinnaka.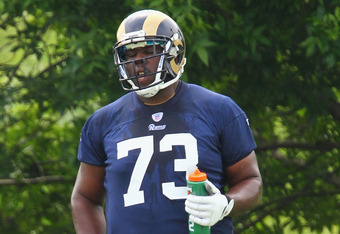 Dilip Vishwanat/Getty Images
Fisher feels that the team has options, but don't be surprised if he goes back on his word if there are several promising veterans released from other teams during training camp. 
It's vital that the team protects quarterback Sam Bradford before he becomes permanently shell-shocked. If Fisher feels that a free-agent veteran can get the job done better than any of the current options, then he won't hesitate to pull the trigger. 
Outside Linebacker
The Rams signed Jo-Lonn Dunbar and 32-year-old Mario Haggan in free agency, but the depth behind them consists of pretty much all rookies. 
Aaron Brown was drafted by the team in the seventh round, and he's expected to provide some depth behind the veterans. However, if Brown and the other rookies are unimpressive in training camp, then Fisher might explore alternative options. 
The Rams seem to be set at the moment, but if the rookies are causing headaches, then don't be surprised if the team brings in a third veteran linebacker for depth. 
Safety
Quintin Mikell and Darian Stewart are solid players and are capable of fulfilling their duties as the team's starting safeties, but the depth behind them is quite alarming.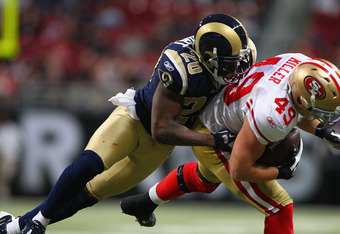 Dilip Vishwanat/Getty Images
Craig Dahl is the third safety, and as Rams fans have discovered over the past three years, he's a liability in coverage. 
Right now, undrafted rookies Matt Daniels and Rodney McLeod are the only other options besides Dahl. So needless to say, it's a bad situation for the Rams if either of their starters go down. 
At this time, the team has been unwilling to try third-year cornerback Jerome Murphy at safety. Murphy would be a solid option as a backup safety, but there have been no reports of him getting reps at the position. 
If the coaches are reluctant to give Murphy a shot, then don't be surprised if they bring in a budget-friendly veteran to provide some competition.