Carl Froch vs. Lucian Bute: Coach Stephan Larouche Should Be Ashamed
June 4, 2012

Scott Heavey/Getty Images
Carl Froch completely destroyed Lucian Bute. Is the former IBF champion overrated? This is up for debate.
One thing isn't up for debate though. The Quebec province has been one of the most fertile places for developing great boxers. This region of Canada is well-known for having many high-caliber coaches.  
In the past 10 years, all the praise has been going to one trainer from Quebec, Stephan Larouche. He has been able to charm the local media who were totally blinded by his charisma.
In Bute's fight, coach Larouche didn't prevail, but once again the local media stayed quiet on the issue. In the meantime, two of the best boxing trainers in Quebec, Russ Amber and François Duguay, have been sitting in the dark while being two world-class elite trainers.
Larouche did train four world champions since 2000, but sometimes, you shouldn't judge someone by only the result. Although the media have been raving about him for the past 10 years, one question is worth asking: Is he the most overrated coach in Quebec? If not, he is one of the most careless coaches.
Lack of Judgment from Stephan Larouche
The first round of the Froch vs. Bute fight was actually the lone one where the Romanian looked decent.. In the fourth round, it wasn't a fight anymore; it was only a 32-year old man receiving a bad beat.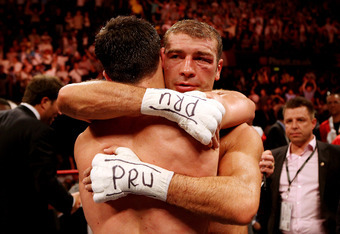 Scott Heavey/Getty Images
There's no way that this fight should have gone past round four. Larouche, Bute's coach, admitted the following via Canoe.ca.

At the end of the fourth round, Lucian thought that he had lost by K.-O. He wasn't really there anymore. I told him that the round was over...
Are you kidding me? Your boxer doesn't even realize that the fight is still going on, and you send him back in the ring? If Larouche had a minimum of care for the health of his boxer, he had to stop it. Round 3 and 4 were pure torture for Bute.
Let's have a quick look at the Compubox numbers. In the third and fourth round, the Cobra landed 61 power punches while Bute only landed 15 of them. Froch had a landing percentage of 57 percent in these two rounds. 
In the third round, Bute was hit five times more than Froch while the fourth round was just as bad with Bute getting hit by 62 percent of the Cobra's power shots.
Larouche decided to send back his protégé in the ring. Nice decision as Bute landed zero punches vs. 14 power shots for the Cobra. And here's one more inconceivable quote from him.
The referee took a lot of time before stopping the fight (...) I believe that there has been too many shots. It can have bad consequences on a boxer.
Isn't it the job of a coach to throw the towel when his boxer is getting killed in the ring? Even though the referee was slow stopping the fight, Larouche had this freedom for the entire round.
Comments from Russ Amber
Russ Amber, a well-known coach in Quebec, was quoted saying during an interview with RDS: "I would never have let my boxer go in the fifth round."
Guess what? He would have been right to do so. Amber also mentioned the importance to "take the role of leader in the corner" as a coach, making a reference to deciding when to stop a fight or not.
Larouche hasn't been a leader in the corner. He hasn't protected his protégé and this is a shame for the Interbox organization.
In a post-fight interview, still with RDS, a local media, he admitted that in the first round "It's the only time that I felt him with me in the corner." The trainer added that after this first round "He (Bute) wasn't able to take the best decisions for himself." Enough said.
Bad Reactions from Bute and his coach
When he was getting hit hard, Bute "didn't react well," said Larouche via RDS.  However, the trainer's reaction was worst during the fight. He told his fighter: "You're about to get knocked out Lucian, probably next round."  I don't have a motivation Ph.D., but I can confirm to you that it is probably not something a coach should ever say.
Again, in a post-fight interview, Larouche was quoted saying "Will he get back? No statistics can prove it affirmative or positively." He added that Bute "is currently ashamed." Again, how could these comments possibly help a boxer to get back on track?
Lucian Bute is a Warrior
A lot of blame has been directed toward the former IBF champion. He wasn't able to stop punches. He didn't have his hands up enough. He wasn't able to attack the body as well. He doesn't have a good chin.
I won't debate any of these issues here. Let me clarify one thing, though. In contrast to his trainer, Bute has nothing to be ashamed of. He went in an enemy territory when he didn't need to. He worked hard to prepare for this fight.
Prior to this bout, he had an undefeated record and nine successful title defenses. I agree that his opponents list wasn't grade A, but he still achieved all of this. When will a Canadian champion repeat this exploit?
Bute took the chance of putting himself on the line, when he was aware that failure was a possibility. Russ Amber, via boxinginsider.com, summarizes the situation perfectly.
Unfortunately, our society and certainly our sport breed cowards. It breeds the naysayers that after you fail, they're the first one to fucking cast a stone and say what a loser you were. They're the ones that don't ever take the risk or take the chance of putting themselves on the line, where you're subject to facing defeat. These people, these cowards who come out suddenly know everything and they say 'oh he wasn't that good to begin with, and he was protected in Montreal, blah, blah, blah'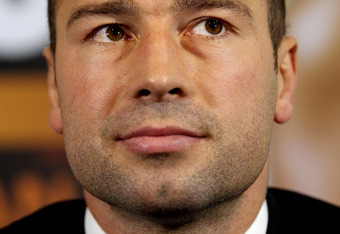 Scott Heavey/Getty Images
Is Bute Overrated?
This is one of the most-talked subjects of the past week in the boxing world. Is Lucian Bute overrated? Let me ask you another question. Is Stephan Larouche overrated? A lot of questions should emerge about his strategies, but also about his ability to provide motivational and psychological support to his boxers.
In October 2003, Leonard Dorin, WBA Lightweight World Champion, intentionally didn't make the official weight and the boxing night was cancelled.  Instead of supporting their athlete, most local media put all the blame on Dorin.
Surprisingly, the WBA champion had a rocky relationship with Larouche and was often caught not listening to him during fights. A lack of trust was clearly visible.
In summer 2008, undefeated IBF junior featherweight champion Steve Molitor left his trainer to replace him with Larouche. The relation lasted about one year and Molitor left Larouche with a permanent loss mark to his record.
It is also interesting to note that Larouche left the corner of WBC light heavyweight champion, Adrian Diaconu. Surprisingly, he gave the task to Pierre Bouchard and we all knew that Diaconu was heading towards fights he couldn't win. Was Larouche leaving the ship while it was sinking?
Larouche won world championships with three already polished Romanian boxers.  He was never able to develop the huge potential of local heroes as Benoit Gaudet, Sébastien Gauthier and Antonin Decarie.
He didn't see the potential of Herman Ngoudjo and let him walk away, Ngoudjo was involved in some terrific fights in 2007 and 2008.
Larouche failed in the lone year that he trained Steve Molitor.
Sometimes, you need to look beyond the athletes to find the real problem.