2012-13 NCAA Basketball: Can the Georgia Tech Yellow Jackets Compete Nationwide?
June 3, 2012

Kevin C. Cox/Getty Images
The 2011-2012 season was a difficult season for the Georgia Tech Yellow Jackets, as new coach Brian Gregory lead the team to a paltry 11-20 record.
This included a 4-12 record in the Atlantic Coast Conference and a 4-16 record in the final 20 games of the season. However, the team was filled with recruits from its previous regime of Paul Hewitt, and growing pains were to be expected.
How it the outlook for 2012-2013?
The Yellow Jackets are losing often-maligned Glen Rice Jr. after numerous off-court issues and backup center Nate Hicks, who is transferring. Wings Nick Foreman and Derek Craig are graduating, but only Foreman's tough perimeter defense will be missed.
On the flipside, Gregory is bringing in five guys, two of which are in the top 75 to 100 prospects in the country, according to many sources, like ESPN.com or Rivals.com.
Robert Carter is a strong, fluid 6'8'' power forward that can play center in a pinch. Think Julian Royal—last year's lone freshman and provided hustle at the power forward—but quicker and stronger in the post.
Marcus Hunt is a well-built, athletic slasher at the small forward who will need polish in his outside game. He can probably turn out to be a Glen Rice Jr. and Jason Morris—a returning junior with a lot of athleticism—mixture.
Both are 4-star prospects, according to Rivals.com.
Chris Bolden is 3-star shooting guard with a smooth jump shot and quick build. He will be a great guy to have around the arc while posting up Daniel Miller, the starting center and rock of the defense, Kammeon Holsey—a solid post scorer—or Carter.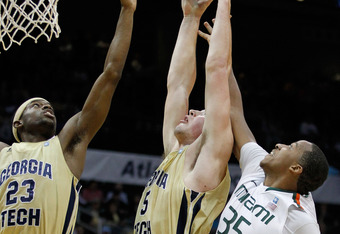 Streeter Lecka/Getty Images
After that, a couple of interesting point guards come in who are both raw, but have upsides.
Stacey Poole is transferring from Kentucky. He'll have three years of eligibility left.
Corey Heyward was a late add and is a relative unknown. If Pierre Jordan, in his last eligible year and nothing more than a facilitator, falters as the backup point, Poole will probably step in.
All incoming guys played high school ball in Georgia, with the exception of Poole.
The losses of Hicks, Foreman and Craig are pretty marginal. The Glen Rice Jr. saga was well- documented, and hopefully the new players have better attitudes than he had. The loss of his court production is hard to replace.
The combo of Morris and Hunt can more than make up for the slashing ability of Rice, even though Marcus Hunt is more of a low post player than Royal or Hicks.
Mfon Udofia, a steady senior point guard, takes over as the leader and serves to mentor the young point guards behind him.
With Brandon Reed, a pure scorer, Morris and Hunt on the wing, in addition to Royal, Miller, Holsey and Carter in the post, this probably the most talented team since Favors' one-and-done year.
They have a slim shot at the NCAA tournament, but a 18-14—7-9 in the ACC—year is most likely. The Jackets should be able to move into the mid-tier of the ACC as others fall back, setting them up nicely for the next year.
Gregory now has a defensive-minded crew to be a contender in the heart of Atlanta. Big things will be happening for Georgia Tech in the coming years—going towards a long NCAA tournament run that evokes images of the 2004 Yellow Jackets.