Can the Detroit Lions Put Positive Spin on Tumultuous Offseason?
June 4, 2012
Ezra Shaw/Getty Images
If there's one thing the Detroit Lions know, it's adversity. After all, we're talking about a team that, prior to 2011, hadn't seen the bright lights of NFL postseason glory since 1999. During that stretch, the team compiled an abysmal 48-128 record.
We're talking about a Detroit Lions team that survived an unexpected retirement from the best player to ever wear Honolulu blue and silver in Barry Sanders. We're talking about a team that survived seven long years of Matt Millen in the front office.
A team that survived Bobby Ross, Gary Moeller, Marty Mornhinweg and Rod Marinelli as head coaches. A team that survived seeing its much anticipated franchise quarterback Matthew Stafford suffer season ending injuries his first two years in the league.
The Detroit Lions know adversity.
They also know that the tumultuous offseason that has somewhat tainted the start of the 2012 NFL season isn't going to affect what they know they have to do on the football field.
They know what you're saying about them—the comparisons to the Cincinnati Bengals and Oakland Raiders. They know you're laughing at them again. They don't care.
Detroit Lions defensive tackle Nick Fairley, running back Mikel Leshoure and offensive tackle Johnny Culbreath haven't exactly been model citizens since last season ended. Wide receiver Titus Young hasn't been the model of maturity either.
The drug- and alcohol-related incidents and the behavior of Young in OTAs have recently derailed an otherwise successful offseason—one that saw the re-signing of Calvin Johnson, Stephen Tulloch and Jeff Backus, plus at least one more year from Cliff Avril thanks to his franchise tag.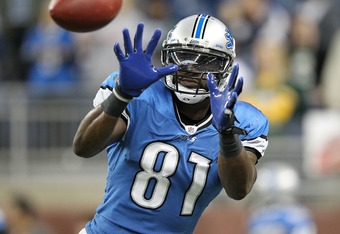 Leon Halip/Getty Images
But that's where the bad news ends.
I wouldn't go as far as to say that the Lions are back to being underdogs, but I will say that they are in familiar territory. Playing under the scrutiny of the rest of the NFL and its fans is a place they've been a few times before. It might not be where Lions fans want them to be, but they can breathe easy knowing that they've handled it before and that they'll handle it again.
And then there's this: Matthew Stafford, Calvin Johnson and Brandon Pettigrew are just a few of the many leaders that the Lions still have and can count on. So while the 2011 rookie draft class has been busy fumbling through the offseason, the guys that hold this team together and have for the past few years haven't lost a step.
And if anything, these struggles simply make the fuel burn just a little bit deeper.
There's a good chance that at least two of the three Lions arrested this offseason will face suspensions from the NFL. If you ignore the contributions that Leshoure and Fairley are projected to make in 2012 and look at their numbers from 2011, you'll see that missing them for a few games might not actually make a bit of difference to the Lions' overall production.
Both Fairley and Leshoure were sidelined last year with injuries—Leshoure for the entire season and Fairley for six games. In those 10 games, Fairley had just 15 tackles and one sack.
That doesn't mean that the Lions weren't looking forward to the production of Leshoure in an otherwise depleted backfield or that Fairley didn't show glimpses of greatness last season. It just means that the Lions won 10 games last year without Leshoure and with Fairley's sub-par numbers. There's absolutely no reason to think they can't do it again.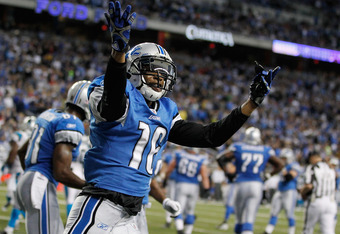 Gregory Shamus/Getty Images
As for Young, the Lions simply have to make sure his ego stays in check. Easier said than done, I know, especially when dealing with professional athletes, but I firmly believe that the rest of the Lions receiving corps will make sure Young doesn't forget that he's not irreplaceable. The addition of rookie wide receiver Ryan Broyles who, despite battling a knee injury, has looked more than competitive in offseason workouts and could push Young.
What does all of this mean? It means the Lions have options. It means despite the negatives this offseason and the probabilities that at least a couple players will be absent for a few games next season, the Lions will be okay.
Of course, at the end of the day, the only real way the Detroit Lions can make this negative offseason a positive one is to win. They proved they could do that last year; now they just have to show they can do it in the face of adversity.
Luckily for them, however, that's something they're used to.