Who's More Important to OKC's Future: Russell Westbrook or James Harden?
June 3, 2012

The Thunder have a dilemma. 
However, it's a dilemma most teams would love to have, in what I would call a "good" problem to have. James Harden, the Thunder's super-sub, is up for a contract extension this summer. The Thunder, however, have already doled out two max contracts. One to their superstar and franchise player, Kevin Durant, and the other to their explosive and dynamic shoot-first PG in Russell Westbrook. 
There isn't enough dough to go around. The Thunder need to ask themselves who's more important to their future: Russell Westbrook or James Harden? The answer to me seems obvious.
ESPN's Chris Broussard recently conducted a poll asking team executives around the league who they trade between Harden and Westbrook if they had to let one go. To many people's surprise, 14 out of the 22 executives chose to keep Harden and trade Westbrook, a six-point margin.
NBA executives aren't dumb, they obviously see what any knowledgeable watcher of the game sees. And that is the fact that James Harden is more important to his squad than Russell Westbrook.
Saturday night's Game 4 win against the Spurs was a perfect example of this. Russell Westbrook went 2-of-10 for seven points and had five assists. He took 10 less shots than Durant and one less shot than Serge Ibaka, and the Thunder still won. Game 3 also applies here, as Westbrook went 5-of-15 and had 10 points and nine assists. He took less shots than Durant and Thabo Sefolosha, and surprise, surprise—the Thunder won.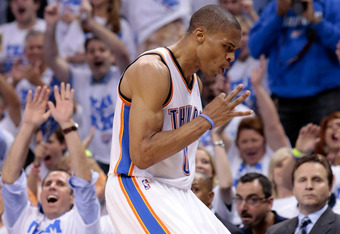 Brett Deering/Getty Images
Compare these numbers with his averages from Games 1 and 2 and you'll see Westbrook averaged 23 points and respectively took 21 and 24 shots, both more than Kevin Durant. And to no one's surprise, the Thunder lost. Harden, on the other hand, has been consistent throughout the series and has averaged a spectacular 18.8 points per game. 
Yes, I know that Westbrook is a dynamic point guard who can get his shot at any time he wants. However, this is more of a negative for the Thunder than it is a positive. Westbrook too often plays with blinders on, in which he thinks he can take the other team's matchup one-on-one and score every time. Not only does this put the team out of rhythm offensively, but it's also another possession in which a shot goes up without Durant touching the ball. 
Westbrook has virtually no playmaking ability, nor does he set his teammates up. It should be apparent to every NBA fan that the former UCLA star is a 2-guard playing the point. He's out of position, and it's hurt the Thunder. The few times that Westbrook does buckle down, play under control and look for his teammates, good things happen. As evident by Games 3 and 4 of the Western Conference finals. 
The more I watch Westbrook, the more I think he wants to be the man at OKC. I'm quite sure that if Russell Westbrook was on a team like the Bobcats or the Pistons, where he would clearly be the No. 1 scoring option, Westbrook would absolutely love it. He longs to be the star. The worst thing that could have happened to Westbrook was Derrick Rose winning the 2011 league MVP, because it showed Westbrook that he could win one too, seeing as how so many people compare the two. 
While Rose and Westbrook may have a similar type of playing style, Russell Westbrook can't touch Rose's basketball IQ, ability to lead a team by himself, his demeanor and leadership. Westbrook lacks all the intangibles. He isn't in Derrick Rose's class, nor is he in Deron Williams' or Chris Paul's or Rajon Rondo's. Any one of those point guards would make Kevin Durant that much of a better player, and OKC that much of a better team. 
James Harden would start on almost every team in the league, but because head coach Scott Brooks wants to bring firepower off his subs, he brings Harden off the bench. Harden is one of the five best shooting guards in the league already, only behind Kobe Bryant, Dwyane Wade, Joe Johnson and Manu Ginobili. Harden's craftiness and smooth skill set, as well as a rare ability to play point guard at times, makes him OKC's unquestioned No. 2.
Russell Westbrook too often turns into Russell Westbrick, and If OKC had a choice to extent either Westbrook or Harden's contract today, I'm sure they would go with Harden, because they probably don't want two starting shooting guards on their team. 
Follow me on Twitter and YouTube for NBA articles, news, updates etc.