Reggie Bush Says He'll Claim Rushing Title, but What Does the Tape Say?
June 3, 2012

"I want the rushing title." - Reggie Bush
The direct quote from the determined Miami Dolphins running back would have fans of the 31 other teams and perhaps the Dolphins pointing and laughing because Reggie Bush wants the rushing title. 
Reggie Bush?
That's right, and judging by the way he ran last season, it's entirely possible he claims the rushing title—if he gets his carries and duplicates his yard-per-carry average while also staying healthy. 
Bush comes into the 2012 season as the top tailback on the Miami depth chart, but the placement is a bit misleading, as the coaching staff will look to give carries to last year's second-round pick Daniel Thomas and this year's fourth-round pick, hometown runner Lamar Miller. 
But based off of the past season's tape and statistics, Bush has a chance to make a run at the rushing title because he ran exceptionally well and significantly different than what we'd seen in previous years.
Prior to 2011, the former USC Trojan appeared hesitant when carrying the ball for the New Orleans Saints, almost embarrassed to take a handoff, preferring to catch the ball in space in order to land on SportsCenter's Top 10 Plays.
But last season was an anomaly, and Bush was a different kind of player.
The much-maligned tailback was given his first real chance at being the featured running back and he impressed. He wasn't hesitant in hitting the alley, and he didn't appear to have the weak ankles that saw him go down like a gust of wind hit him in the past; instead, he was determined, he was making defenders miss, he was hurdling them, he was—get this—breaking tackles.
Examples of this kind of play came in many forms, whether it was on a seven-yard gain or a 76-yard gain. One of Bush's better runs of the season came against the Super Bowl champion New York Giants in Week 8.
The Dolphins offense came out and set up in a 21-personnel set with two backs in the backfield and one tight end to the right of the formation against the Giants' four-man front.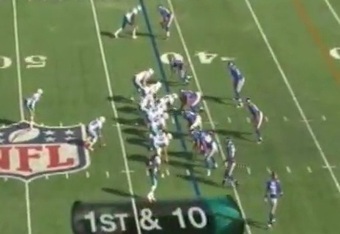 Miami called a counter play here, which features a pulling guard from the back side and Reggie Bush taking misdirect steps prior to bringing it back to the front side and taking the handoff. When the play was being executed, the Giants defense flowed in the wrong direction, consequently leaving an alley for Bush to run through.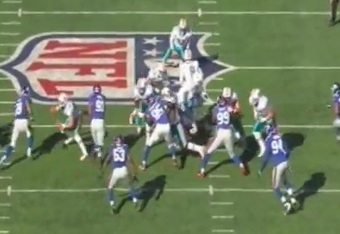 Bush hit the hole and as he approached the second level, set up another one by planting his left foot to the outside as if he was going to go in that direction before pushing off of it and making a quick cut to the right, where he found an opening into the second level.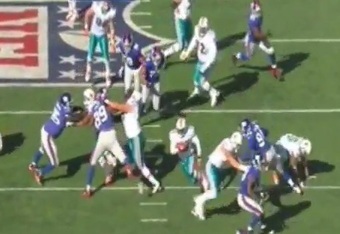 Once he got to the second level, Bush did two things that many questioned whether he could do or not with the Dolphins: break tackles and show a second gear.
Bush dropped his pad level when approaching a Giants defender and kept his feet moving, which he's been taught to do since pee-wee. Because he dropped his pads, he bounced off the would-be tackler, spun outside and saw another opening down the field.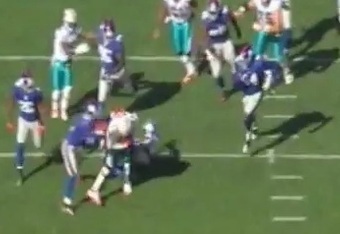 When he saw the opening, he showed the ability to turn the corner and pick up additional chunks of yardage that he was known for in his college years.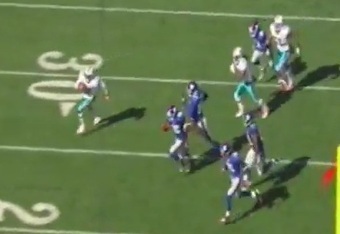 In addition, Bush also displayed the ability to make defenders miss with dazzling footwork that had been missing in his first five years in the league. Late into the season against the Bills, Bush ran for more than 200 yards at over eight yards per carry and created many big plays in the open field.
One of those big plays came early in the second quarter in a 7-7 game. Bush and the Dolphins came out in a 11-personnel set, featuring one running back and one tight end, and ran a power run concept.
The power concept has a pulling back-side guard and a straight-ahead handoff taken from Bush, who ran through the C-gap to pick up the necessary yardage (and then some) to move the chains.
When Bush looked to get to the open field, he had to make the first Bills defender he saw miss, a tough task that only the quality runners make with consistency. Bush did just that, by administering a nasty spin move that saw him plant his outside foot and dip his shoulders as if he was dropping his pads to deal with contact, and then he suddenly spun back to the inside of the field to continue running. 
This kind of running style saw Bush run the ball 216 times at five yards per carry, the second highest of his career, and top the century mark—the first of his six-year career. These numbers are quality, the type that some of the top ballcarriers have, but Bush will need more if he wants to win the rushing title.
In the last 10 years, the NFL rushing title has been held by a variety of very talented running backs, ranging from Ricky Williams to Jamal Lewis to Maurice Jones-Drew and they've run for an average of 1,773 yards per season. Perhaps these numbers are skewed a bit by the 2,000-yard rushing seasons that Jamal Lewis and Chris Johnson had, but these numbers aren't:
16, 357, 4.9.
16 is the average number of games played by the rushing leaders in their title-winning season, while 357 is the average amount of carries they've gotten (Bush's 216 carries last season was a career high) at an average of 4.9 yards per carry (Bush averaged five yards per carry last season).
These averaged statistics are a lot to ask for from Bush, who only has one year under his belt as not only a feature back, but a productive feature back. Bush comes into the season after a career 2011 season that saw him display the talent on the tape that once made him a top-two pick. 
However, despite his big season, he's unlikely to get around 357 carries that could potentially help get him the necessary yardage to win the rushing title because of the Dolphins' investments in Daniel Thomas and Lamar Miller.
Thomas has something to prove this season after a questionable rookie season, which will surely get him some more carries, while Miller has first-round talent and can make game-breaking runs that the Dolphins need and would only get with Miller getting carries.
I do not expect Bush to win the rushing title in 2012, but I do expect him to continue to make runs that saw him make a splash in South Beach last season.