Drew Brees Allegedly Knew of Infamous Gregg Williams Audio Before Release
June 3, 2012

In a statement on his website Saturday, documentary filmmaker Sean Pamphilon stated that New Orleans Saints quarterback Drew Brees encouraged him to release the now infamous tapes of Gregg Williams' speech before their playoff loss against the San Francisco 49ers. 
Pamphilon released a voicemail of a man, which he claims to be Brees, talking about both the tape (which Brees had allegedly seen already) and an essay that Pamphilon released the same day. 
According to Pamphilon, he and Brees had been in contact about when to release the audio tapes of Williams. Brees reportedly wanted to wait on a proper time to release them to where it would benefit suspended head coach Sean Payton the most (which obviously didn't work). 
Here's the full transcript of Brees' voicemail to Pamphilon from Ryan Wilson of CBS Sports. 
Hey Sean, It's Drew. Hey, I wanted to follow up on our text from earlier today, in regards to the statement that's going to go out with the, tape tomorrow. I would really appreciate a chance to read that before it goes out tonight. 

Obviously, I promise, I give you my word, it will not, it will not leave my sight and I will not show it to anybody else or anything. I'm not sure of Fujita's read it, I know Gleason hasn't. But I think we would all appreciate the opportunity to read it (Pamphilon's essay that followed the release of the Williams audio) just before it goes out. That way we know exactly what going out before it hits the wire. Alright man, give me a holler back or shoot me a text, or I would appreciate it if you could e-mail it to me. That would be great. Thanks. Bye.
The filmmaker who willingly released arguably the most violent evidence regarding the Saints' bounty scandal faced public scrutiny after releasing that he used special teams player Steve Gleason to get the audio.
Now he's trying, right or wrong as he might be, to bring the face of New Orleans into the picture as well.
The Saints have certainly taken a beating for their full-on-exposed bounty system, with suspensions down the board in the front office and year-long suspensions of their head coach and best defensive player. 
It's clear Pamphilon has no problem bringing others into the firestorm that he created upon releasing the audio tapes, but he's now attacked the most valuable piece still remaining in New Orleans.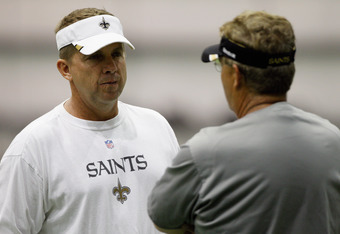 Chris Graythen/Getty Images
If he's right, Brees will have plenty of questions to answer, but if he's not, it's obvious that Pamphilon wants to remove himself as the scapegoat to many. 
Whatever the truth may be, we do know one thing: There won't be any shortage of news around the Saints organization any time soon.