Amicable Resolution to the Darrelle Revis Contract Situation Is Possible
June 2, 2012

The rumblings of a possible Darrelle Revis holdout have already begun, as Revis was non-committal when asked whether he would be on the field when the New York Jets open training camp on July 16.
Revis' comments were anything but caustic, and if it was just another play on just another team, it wouldn't have made any waves.
But because this is the Jets and with the memory of Revis' last holdout still fresh in everyone's minds, this is news.
Revis, who is not outspoken by any means, responded shortly when asked about his current contract situation.  While sitting at his locker, the Pro Bowl corner said (via Rich Cimini of ESPN New York):
I'm here and I'll be playing. I'm getting ready for this season, that's all I can do. Anything with my contract, we'll deal with that in the future. Right now, I have to get prepared for this year.
While those comments did cause a stir in New York, they really aren't that inflammatory.  Really, what else would you expect Revis to say?
He isn't one who elaborates dramatically or seeks out the media to make his point.  Revis is an educated man who knows that if he does commit to anything, the New York media and Jets fans will hold him to his words.
Coming into his 2010 holdout, Revis was on the fourth year of his six-year rookie deal and was set to earn just $1 million despite being one of the top defensive players in the NFL.
Despite the fact that he was under contract, Revis held out for two reasons: he wanted to be paid, and he wanted security.
After a 35-day holdout, the Jets and Revis struck a complicated deal that satisfied both factors while preventing the Jets from having a contract albatross on their hands.
The contract was front-loaded, which allowed Revis to be paid like the future Hall of Famer he is during his first two seasons.  The last two seasons were not set to be financially prolific for Revis, but provided security in case he suffered a catastrophic injury or severe decrease in play during the 2010 or 2011 seasons.
The first two years have now expired, and Revis has continued to play the cornerback position at a historic level.  There's no reason to think he'll suffer any kind of downgrade in play at this point.
According to Kyle Ratke of the USA Today, Revis will be the 17th-highest paid cornerback in the NFL in 2012.  That simply isn't fair.
While many fans want to react by saying that he should honor the contract that he signed, that isn't the way things work.
Mike Tannenbaum knows that, Rex Ryan knows that, and Revis' uncle and adviser Sean Gilbert knows that.
All of the key players who would be involved in a Revis contract negotiation are the same as the ones who participated in the ugly holdout in 2010.  One would hope that they all learned something from the last process.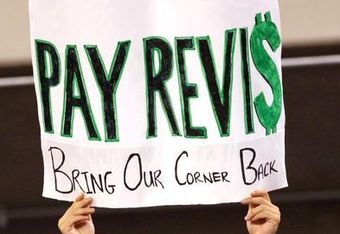 Revis is now 26 years old, and while he doesn't show any signs of slowing down, players get old in the NFL very quickly.  Once again, Revis will want to get paid what he fairly deserves and will seek long-term security.
Whether Revis or the Jets take a hard-line approach on the situation remains to be seen, but it is a situation that needs resolving.
Both parties know that with the reduced cap space, it isn't plausible for the Jets to break the bank for their superstar.  
The situation as it stands right now is a problem for everyone.  It had been the white elephant in the room for two seasons, and now it is finally being talked about in the media.
Whether it is being talked about behind the scenes or not won't be broadcast to anyone, and fans can expect this situation to play out quietly over the next month.  
However, if the Fourth of July holiday rolls around and Revis is still sitting there with the same contract he signed in 2010, you can expect the rumors to start flying.
The Jets have already signed their top three draft picks, have brought in help at the safety and tackle positions and don't currently have any pressing needs to be filled on their roster.
They are approximately still $6 million under the salary cap, so they do have some wiggle room in a Revis negotiation.  
Ryan and Tannenbaum might be disappointed that they might not have to make as many trips as they did to the Roscoe Diner in 2010 to hammer out the deal, but expect both sides to resolve this situation with a lot less rancor than in 2010.