French Open 2012 Results: 3 Eye-Popping Outcomes from Saturday
June 2, 2012

Mike Hewitt/Getty Images
A former World No. 1 knocked out early as well as several surprising upsets made Saturday one of the more memorable days of the 2012 French Open.
No. 9 Caroline Wozniacki was defeated in convincing fashion, while several other of the tournament's top contenders were challenged to the fullest.
These are the three most shocking outcomes from Satuday's third-round play at Roland Garros.
No. 8 Janko Tipsarevic Dominates No. 29 Julien Benneteau
In what was a straight-set victory for the Serbian talent, Tipsarevic left Benneteau helpless throughout the match. 
There is no doubting the talent that Tipsarevic boasts, nor the fact that he was the better player of the two, yet to play in front of the home crowd as a top-30 player and fail to win a set, as Benneteau did, is disappointing to say the least.
Frenchman Paul-Henri Mathieu was able to pick up two sets in his five-set loss to No. 20 Marcel Granollers in spite of coming into the match ranked No. 261.
The better player won Saturday, yet Benneteau certainly let the fans at Roland Garros down with his performance. He knows he could have done better, and will have to improve in next year's draw.
American Varvara Lepchenko Wins in a Shocker
In what was a surprising victory over 14th-ranked Italian talent Francesca Schiavone, Lepchenko put forth her best display of tennis.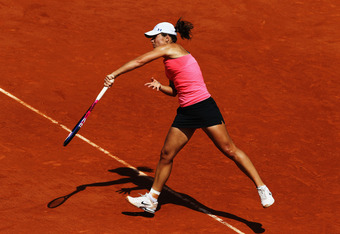 Matthew Stockman/Getty Images
The two-sets-to-one victory came after dropping the first set of the match. She went on to win the next two sets 6-3 and 8-6, respectively. After what was arguably the best match of her career, Lepchenko is now on to the fourth round of play at Roland Garros.
Playing in just her fourth French Open, Lepchenko certainly deserves a pat on the back. Her tennis was impressive to say the least.
Kaia Kanepi Takes Care of Business Against Caroline Wozniacki
Time and time again, Wozniacki has come up short on the biggest of stages.
Easily the most intriguing upset of the afternoon, Wozniacki was sent home packing in the third set after what was an especially strong second set for her.
The former No. 1 player in the World was unable to dictate the pace of play, as Kanepi continued to use her power to throw off Wozniacki's game. There was no question that she was rattled in this contest.
Going forward it will be especially interesting to see how Wozniacki responds in future tournaments.