TUF Live Finale: Has the Jake Ellenberger Hype Train Been Derailed?
June 2, 2012

Jake "The Juggernaut" Ellenberger entered tonight's The Ultimate Fighter Live: Finale fight as the oddsmakers' favorite, but he left the ring in defeat. His win streak snapped by Martin Kampmann, the question is bound to come up: is Ellenberger over-hyped?
Hardly.
Ellenberger's performance tonight was as impressive as Kampmann's KO, and that's meant with the highest respect to both fighters. Kampmann again proved that, if nothing else, he's tougher than hell and can keep a fight going even if he's being outstruck—a similar situation to his last impressive win over Thiago Alves.
On the other hand, Ellenberger showed us his ability to brawl, but also revealed his vulnerability on the ground and to sharp strikes not from his opponents' hands.
In Ellenberger's history, however, he's proved he can work past both of these deficits. Kampmann presented a veteran fight, and that's exactly what Ellenberger needed. But where Kampmann demonstrated his ability to return from seemingly certain defeat and win bouts, Ellenberger is left to prove his ability to take strong performances and turn them into victories.
Perhaps one of the most important examples of this beyond tonight's fight is his 2009 fight against current interim welterweight champion Carlos Condit. Condit won that fight in an extremely close split decision, a victory that remains one of the most contested bouts to this day.
Ellenberger didn't stop there, however. He went on to defeat some of the most respected fighters in the division, including Mike Pyle, Jake Shields and Diego Sanchez. It was clear that the fighter was ready to move in quickly for title contention in one of the deepest divisions in its challenge and talent.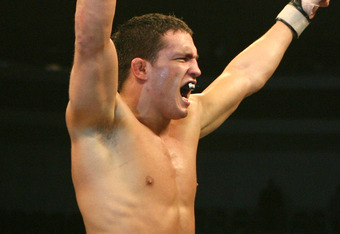 Ethan Miller/Getty Images
On paper, his loss to Kampmann does halt that move to the top. However, it doesn't take Ellenberger's name out of the running for title contention. He's experienced—his record is now at 27-6-0—but he's still 27 years old. His losses to Condit and Kampmann, both successful veterans, were close and hard-fought, and he could easily stand a rematch with either of them.
Moreover, he's proved that he's ready to fight any welterweight the UFC sends his way while Kampmann moves a bit closer to his well-deserved title contention.
In the end, the bout tonight against a seasoned professional ended in a close but clear loss. His six-win undefeated tear through the division has been brought to an end as well. But, much like Kampmann, Ellenberger is not anywhere close to being done moving toward a spot as contender for the welterweight title.
Ellenberger's fights have shown us he's talented, he's still learning despite his experience and most importantly, he's still got a lot of momentum to ride before we can start counting him out.