MMA Heads for World Dominance with the Help of a Powerful BJJ Black Belt
June 4, 2012

Abu Dhabi is a beautiful island protruding into the Persian Gulf and considered the moneymaker for the United Emirates. The island known for mind bending real estate monoliths, wealth management and oil but has recently developed a new interest: The MMA.
This is thanks to Sheikh Tahnoon Bin Zayed Al Nahyan, the son of the former United Arab Emirates president Sheikh Zayed bin Sultan Al Nahyan, who are rumored billionaires several times over (even despite the 2008 collapse). Sheik Tahnoon is a black belt in jiu jitsu and via the Abu Dhabi governments flash arm helped drive Abu Dhabi's government to a 10-percent ownership of the UFC. 
The Sheikh joins the original masters of the Octagon Universe.
Back in 2001 in Las Vegas, Zuffa was incubated with a paltry $2 million acquisition led by visionary casino executives Frank Fertitta III and Lorenzo Fertitta who now own 40.5 percent each of the company. Dana White commands the day-to-day operations, garnering himself a 9 percent stake.
Several sites whisper take-over numbers for the UFC hovering around $1 billion (light offers if you ask me).
These three are clearly the famous front men and most powerful UFC men du force commanding what many believe to be 90-percent MMA market share, however the only way to grow is more products or more people buying your products which means going big globally. (I don't think the PPV price should increase anymore, you?).
Given the sheer wealth and vocational interest from Sheikh Tahnoon shaping Abu Dhabi's interests, things could get a lot more interesting fast.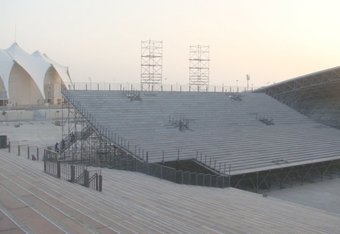 You can imagine a power deal between the UFC and WWE or expedited total world domination for the UFC by having this global power on board. Linda McMahon of the WWE, mega force in the sporting world resides in my home state of Connecticut where she is using her business prowess to run for a Senate seat, so it will be interesting if the timing is right (pending a win) for her and Vince.
Part of the mystery (and mystique) comes from Zuffa being privately held so they are not at the mercy of the public markets to release detailed financial and performance information.
Sheik Tahnoon also flies privately below punching radar.
However, there ways to deduce financial health as the Zuffa company has issued debt in the past, which puts them on the S&P (Standard and Poor's) rating scale where they hold a "BB" rating as of 2010, which is in the mid-range.
S&P goes on to discuss the UFC's mix as 75-25, which the majority of revenue comes from pay-per-view (PPV) events. In 2010 PPV buys were $9.3 million over 15 events but was down to $6.7 million in 2011 over a similar event mix.
In my opinion, the concerns around a UFC recession caused by high profile injuries, light bench of fighter personalities and disposable income pulling back with viewers have somewhat abated.
The UFC does not appear to have any major balance sheet issues and would appear to be a profit machine. It does have a term loan of $450 million due in 2015 and this loan correlates to some healthy M&A activity including the acquisition of PRIDE and Strikeforce.
However, last week Zuffa did have a credit rating scare when they defaulted on their bank debt due to an omission around recording an accrued liability with their employee incentive plan. This was sloppy, should be remedied quickly and Moody's did not release any concerning language.
And the UFC continues to pour in new talent, and take on new business verticals—new markets globally and a boatload of television products including their seven-year deal with Fox TV for a cool $100 million per year. The mid-term strategic plan for the UFC has to include the development of a Women's product as no sport makes it big without including female viewership and their pocketbooks.
And back to Sheikh Tahnoon.
He is the chairman of the Abu Dhabi Tourism Authority controlling purse strings of Abu Dhabi's new projects including the famous indoor ski slope, tallest buildings and recent high-end shopping malls. Abu Dhabi controls the world's largest sovereign wealth fund, which some have pegged at between $800 billion and $1 trillion. Now that is some serious financial jujitsu.
This partnered with his passion for grappling is a perfect mix for MMA in the region.
He capitalized on his studies in MMA which began in the US and then included other arts including Russian Sambo, wrestling and Judo to create a new grappling competition in 1998 called the Abu Dhabi Combat Club (ADCC), which today attract the best grapplers in the world.
Within Abu Dhabi, his MMA passion is contagious. This year, children 9-11 years of age were predicted to take jiu jitsu in their physical education classes in 42 government schools. And on any given Saturday night, he could probably increase Abu Dhabis stake in the UFC. Why? Because he can.
That's power.