Kansas City Chiefs: Matt Cassel and the Quarterback Conundrum
June 4, 2012

Peter Aiken/Getty Images
The fans in Kansas City are desperate.
It has been nearly 20 years since they have seen their team win a playoff game and the lackluster play at quarterback is the most prominent reason why the Chiefs can't seem to make any noise in the postseason.
The Herm Edwards regime had to be considered the most tenuous time for quarterback play in Kansas City. The Arrowhead faithful had to sit and watch the likes of Brodie Croyle and Damon Huard under center during some dark times.
Enter Scott Pioli and Matt Cassel.
Pioli and Cassel worked together in New England and saw decent results when the USC product took over for an injured Tom Brady in 2008.
The duo reunited in Kansas City afterwards, and for the past three seasons it seems like the members of the front office firmly think he is the answer, while many fans believe Cassel is the problem.
Pioli is a huge supporter of Cassel and the Chiefs General Manager discussed the varying opinions on the California native in a NFL.com article a few weeks ago.
"I hear a lot of noise. I don't understand it. I don't necessarily get it. He's a competitor and he's a winner. He's had production. There are good quarterbacks in this division. It takes teams to win a division. It takes teams to win a championship."
Cassel had a banner year in 2010, when he tossed 27 touchdown passes and made the Pro Bowl. Outside of that, Cassel has been mediocre.
Taking away the Pro Bowl season, Cassel has thrown 26 touchdowns and 25 interceptions during his time as a Chief, while having a completion percentage under 60 percent.
For a 30-year old quarterback that has been starting for four seasons, there are no more excuses.
It is a quarterback driven league now, and there is no longer room in the NFL for "game managers" to succeed like Brad Johnson and Trent Dilfer did many years ago.
Those two won championships in the earlier part of last decade, but since then it has been routine to see only the game's best signal-callers compete for the Lombardi Trophy every season.
The problem for the Chiefs and Cassel is that the absolute best case scenario is one that was on display last year.
San Francisco 49ers quarterback Alex Smith used an elite defense and solid running game to make a NFC Championship appearance in January. 
Smith played remarkably well in the 49ers playoff victory over the Saints, but that was a capstone to a pedestrian statistical season for Smith, who was a prototypical game manager in 2011.
Kansas City fans would be ecstatic to see their squad make a deep playoff run like the 49ers did in 2011. Without an elite quarterback at the helm becoming a perennial playoff contender is simply a pipe dream, though.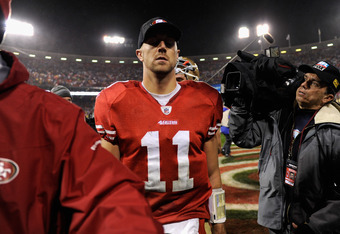 Thearon W. Henderson/Getty Images
For a fairly young group, there is a lot of pressure on the Kansas City Chiefs to take the next step and become a consistent playoff team.
They had a rough season last year when many marquee players spent a huge chunk of time on the injured list.
After a historically bad start, the Chiefs managed to withstand a rash of injuries and finished the season at a somewhat respectable 7-9. 
This is a testament to how talented these Chiefs are right now.
On offense, the list of explosive play makers continues to grow every season. Jamaal Charles is one of the best running backs in the league, and Dwayne Bowe is close to being an upper echelon wide receiver. They are joined by last year's draft choice Jonathan Baldwin, and returning tight end Tony Moeaki.
The offensive line went from solid to potentially great when the Chiefs signed tackle Eric Winston. 
Defensively, Romeo Crennel instructs a tremendously talented group that includes Tamba Hali, Derrick Johnson and Brandon Flowers.
By all accounts, Cassel is a guy who does many things right. Playing quarterback at a championship level is not one them.
There is a reason the Chiefs didn't hide their interest in Peyton Manning during free agency and even though their wagon is clearly hitched to Matt Cassel, the front office knows that an upgrade at quarterback would be welcome.
Kansas City fans know that without a top-tier quarterback leading the charge, a Super Bowl victory is miles away if only Scott Pioli could realize it too.