DeSean Jackson, LeSean McCoy Got PAID...For Very Different Reasons
June 2, 2012

Marc Serota/Getty Images
The Philadelphia Eagles had an uncharacteristically quiet offseason.  No trade of a franchise quarterback to a division rival, no release of a franchise all-time great safety, no installation of an offensive line coach as defensive coordinator. 
They (finally, one can only hope) fixed the holes that allowed opposing running backs to stream through their front seven like kids entering an amusement park as it opens, spending their first three draft picks on defense.  They also picked up some offensive line depth and a late-round running back who may or may not see the field in 2012. 
Still, in what was a relatively calm time, the Eagles made two enormous moves that looked very similar but in fact were very different.
LeSean McCoy signed a five-year contract extension in May with an announced value of $45M and $20,765,000.00 in guaranteed money.  McCoy earned a trip to his first Pro Bowl.  Thanks to the National Football League's recent announcement that it is not discontinuing the game, it does not figure to be his last. 
But the Eagles did not sign McCoy to this extension to watch him play Pro Bowls, games that feature elite players from teams who do not have a Super Bowl to prepare for.  They gave him this money because any plans they have to get to a Super Bowl feature him prominently. 
In 2011, he had 273 carries, 48 receptions, 1,624 yards from scrimmage, 20 touchdowns…and one fumble.  McCoy does not catch the ball as often as Brian Westbrook used to, but then the Eagles do not need him to because unlike Westbrook's Eagle teams, McCoy's offensive unit has potent receiving threats. 
Brent Celek is still an above-average receiving tight end, Jeremy Maclin is a more-than-adequate WR2….
And then there is the matter of DeSean Jackson, the Eagles' putative #1 receiver.
Jackson got his own five-year contract from the Eagles in March.  Its announced value is as high as $51M.  In truth, though, after Jackson cashed his $10M signing bonus, the rest of the money is significantly dependent on what Jackson does on the field in the coming years. 
Only $5M more is guaranteed—$750,000.00 base salary in 2012, $4M guaranteed of his $6.75M base salary in 2013, and only $250,000.00 guaranteed of his (totally hypothetical as of this writing) $10.25M base salary in 2014.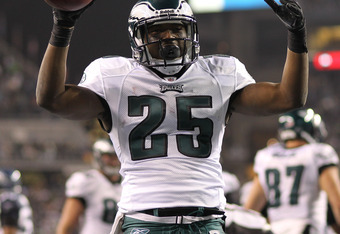 Otto Greule Jr/Getty Images
It would be easy to look at these contracts and say "they both got paid" and move on.  The truth, though, is that the Eagles gave McCoy his extension because they wanted to, whereas they gave Jackson his contract because they had to. 
While McCoy was all things to everyone in 2011 for the Eagles, and by and large kept his mouth shut while doing it, Jackson obviously and notoriously treated the 2011 season as an exercise in doing just enough to continue to cash his paychecks and not enough to get himself hurt. 
Reasonable minds can differ on whether Jackson's actions in 2011—earning a one-game suspension for missing a team meeting and admitting that his contract situation was a distraction—were justified.  No one can dispute that it hurt his team, as his yards-per-catch fell by nearly six. He also scored four touchdowns, or exactly half as many as he did in 2010.  And the distraction he was cast a pall over the entire 16-game slate. 
So while the Eagles rewarded McCoy for a job well done and incentivized him to keep producing, the Eagles effectively bribed Jackson into promising not to sabotage another "Super Bowl or Bust!" campaign.
Here's hoping.