NFC East Mailbag: Did the New York Giants Get Better or Worse?
June 2, 2012

Al Bello/Getty Images
Saturday morning on the NFC East blog, and we bring you a new mailbag/tweetbag with a quartet of scintillating Q's for which I'll attempt to provide equally scintillating A's. 
To get in on the action next week, tweet me up @Brad_Gagnon or e-mail the NFC East mailbag at BRNFCEast@gmail.com. 
We kick it off this week with Harrison Hartt on Twitter:
#mailbag Is there any noise about UDFA running back Lennon Creer coming out of #redskins camp? — Harrison Hartt (@CoachHartt) June 1, 2012

Outside of Chase Minnifield, there isn't an undrafted rookie in camp who intrigues me more than Creer. He's got the size and strength to contribute as a quality NFL back, and he was extremely productive at Tennessee and Louisiana Tech.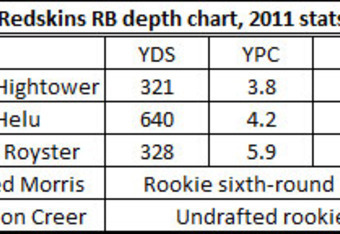 The problem is that he's on the wrong roster. The undrafted-free-agent signing period is a mad dash, and I can only hope that Creer didn't hastily accept an invite to Redskins camp before exploring other opportunities. 
That's because, so long as Tim Hightower, Roy Helu and Evan Royster are healthy, Creer has zero chance of making the Redskins' final roster. He was signed before the team brought back Hightower, and at that point, I thought he'd have a legit chance of cracking the final 53.
And unfortunately, no, there's been no noise thus far. I think he'll eventually make some noise somewhere, but I doubt it's in Washington. 
—
E-mail from "Viewer1977" (I guess I should ask people to give me real names): 
If the cowboys are going to trade Jenkins, we need a 3rd receiver. How about Donald Driver or someone as good as him?
The Cowboys continue to say they won't trade Mike Jenkins, per ESPN, and I've said time and again that the trade route is a bad idea here. That said, everyone has their price.
If they were to trade Jenkins, it'd likely be for draft picks, not players. Green Bay would make sense as a landing spot for a corner like him, but again, that wouldn't involve Driver, who agreed to a restructured contract with the team this week.
But I like this question because a) it gave me a chance to state that Jenkins shouldn't be traded, while b) giving me a chance to state that I don't think the Cowboys feel they need to go outside of the organization to find Laurent Robinson's replacement.
Remember: Robinson wasn't brought to Dallas to be the No. 3 receiver. In fact, he wasn't even on the roster until September. The Cowboys know that, in that offense, anyone with two hands and two feet can excel in that spot.
And with Danny Coale, Kevin Ogletree, Dwayne Harris, Raymond Radway and Andre Holmes on the roster, they have 10 good hands and feet ready to contribute.
—
An e-mail from "Mike" (that's better):
Which stud QB will have the biggest impact on his team this year in the EAST?
I wrote last month that, in terms of who's the best quarterback in the division, I think it's neck-and-neck between Tony Romo and Eli Manning. I eventually placed Romo above Manning on my list of elite NFL quarterbacks and was almost beheaded by Giants fans. 
But this is a different question, because I wasn't projecting in that column. Now, I'm being asked to project only, but I'm going to stick with Romo.
I think Manning is on the verge of having his best season. He's clearly on a roll and is feeling confident and smack-dab in the middle of his prime. Yet I'm still leaning in Romo's direction. Year in and year our, his regular season numbers are simply better than Manning's, and I see no reason why that should change this year.
Did you see what Romo did without having Dez Bryant or Miles Austin in proper form last season? This is going to be a big season for him.
Oh, and it's possible we're all overlooking Michael Vick, who had the biggest impact in the division two years ago and still has a higher 2012 ceiling than any quarterback in the NFC East. I'm not convinced he'll stay healthy, but if he does, he could be in for a big bounce-back season. 
—
@Brad_Gagnon do you think the Giants got better or worse this offseason?

— Ryan Riddle (@Ryan_Riddle) June 2, 2012

On paper, they got worse. They lost veteran contributors Aaron Ross, Mario Manningham, Brandon Jacobs and Dave Tollefson, and they won't like get Jake Ballard back from injury. Only Ballard was a starter, but some of those guys won't be easily replaceable. 
But—cliché alert!—the game isn't played on paper.  
Osi Umenyiora and Justin Tuck might stay healthy this year. Prince Amukamara and David Wilson might live up to heavy expectations. Jason Pierre-Paul might get even better. Terrell Thomas and Will Beatty are back. Ahmad Bradshaw gained steam late in 2011 and could be back on track. Maybe Rueben Randle makes more of an impact than Manningham did.
Plus, how much better might Eli Manning be?
So, while the team itself lost some talent in the offseason (as most Super Bowl winners do), I think they'll probably still perform better in 2012 than they did in 2011.