Shaun White Shows Massive Swag with Bar Refaeli Hook Up
May 30, 2012

The biggest baller and shot caller in the world is Shaun White, and his hookup with Bar Refaeli is all the evidence we need. 
This one goes out to all the gingers in the world who doubted their swag, because Shaun White is proof positive that the most stunning man in all the world can be a gawky, red-headed snowboarder. 
Oh, boy. I better stop my gushing and get to the damn story. It involves Shaun White, a hip bar and some dance-floor canoodling that should have rocked White's world. 
The New York Post has the deets on a night of bliss that delivered the Flying Tomato a gold medal in artistry. 
According to the report, White was with friends at SoHo lounge Sway over the Memorial Day Weekend. That's when he became entranced with his phone, and according to the report a witness reported the following:
He was distracted. He was pacing, going outside and checking his cell.
That's when super model and ex-lady friend of Leonardo DiCaprio, Bar Refaeli, came traipsing into the club to meet White. 
If you want interesting factoids, The New York Post hooks us up with this description of the two:
The half-pipe hero and the Israeli ex of Leonardo DiCaprio promptly hit the dance floor, where they were going for the gold in the canoodle-a-thon. "They were all over each other," our spy said. "They were dancing, hugging, kissing — you name it."

Refaeli was seen leaving Sway at "around 3 a.m.," and White gallantly walked her out and let her take his car home.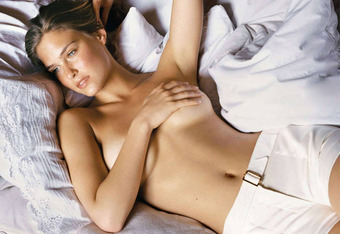 You see? As you all were working on barbecue heartburn, White was out there getting things done and taking care of business. 
The report states that White came back to hang with his pals, but I will go ahead and presume that his head was somewhere else. 
If Hollywood is looking for a sequel to The Avengers, consider superhero Shaun White who can pretty much do anything. 
His super power happens to be hooking up with hot women in a single bound. 
Follow me on Twitter and help me bring sexy back.