Kentucky Basketball: How Nerlens Noel Can Replace Anthony Davis
May 30, 2012
One of the most difficult tasks in sports is to replace a legendary player. It has always been a daunting task for the player who has to follow in the footsteps and take the place of a team or sport icon. Steve Young had to follow Joe Montana, Andrew Luck is replacing Peyton Manning and Nerlens Noel will soon have to replace Anthony Davis.
On paper, this is nothing more than the No. 1 recruit of 2012 subbing in for the No. 1 recruit of 2011. In fact, Noel and Davis were both ranked as the nation's best center prospect, each of whom came (is coming) to college with a strong reputation as a premier shot-blocker. Therefore, this task seems to be the least of the Wildcats' worries as they approach the 2012-13 season. 
Unfortunately, this could not be more daunting or intimidating for Nerlens Noel. He has to fill in the shoes of a player who won all six major Player of the Year awards, was the Final Four Most Outstanding Player, a First-Team All-American, the SEC Player of the Year, the NCAA Defensive Player of the Year, the record-setter for most blocks in a season for a UK, SEC and NCAA freshman and the future No. 1 overall pick in the 2012 NBA draft. 
In other words, Noel has more hype and pressure to fulfill than any incoming freshman in the country.
However, he has the skill and the support to make this happen. If Noel focuses on defense, unselfishness and interacting with the fans, then he has the potential to join Davis and be remembered as one of the greatest centers in Kentucky basketball history. 
Defense and Shot-Blocking
It is ironic that Davis' most "irreplaceable" ability is his shot-blocking, yet that should be the easiest aspect of Davis' game for Noel to replace. Nerlens enters college as the nation's best high school shot-blocking center, and his reputation is well deserved.
Noel has a slender 6'10" frame with a long 7'4" wingspan and an explosive vertical leap. He has excellent timing on his blocks and can alter his swat as the offensive player changes his shot mid-air. Noel appears to have patience on the defensive end, as he rarely bites on pump fakes and recovers quickly from the weak side to alter shots and grab rebounds.
In other words, Nerlens Noel enters college with a similar shot-blocking pedigree to Anthony Davis. Both players appear to be agile, quick and able to cover a lot of ground in the paint. Some college basketball analysts believe that Noel is one of the best shot-blocking centers they have ever seen, as evidenced by this tweet by CBS' Jeff Goodman:
Nerlens Noel to Kentucky. Best shot-blocker I have ever seen at high school level. HUGE get for UK.
With that being said, it would not be reasonable to expect Noel to match Davis' season average of 4.7 blocks per game. That is an insanely high total that can only be matched by the greatest shot-blockers in college history.
However, Nerlens Noel can replace Davis' impact by simply protecting the rim, deflecting a decent number of shots and altering a whole lot more. Noel may in fact challenge Anthony Davis' season total of 186 blocks, but he does not have to reach that total in order to effectively replace him on the defensive end. Just being a great defensive anchor and weak-side helper for this team will be enough to satisfy fans and analysts. 
Toughness and Unselfishness
One of Anthony Davis' greatest traits was his lack of ego and unselfishness on the basketball court. He scored his points on offense within the flow of the game, rather than forcing the issue and looking out for his own numbers.
On defense, Davis would block shots but was also in constant motion, always looking to help out a teammate on a double-team or cover up a missed assignment by one of the guards. His success on defense came from always trying to make the right play, instead of always going for the home run play.
This unselfishness resulted in Davis shooting an incredible .623 percent from the field and leading the NCAA in defensive win shares and defensive rating.
This approach to winning and being a great teammate should definitely be followed by Nerlens Noel during his freshman season. He appeared to be a great teammate in high school, as he focused more on defense than scoring points. Various highlights also show that Noel made the extra pass and would hit teammates for easy buckets.
On the offensive end of the court, Noel appears to be fairly raw but features a consistent hook shot using his left hand. He appears to score many of his points on putback dunks, transition baskets and tip-ins. This falls right in line with how Davis scored during the majority of his freshman season.
However, Noel does not appear to feature a consistent jump shot or perimeter game. This was a unique aspect of Davis' offensive arsenal that slowly developed throughout the season. It would not be fair to expect the same offensive approach from Noel, as he would be much more effective on the low block and making plays out of the post.
In fact, Noel would excel on offense simply by focusing on the gritty work and playing within the flow of the offense. Kentucky will have plenty of offensive options next season, so they are not going to rely on Nerlens to be the team's top scorer. If he can simply score efficiently and make effective passes from the paint, then he should fill most of the scoring void left by Davis while also playing efficiently and within the team concept. 
Personality and Fan Interaction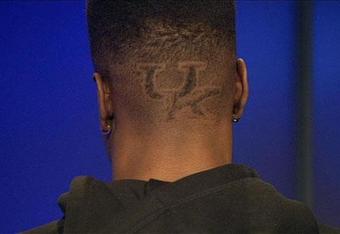 Nerlens made an amusing first impression on many UK basketball fans when he announced his college decision on national television. Noel utilized his high-profile fade haircut by cutting the "UK" logo into the back of his head and revealing it on the show.
This hilarious stunt is just one reason why Kentucky fans are already embracing Noel. They have enjoyed the love shown by many players during John Calipari's regime, including fan favorites such as DeMarcus Cousins, John Wall and Josh Harrellson.
These players had a big personality that reached out to Kentucky basketball fans through media interviews, newspaper articles, blog posts and Youtube video channels. Nerlens Noel has the chance to become the next breakout media star that UK fans love to cheer for.
This is where Noel could have an edge over Anthony Davis. He was obviously a beloved player among the fanbase, but that was more because of his play on the court and quiet demeanor. Davis and the 2011-12 squad were perhaps the most shy bunch of players that Calipari has had here. Many of the players were noticeably uncomfortable during interviews, and they hardly ever made notable quotes that could fill newspaper headlines.
If Noel can embrace the media and show off more of his outgoing personality, the fans will flock to him and turn his "high top" fade haircut into the next "Unibrow" or "Jorts" phenomenon. These interactions with the fans could turn Noel into a media star and an all-time fan favorite at Kentucky, more than replacing the love that Davis received during his lone season at Kentucky.
Nerlens Noel has plenty of work ahead of him to fill the void left by Anthony Davis. Fans are expecting him to be a shot-blocking phenom on defense and an effective offensive force around the rim. If he plays within the team concept, gives his all on the court and embraces the fans and media, then Noel can create his own unique legacy in Lexington and succeed Anthony Davis as the next great center for the Kentucky Wildcats.