Portland Trail Blazers: New GM Neil Olshey Will Turn Team Around
June 5, 2012

Jonathan Ferrey/Getty Images
It had been over a year since the Portland Trail Blazers last had a general manager in the front office; the position has been vacant ever since the team parted ways with Rich Cho nearly 10 months into his tenure.
But since hiring ex-Los Angeles Clippers' GM, Neil Olshey, the future of the organization looks bright.
Negotiations between Olshey and the Clippers broke down three days after they had reportedly come to an agreement,  leaving the door open for the Blazers to swoop down and snake the managerial maestro right from under the Clippers' noses.
Olshey, most known for orchestrating the deal that brought Chris Paul to the Clippers, turned a floundering franchise into Western Conference contenders—a feat the Blazers are praying he can repeat.
He also kept DeAndre Jordan a Clipper by matching the Golden State Warriors' four-year/$43 million offer sheet, signed Chauncey Billups, Caron Butler and Kenyon Martin in the off-season, and acquired Nick Young from the Washington Wizards for virtually nothing (Brian Cook).
Coming to Portland, Olshey has an opportunity to make an encore performance, turning a below .500 team into a Western Conference powerhouse; but every acquisition has to be mistake-free.
If they plan on keeping their young forward, the Blazers will have to make any and all free agent signings before Nicolas Batum, now a restricted free agent, signs an offer sheet with any other team. Otherwise, they'll have a hold against their cap space until they make a decision on whether or not to match the offer.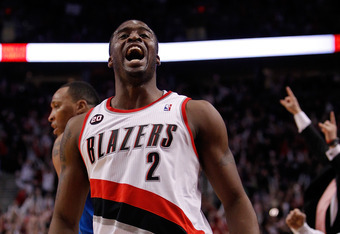 Jonathan Ferrey/Getty Images
That being said, they'll have to utilize their $10-15 million of cap space quickly and efficiently to build a contending team, while at the same time keeping Batum a Blazer.
Olshey's already got a solid core with LaMarcus Aldridge, Wesley Matthews, young Elliot Williams and (if they keep him) Batum, as well as picks No. 6, 11, 40 and 41 in this year's ocean-deep draft.
The Blazers are in dire need of a starting point guard and center, as well as solid bench depth, all of which are needs they can address during this year's NBA Draft. With those picks and the cap space that Portland has, it's almost written for Neil Olshey to bring the Portland Trail Blazers back into playoff contention.
But like I said earlier, every transaction has got to be perfect.
Kristian Winfield is a Featured Columnist for the Portland Trail Blazers on the Bleacher Report. You can follow him on Twitter @BriscoXCI.