Travis Snider: Toronto Blue Jays' Biggest Bargaining Chip Sits in Vegas
May 28, 2012

We are nearing the end of May and the Toronto Blue Jays are MLB's best .500 ballclub. 
I'm not really sure if that's good or bad at this point, but considering all the hype this team had from multiple outlets before the season started, I guess .500 is a little disappointing. 
If you take into account that the Jays are playing in quite possibly the toughest division, not just in baseball, but in all of sports, then .500 should be just fine. That's where the problem lies: Parity.
Parity is running rampant through the AL East, with no less than six games separating first from last. The division is literally upside down with the Baltimore Orioles playing way over their heads and leading the division through the first quarter. 
The Boston Red Sox and New York Yankees, the division's perennial stalwarts, are struggling to stay afloat. Pitching is killing the Red Sox and age will sooner or later catch up to the Yankees. 
The Tampa Bay Rays will continue to rule this division with superb pitching, timely hitting and a coaching staff that is second to none. The Orioles, on the other hand, are sitting on top of the division and doing pretty well, if you don't mind me saying. They rank seventh in the AL in opponents' batting average against, sixth in strikeouts, fourth in ERA, fifth in WHIP, second in in home runs and fourth in OPS. 
If normalcy returns to the East, the Orioles will fall out of contention around July and with the rest of the pack pounding on each over a dozen times, a slightly above-average year could put a team in the running to either take the division or snake that second Wild Card spot. 
On paper the Jays have all the tools: power (Jose Bautista), speed (Rajai Davis,) defence (Colby Rasmus), pitching (Ricky Romero/Brandon Morrow) and high-octane rookies on the verge of breaking out (Brett Lawrie, Yan Gomes, Travis d'Arnaud, Adeiny Hechavarria).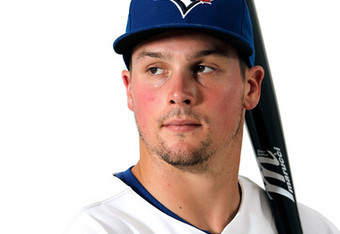 Until these rookies begin to take over and become the leaders of the new Jays, a couple more pieces have to be added to fully compete and make the playoffs for the first time since 1993. Whether it's another bat to slot in between Bautista and Encarnacion, or a solid No. 3 pitcher to take the pressure off Kyle Drabek and Henderson Alvarez, their biggest asset right now is Travis Snider, who is sitting in Las Vegas with the 51s. 
Snider has really been taking his lumps since getting drafted by the Blue Jays in the first round of the 2006 amateur draft. 
His career is seen as a roller coaster of ups and downs. He's dominated in the minor leagues but never quite lived up to expectations once called up to Toronto. Some may say he has been cursed. One thing I do know is that regardless of what is asked of him, he does what is best for the team. And if in fact he has played his last game for the Jays, at least he is raising his stock in Vegas with a superb season so far. 
In 26 games Snider is hitting .333 with five home runs and 27 RBI. He's also belted 11 doubles while sporting and OBP of .411 and slugging .604. 
Sure, Snider hasn't had the success in MLB that the organization has expected—232 games, 248 batting average, 28 home runs and 236 strikeouts—but one thing that every organization can't ignore is his ability to stick to the plan and not give up. 
This year did have a different feel to it. Many believed it was Snider's time to shine. He battled with Eric Thames for the starting left fielder position in spring training, and all signs pointed to him coming out on top. Unfortunately, Thames' all-around game looked a little more polished, relegating Snider to their minor league affiliate. 
Despite his success in Vegas it's rumoured that the Jays are reluctant to trade Snider since they might need him at some point this year. Still, the numbers he is producing are raising some eyebrows and his stock is rising. A bat or another arm will be a necessity as the season moves on, and the progress and maturity of Snider is crucial when it comes to what he could bring in a late season trade. 
It was once thought that Snider was too good for the minors but not good enough for the pros. But on second thought, his struggles might mean playing full time elsewhere but could give the Jays the firepower to take them to the next level. 
Everyone wins.
Devon is the Founder and Executive Director of The GM's Perspective. He is a former professional baseball player with the River City Rascals & Gateway Grizzlies. Currently, Devon is a manager at a financial institution in Northern Ontario Canada, and can be reached at devon@thegmsperspective.com. You can follow The GM's Perspective on Twitter and Facebook. His full bio can be seen here.

**Devon is available for hire or freelance opportunities**