While Losing Draymond Green Hurts, the Spartans Will Be Just Fine
June 2, 2012

Draymond Green is a special player. Not only is he an excellent all-around player on both ends of the floor, but he is a one-of-a kind leader. You cannot replace a Draymond Green.
With that said, the Michigan State Spartans will be just fine this upcoming season.
The Spartans are losing three key players—Green and guards Austin Thornton and Brandon Wood. Between those three players, they are losing 30.2 points, 16.7 rebounds and 6.8 assists per game.
Obviously those stats are mostly to Draymond as he was the leader of the majority of those categories, but Thornton and Wood were crucial players to the Spartans success and they will be missed.
So far, all the points I have stated are leading to how Michigan State will not be a good team this upcoming year. In actuality, they have a chance to be better.
To start off, their two big guys are only getting better. Adreian Payne and Derrick Nix both had their best seasons as Spartans, putting up a combined 15.1 points, 8 rebounds and 1.5 blocks per game. With Draymond leaving, they will both have to step up their game even more and I don't think there is anyone who will doubt they can do that.
What is great about having both of them is that they compliment each other so well. Payne is the long, freakishly athletic big guy who can score in many different ways and can block shots on the defensive end. Nix is the big bruiser who has very quick feet and when he gets down low, it is hard to stop him at 270 pounds.
With these two only getting better, they will be tough to stop.
Secondly, the freshman grew up and improved throughout the season. Guards Travis Trice and Brandan Kearney along with forward Branden Dawson were all huge pieces of the success of the team.
Russell Byrd and Alex Gauna both played a little more as the season progressed, but were not part of the regular rotation. They will both have bigger roles this upcoming season.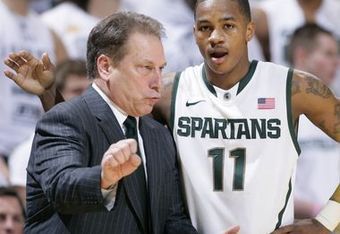 Dawson, the former five-star recruit has enormous potential, but unfortunately he tore his ACL at the end of season. I believe this had a big impact on how the Spartans season ended.
His athleticism, scoring ability and perimeter defense were dearly missed in the tournament. Reports say his recovery is going extremely well and will most likely be back in action at the end of the summer, which is crucial for the Spartans to be a great team again.
Trice had a good season and will be called on to run the point more and have guard Keith Appling play shooting guard more as he is better at scoring than passing. Kearney played a lot more later in the season and will most likely be playing both guard positions.
These two guards will be crucial with both Thornton and Wood gone, and will have to take their games to the next level.
According to ESPN, Michigan State had a top 10 recruiting class this season and those players will be asked to play big roles this year. Gary Harris, a five-star shooting guard who was Mr. Basketball in Indiana, will be a stud as a premier scorer.
Guard/forward Denzel Valentine is very versatile and a good overall player. Matt Costello and Kenny Kaminski are both power forwards who are good shooters and are strong players on both ends of the court. These boys will have to become men and will be relied on often through out the season.
Lastly, guard Keith Appling will have to become the leader of the team. With Draymond gone, this is his team now. He will also have to be a better offensive player than he was last year. He didn't shoot that well and will have to improve here if the Spartans want to be an elite team.
He is their most important player and the Spartan's success may be relied on how Appling plays this season. He plays both guard positions and it will be important for him to mesh well with Harris.
The Spartans will be a different team without their leader and best player Draymond Green, but if all the pieces fall in place and with coach Tom Izzo running the show, MSU has potential to be even better than last year.