5 Explanations for Matt Cain's Elevated Strikeout Totals in 2012
May 28, 2012
In the wake of Tim Lincecum's problems on the mound, the focus has shifted away from some of the more positive storylines surrounding San Francisco's pitching. Among them are the elevated strikeout totals being racked up by Matt Cain.
Before his Sunday matinee start, Cain had a 6.20 strikeout-to-walk ratio. That's very, very good. For some perspective, in six full seasons, Cain's never finished the year with higher than a 2.90 K/BB.
We all know pitchers can find improvement in tweaked mechanics and such, but can a small adjustment really justify Cain suddenly striking out batters at such an accelerated clip?
Through nine starts, Cain has struck out 62, putting him on pace to end the season with 229. That number would shatter his previous season high of 186 in 2008. 
What gives? 
As is often the case with statistical shifts, more than one element is likely in play. Here are five possible explanations for Matt Cain's elevated strikeout totals in 2012.
1. No Contract Issues to Distract Him
Heading into Opening Day, it was looking increasingly unlikely that Brian Sabean and the front-office suits would be able to lock Cain into something long-term before the season got underway.
Thus it was a welcome surprise to the Giants faithful when on April 3, a six-year, $127 million extension with the franchise's resident workhorse was announced.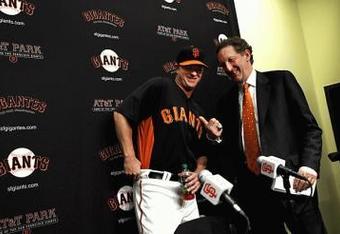 Quantifying the role impending free agency has on a pitcher's stuff is a shaky science. Certainly, in past seasons, when Cain was not slated to hit the open market, he wasn't posting the strikeout totals he has this year.
Still, there's merit to the idea that being given a contract that makes him the highest-paid right-hander in baseball history instilled Cain with a newfound confidence. Confidence breeds dominance, and for a pitcher, that means strikeouts. 
2. An Urgency to Pick Up the Slack
With Tim Lincecum all out of sorts and Barry Zito always an erratic start away from his annual meltdown, there is no room for a poor performance from Matt Cain.
Fair? Not at all, but one can see how Cain might feed off the challenge.
Having been overshadowed by Lincecum's breakneck ascent from rookie to two-time Cy Young winner, Cain has always carved his place on the team as someone who'll go deep in games, keep the score low and never lose his composure.
Now more than ever, he realizes that the team expects each of his starts to equate to a win.
So far, Cain is 4-2 over nine starts. Much has been made over his deceptive career win-loss record (which is to say, with any offensive impact, it would look quite different).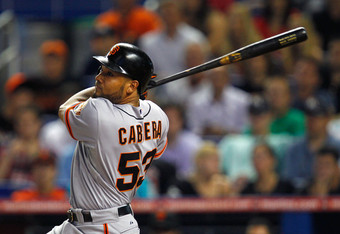 Turning to statistics within his control, we find Cain ninth in the majors in strikeouts, and seventh lowest in walks over nine innings for qualified pitchers. Perhaps part of Cain's strikeout flurry is the pure athleticism of a pitcher trying to carrying his team through some lean times.
3. Elevating His Fastball in Strikeout Counts
Matt Cain isn't known for his strikeouts, but rather his inventive methods of inducing outs. Cain has five pitches at his disposal that he throws for command rather than velocity. 
In fact, one could call his trick of pitching away from the heart of the bat in two-strike counts "The Matt Cain Special." Instead of going after the batter, Cain works for a fly out or pop-up by utilizing a deceptive release point to fool hitters into thinking he's challenging them. 
Recently, however, Cain has employed a new tactic, which is to elevate his fastball in a strikeout situation and purely overpower his opponent.
Perhaps the approach stems from batters picking up on "The Matt Cain Special" and anticipating Cain will avoid the challenge pitch. The results, when delivered as intended, are a lot of looking strike threes. 
4. A Smattering of Run Support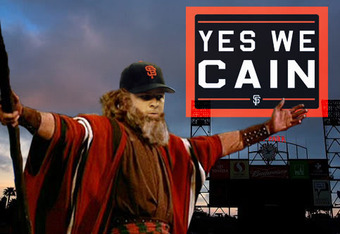 If you want to make a San Francisco Giants fan sulk like a kid who's dropped his ice cream, just mention the phrases "Matt Cain" and "run support" in the same sentence. 
Since 2005, Matt Cain has had the undesired distinction of having the lowest run support in the majors.The downside to pitching in a place like AT&T is that the batters on your team face the same disadvantages as the opposing players.
The downside to pitching for a team run by Brian Sabean and Bruce Bochy is that a lot of really bad batters get a lot really undeserved chances to do nothing at the plate. Whatever the variables, add them up and you get a lot great Matt Cain starts wasted by an anemic offense.
The 2012 season has seen a few extra rays of sun breaking through the fog. Recently, Cain had two back-to-back starts where he appeared vulnerable and the Giants bats managed to pick him up.
First on May 17 against the Cardinals, Cain gave up four runs in his first three innings, but the Giants scored seven to get him a win. On May 22 in Milwaukee, the Giants put up two runs before Cain took the mound and scored four more to neutralize the four runs he allowed the Brewers. 
These numbers are a small sample size, but they speak to a team that's finally starting to show a bit of pop. All-Star candidate Melky Cabrera, rising sensation Gregor Blanco and lightning-quick Angel Pagan all offer the promise of runs previously absent from the Giants' lineup.
Getting runs is sure-fire fuel in a pitcher's tank, and for a run-starved pitcher like Cain, perhaps it's the gas that's help to ignite his strikeout totals. 
5. His Stuff is Peaking
A player's peak is only ever really determined in hindsight. We may look back and say Tim Lincecum peaked in 2008-2010. Or maybe Lincecum will fail this season but go on to bag some more Cy Youngs and rings. We'd be fools to say anything more concrete than The Freak looks pretty bad at present. 
What of Matt Cain then? 
In his seven-plus-year major league career, he's participated in two All-Star Games, won a World Series, and received votes for Rookie of the Year honors and two Cy Young races. His numbers are nothing if not consistent.
At 27, Cain is certainly young enough to still be entering a prime period of his pitching career. No matter how we dissect his starts, the context of his play and any other number of mitigating factors, the most likely explanation for Cain's elevated strikeout totals is simply that he's pitching better than he ever has before. 
Well, perhaps not better. It's important to remember that strikeouts, while critically important to any hurler, do not tell the full story. Cain has had issues in 2012. To be more specific, what's really better than ever before for Cain is his stuff.
When he's locked in, Cain has turned a competent changeup, decent slider, stellar curveball and two wicked fastballs into a brutal arsenal for opposing batters.
The arsenal has always been there, but the sharpness of the pitches and combinations in which he throws them has afforded Cain an opportunity to go for strikeouts more often.
Maybe it's a peak, maybe it's a transitory period between two styles that has reaped some unexpected rewards. In either case, Matt Cain has looked worth every penny of his hefty contract so far.
If the next phase of his career is as a strikeout guy, great. If not, we're not worried. After all, this is Matt Cain we're talking about.